If you know anything about me by now, it's that I love using oils; be they for the face or for the body. They help my dry skin stay more supple and moist, and for my body, absorb better without ever feeling sticky or greasy, unlike lotions (I don't use body lotions in general) I know, that's not something we expect to hear about applying oil to the skin, but you'd be surprised, it works!
But if there's something to note about using oils is that good quality oils can be pricey. Two of my favourite body oils – REN and Antipodes – fall into this pricey category (but they're so lovely and decadent on skin!) but I always like finding options. So I was very happy to stumble on one while shopping on iHerb one day 😀
I was looking for lavender essential oil when I came across the EO Products French Lavender Body Oil. I love the scent of lavender as well, so I took a chance on this body oil. I was going through my insomnia phase and wanted something to relax me as well. This seemed to fit the bill, based on the description.
I have to say however, that this EO French Lavender Body Oil has fast become a bedtime favourite, and one I am already planning to replenish! Oh and it costs under RM40 (US$10.06) so really, what's there not to love about it?! 😀
I don't know much about the brand EO Products, except that they make bath and body products using essential oils and plant extracts, which are free from synthetic fragrances. I also know that this is the only body oil they have in their arsenal, which disappointed me a little, because I'd have loved if they made some other scents.
But coming back to the French Lavender Body Oil, what I can say is that it is a lovely textured body oil that is not too oily or thick, yet thick enough for a body massage, if you'd like to use it for that purpose. Massage oils tend to be a little thicker in texture to allow for the masseuse to work it over and into your skin but this one isn't too thick.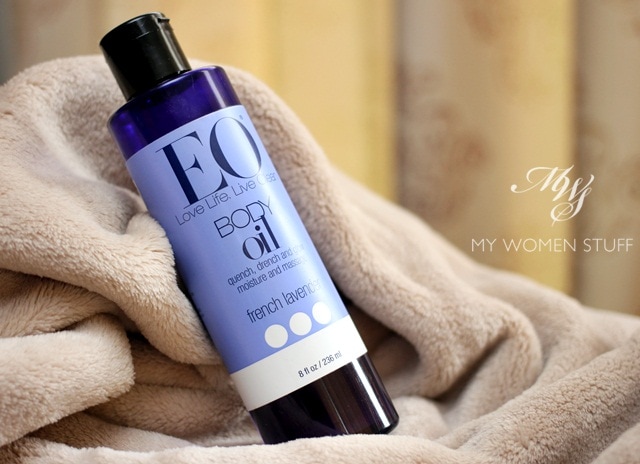 Yet, it is light enough in texture that I can use it daily, which I do right before bed. For use on its own as a body oil, you don't need very much, and you can just work it into your skin till it absorbs. It does take a little while to sink into the skin (it sinks in more quickly if your skin is damp so if it bothers you, apply this just after exiting your shower) but I like to rub it in and at the same time, breathe in the lovely relaxing scent of lavender.
Now the thing about lavender scented anything is that it can get tricky. Synthetic lavender essential oil smells quite different from natural lavender. I've gone round the block, as they say so I know when something smells synthetic, and this one doesn't.
The scent of the lavender is a little sharper but it isn't too strong so I find it ultimately very calming, especially before bed. The oils do keep my skin feeling more supple (it goes on my limbs) and because I'd been neglecting my legs for a while, I'd noticed that the skin was starting to look dry and scaly. I've been working this oil into my legs nightly for a week and I'm starting to see results so yes, I can safely say that this body oil is keeping its promise to quench, drench and moisturise my skin.
I will have this to note. If you are the sort who prefers using a dry oil, one that usually sprays on and dries quickly on skin, then you will not like this. You will find it too heavy and takes too long to absorb. I stay far away from dry oils. I detest the texture and dry feeling it gives my skin so I go for traditional oils. It comes down to personal preference, so do bear this in mind.
The bottle also comes with a flip top cover and when mine arrived from iHerb, although they sealed it, there was some spillage. I have read of people who complained that their cover gets broken easily. I'm almost done with my bottle and have not experienced this so your experience may vary.
What I think makes me happiest though, is that this body oil affordable so I don't feel like I have to scrimp on using it and can therefore slather it on. It's not to say however, that I'll give up my luxurious body oils – a girl does need her luxury after all – but for an everyday body oil that calms and soothes my senses before bed, this one ticks all my boxes.
IN A NUTSHELL

The EO Products French Lavender Body Oil is an affordable but nice quality body oil infused with the calming scent of lavender. The texture of the oil is medium, where it is suitable for daily use but can also be used for a body massage. The scent of lavender is very natural albeit it has the sharper scent of French Lavender. I find it calming especially before bed, and the oil absorbs nicely into my skin leaving it feeling supple and moisturised. Use it after a shower if you'd prefer it to absorb more quickly.

PROS: Affordable, Good quality body oil with a nice calming natural lavender scent, Absorbs fairly quickly into skin, Helps dry skin regain its moisture and suppleness, Keeps skin looking and feeling smooth and supple when used regularly.

CONS: Only available online for us in Malaysia

WHO WILL LIKE THIS: Anyone who likes using body oils, Anyone who wants an affordable good quality lavender body oil
Here is the ingredient list for those who are curious what goes in this body oil.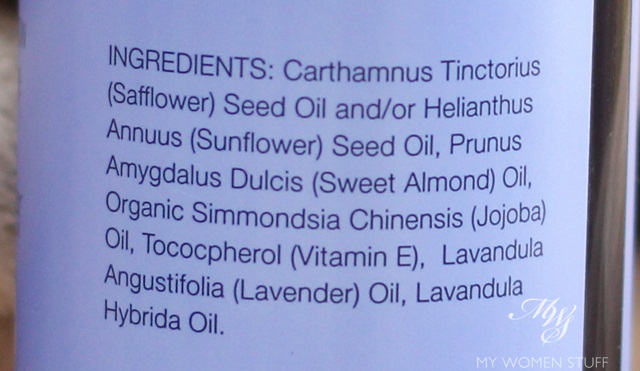 Something a little odd to note is that the ingredient list lists Lavandula Angustifolia which is more commonly known as English Lavender. Yet, the name of the product is French Lavender Body Oil. Yes, I was a little confused. Doesn't detract from the product's efficacy, but something odd to mention.
Have you ever used this or any EO Products products? Do you use a body oil and what's your favourite?
I am, as you may be able to tell, very pleased to find such an affordable product for daily use. My skin is happy, my wallet is happy and that makes me happy! I just wish EO made other scents but I'll definitely try a couple more of their products 😀
Paris B
EO Products French Lavender Body Oil Price: RRP US$14.99 (US$10.09 on iHerb)/ 236ml Availability: iHerb online store (ships internationally – use my code MPW213 to get 5% off your order)