Most of us have heard of cleansing oils which are sold commercially under various skincare and makeup brands. These cleansing oils are oils combined with emulsifying chemicals to clean the skin of dirt and impurities. I myself am a loyal user of cleansing oils to remove my makeup at the end of the day.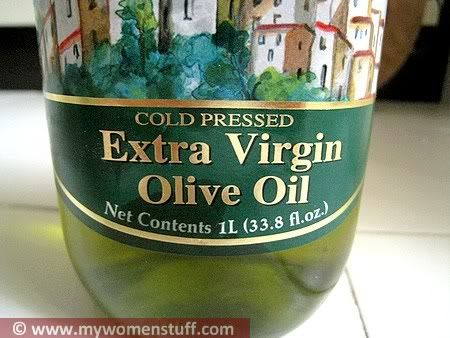 However, I've recently been made aware of something called the "Oil Cleansing Method" that has no bearing on the products I've been using. Many people who use the "Oil Cleansing Method" say that it helps their skin improve in texture and clarity keeps them blemish free.
I was intrigued – what is this "Oil Cleansing Method"?
Oil Cleansing Method
The "Oil Cleansing Method" uses oil to cleanse the skin. Not those commercial oils you find at the store, but actual oil which you can use to cook with or edible oils e.g. olive oil, sunflower seed oil, coconut oil, castor oil etc. The principle is thus: Oil is only broken down by oil. Sort of like fighting fire with fire. You use oil to breakdown the oils and dirt on the face and remove impurities from the pores.
The basic principle is thus as extracted from here:
Mix Olive Oil with Castor oil – mix olive oil into castor oil to make it easier to spread and castor oil has anti-inflammatory and healing properties while olive oil is touted to have anti-oxidant properties.
Pour the oil mix into the palm of your hand and spread on your face, massaging lightly to remove makeup and impurities from the skin. You can't rush this because these oils take a longer time to work compared with commercial cleansing oils.
Once you have fully massaged in the oils into the skin, wet a facial washcloth with warm (not boiling hot but steaming) water and place it over your face, allowing the heat and steam to soften the oils. When it cools, gently wipe your face with the wash cloth and repeat twice.
You will find that the heat from the water will remove the traces of oil from the skin and the skin ends up feeling very soft and smooth.
I tested this method myself recently after reading about it. Initially, I was sceptical. I had a bad experience with using Olive Oil as a home made oil cleanser before and I did not want to have to repeat that experience. However, after reading the many articles online about the Oil Cleansing Method or OCM, I realised that I had been doing it wrongly all along, which possibly explains why it did not work for me.
I'd missed out the crucial hot water cleansing step which is the step that actually helps with the deep cleansing and oil removal from the skin. Be careful when using hot water as water that is too hot can cause broken blood vessels on the skin which can be unsightly.
Using Olive Oil to cleanse skin
I don't have other oils on hand as I tend to cook with Extra Virgin Olive Oil or an oil blend and I did not relish going out to get a bottle of sunflower seed or almond oil or even jojoba oil which is lighter than Olive Oil just for the purposes of this experiment. So, I took the plunge with Extra Virgin Olive Oil used by itself without castor oil. Here's my experience:-
I poured some Olive Oil into the palm of my hand and warmed it up in my palms by rubbing my palms together until the oil felt lighter, then I applied it over my dry face. This method calls for dry face and hands.
I took my time to massage in the oils into the skin which all in all, takes about 15 minutes. You'll find the oil sort of absorbs into the skin and you can feel bits of dirt on the skin surface.
I had boiled up some water so I filled half a small basin with hot water and then mixed in some cold water so it won't burn the skin. I soaked a facial cloth in the water and laid it on my face and let it cool. Then, I wiped my face and repeated this step twice.
At the end of it, I found that:-
my skin did not feel oily or tight
my skin felt smooth and clean
You don't have to wash your face with a cleanser after that, as the basic concept behind the Oil Cleansing Method is reducing the chemicals you put on your skin. However, you can wash again after Oil Cleansing if you feel you need it. I do, and I wash but that's me. You also are only supposed to moisturise with a dab of the same oil, massaging it into the skin. But I don't do that.
Deep Cleansing with the oil cleansing method
There are many people out there who tout the Oil Cleansing Method as the saviour for troubled skin and attribute their glowing skin to it. Personally, I don't have that glorious a tale to tell, as I'm firstly too busy or too tired to use this cleansing method every day and secondly, I'm too worried that this method which is deep cleansing, may irritate my skin too much. Many people vouch for this method as the reason for their glowing skin but I'm sticking to my cleansing oils for now because its just more convenient for me and because it has been working well thus far. Also, I dislike using hot water directly on my skin and that is the only way to remove the oils from the skin. By contrast I can easily rinse off cleansing oils with warm or even cold water.
So, I use the Oil Cleansing Method once a week or when I have the time (or when I remember because I'm really quite lazy) and when I try the Oil Cleansing Method, I find that my skin is doing fine. Perhaps its not breaking out from the Olive Oil this time because its getting steamed off and cleaned properly. I don't plan to make the Oil Cleansing Method part of my daily regime due to time factors, but it works great as a weekly or fortnightly deep cleansing regime.
Oil Cleansing Method vs Cleansing Oils
How are they different? The oil cleansing method calls for natural oils without additives whilst commercial cleansing oils e.g. Shu Uemura, Kanebo etc have chemicals added to emulsify the oils. Naturalists would prefer using the oil cleansing method as part of their beauty regime as there are less or no chemicals involved. You can also make your own cleansing oils if you can find the ingredients for the emulsifiers. But that is another story! 🙂
If you are a regular user of the Oil Cleansing Method I would like to hear your story. Or if this method did not work for you, I'd like to hear your story too! Just don't bash other people's skincare regimes and products and I'm fine with that. 🙂 You can also read Viva Woman's experience here.