3 years ago when Guerlain reformulated their Meteorites Illuminating Perles and changed their packaging into a tin I was all over them slobbering like a puppy. This was back in 2010 but I say 3 years because we've just entered 2014 haven't we? Or should it have been 4 years? Either way, I was terribly excited.
At the end of last year when I got wind of another reformulation and new packaging, I had to go back and check just when the last one was because it just seemed like yesterday it was repackaged! But reformulated it has been and for the Meteorites Blossom Spring 2014, Guerlain has unveiled their new Meteorites Light Revealing Pearls of Powder. Slight tweak in name, formula and packaging but for all intents and purposes, the same product.
Guerlain kept the tin packaging which is of course great news. I had the older cardboard box and that was quite a let down (If you remember the cardboard box, give yourself a pat on the back!)
So, what's new then, other than a new design of the tin? Do they work better? Do they still give your skin that illuminated finish that has grabbed me since cardboard box days and kept me on as a fan? Is this a must have? I have some comparisons for you with the old 🙂
Must have? I'm afraid you're asking the wrong person here LOL! 😀 If my ravings over the years have anything to go by, yes the Meteorites in any incarnation are a must have. They are the last thing to go on my skin and just ties my whole look together flawlessly. But I'll also be the first to tell you that no, it's not a must have because not everyone will appreciate this. It's one of those things that you either get, or you don't, so listen (or read) my ravings but decide for yourself after you've had a try.
What's different in these new Guerlain Meteorites Pearls then? Well, a couple of things.
New Packaging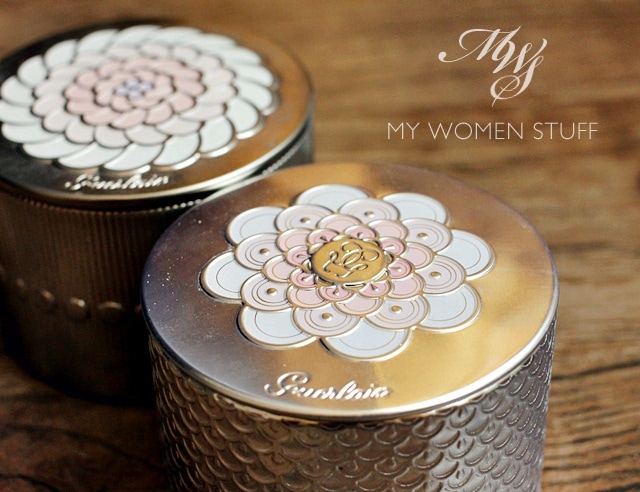 To start, the design of the tin has been changed. Guerlain's Spring 2014 collection which is very small by comparison to past collections, is themed Meteorites Blossom and the design of the tin incorporates this theme with design of a flower on the top of the tin. Still the iconic Guerlain Gardenia, but tweaked. The sides of the tin remind me of fish scales LOL! I dare you to tell me otherwise 😉
New Formula
Product wise, Guerlain says that the powders have been reformulated so even as they continue to colour correct skin (You'd be surprised at how well they do it without you noticing) and illuminate (blurred lines ftw!) the product is now softer and easier to pick up and more visible on skin.
My first impression when I received 02 Clair is that it appeared more shimmery and powdery than 01 Teint Rose that I use almost daily (I interchange with Teint Beige quite often as Teint Beige is less illuminating). I was afraid of a face full of sparkles. But using it, I was quite happy to note that this wasn't the case. It went on the same on my skin – diffusing, evening out complexion and not making me a discoball.
Was it easier to pick up with a brush? I did a side by side test with the old and new version.
Guerlain Meteorites Perles Left: Teint Rose Right: Clair ~ Test: Brush was tapped on the powder 3 times, no swirling
I used the softest powder brush I own, which is the Lunasol Face Brush (so soft!) to see how well a soft brush would pick up product. I must make a note here to say that I actually don't experience problems applying Meteorites powders. Picking up product has never been an issue for me so maybe I just don't get why it's an issue that needed reformulation 😛
But anyway, I found that it is very slightly true. It was easier for my brush to pick up product from the new Meteorites as compared to the previous version. It is even more powdery. My test involved just tapping on the perles 3 times with the brush. You may notice that the brush with Clair has a tiny little more product on it than the one with Teint Rose, especially at the tips. Imperceptible otherwise. See what I mean when I say I don't have a problem? 😛
What this means is that I no longer swirl my brush in the new Meteorites. I find it then picks up too much product and can make my skin look too pale (I'm using Clair) so I recommend just tapping on the product. That thin layer of powder on your brush is more than sufficient for you. With previous versions I could tailor it more easily because the brush picks up less product and deposits it more evenly on skin. With this new "easy to pick up" formula that is significantly more powdery, you risk putting on too much. The pearls are also much softer, as evidenced by the layer of powder at the bottom of the tub. This was never an issue before but it's very obvious now so travelling with this means breaking up the balls further. Not cool for me but for those who used to complain about how they never could see anything nor pick up product, this was for you. Boo for the rest of us who actually liked it as is.
So this improvement is both a pro and a con depending on how you use your Meteorites perles and what you expect it to do for your skin .
Colour comparison – 02 Clair and 01 Teint Rose
Meteorites Light Revealing Pearls compared with Illuminating Pearls Left: 02 Clair Right: 01 Teint Rose
Are the colours different? The Meteorites Blossom starts with 02 Clair (Pure Light) which is tailored for light skintones. The green powder corrects redness, white powder reflects light, lilac and pink powder adds radiance and champagne gold adds glow.
Notice that there is essentially no difference then between Clair and Teint Rose. None whatsoever. My Teint Rose is of course a little battered as compared to the more pristine Clair, but essentially nope. You don't need Clair if you already have Teint Rose. But if you are new to Meteorites then Clair would give you the same effect as Teint Rose and the even older Mythic. Same things, just different generations.
Less product
The biggest difference however comes in the product weight which I have to say came as the biggest surprise to me.
The new Light Revealing Pearls of Powder contains 25g of product while the older Illuminating Powder Perles had 30g. 5g when it comes to powder is quite a lot of product and that made me quite nonplussed because the price is higher too (not just locally but worldwide). I get it about raising prices (this is inevitable) but to cut the product by 5g? No, I'm not happy about that at all.
This is actually visible the minute you open the tin. I noticed the markedly lesser product because I use Meteorites almost everyday and there are usually about 3 layers of powder balls but in the new tin there are only 2 layers at best. You can see it for yourself in the picture above.
So as much of a Guerlain and Meteorites fan as I am, unless you absolutely dislike the Illuminating Powder Perles or have a significant problem picking up product, I'd recommend that you hunt down and buy the existing ones named Teint Rose, Teint Beige or Teint Dore for a slightly smaller pricetag and significantly more product. Sorry Guerlain, it's got to be said by someone!
There are 3 shades available, and this time they are clearly targeted at different skintones.
02 Clair (Pure Light) – Light skintones, adds radiance and tones down redness in skintone. Similar to Teint Rose and Mythic
03 Medium (Tone on Tone Light) – Medium skintones, complexion perfecting and glow. I believe this is similar to Teint Beige which I also use to add some warmth to my skin and I find it less glowy but I'm not sure about this new version.
04 Dore (Warm Light) – Golden skintone adding warmth, deeper complexion and rose powder adds radiance. I'm not sure if this is similar to Teint Dore because my memory tells me Teint Dore is more brown and gold but if you have significantly warm and tanned skin then this is the one you should look at.
Meteorites Brush – I personally dislike the Meteorites brush because it feels scratchy and rough. I use either my Trish McEvoy brush or my Lunasol Face Brush to apply my Meteorites. But the new one is supposed to be softer so maybe it isn't as bad (I haven't seen it though).
In a nutshell

Guerlain reformulated and repackaged their iconic Meteorites Perles for Spring 2014 Meteorites Blossom collection and have renamed them Light Reflecting Pearls of Powder which describe these powders quite perfectly. Briefly, the packaging has changed as has the formula which makes it more powdery and easier to pick up product with a brush. Be careful then as you can pick up too much product. Shade wise, I find them similar to the existing Meteorites except for Dore which may be slightly different. The biggest difference is in the product. It's now 25g which is a 5g reduction and in a powder, that is a lot. I love these but if you can get the Illuminating Powder, get those for the same result and more product.

Pros: Easier to pick up powder and apply on skin, More visible results more quickly, Not sparkly or shimmery on skin, Gives a lovely glow to the skin, Evens out and diffuses skintone and slight imperfections, Works as well as the existing Meteorites powders so previous reviews apply (read previous reviews on Guerlain's permanent Meteorites here and here and here)

Cons: 5g less product, Pricey, New formula means you can pick up too much product, Softer product results in more pearls breaking up and a more powdery formula

Who will like this: Anyone already familiar with how Meteorites finishing powder works, Anyone who wants a transparent powder that subtly colour corrects skintone while adding illumination and glow
If I seem a little less effusive about this new version of the Meteorites, chalk it up to the reduced product and the more powdery finish. I just can't quite get over that, no matter how much I love these. I still highly recommend these powders for giving you that beautiful diffused glow to the skin (Just be sure to pick the right shade for your skintone and use a light hand) and if the content doesn't bug you, this is a wonderful product that everyone should own or at least experience to see what the fuss is all about.
Are you a fan of the Guerlain Meteorites pearls or balls as I like to call them?
I've been hooked since the days of Mythic and I collect and use the different limited edition pearls that are released from time to time so yeah, I guess you could say I am a fan 🙂 But I'm also practical so if this isn't within budget, it's ok not to own it. It's not THAT life-changing. If it is, and you still don't own one, I suggest checking out the existing ones before they are replaced by the new versions because 5g of product is nothing to sneeze at!
Paris B
Guerlain Meteorites Light Revealing Pearls of Powder comes in 3 shades – 02 Clair, 03 Medium, 04 Dore Price: RM195 / RRP US$60 Availability: Guerlain counters from January 15th