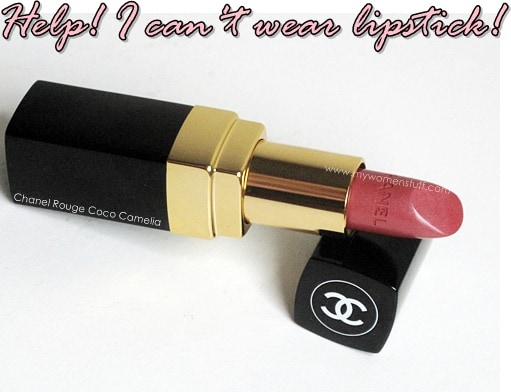 I'm a lipstick girl as opposed to a lip gloss girl. Its a personal preference.
But when I read of people who say that they "cannot wear lipstick", I get puzzled. I understand if something in a lipstick will cause an allergy which prevents a person from using it. But if its just a matter of thinking it won't look good, goodness! Stop saying "can't"! Negativity is not good for the soul 😀
Instead, think about the elements of lipstick that you dislike and work on that. I can tell you a few off hand:-
Its too thick
Its too waxy
The colour is too strong
Its drying on my lips
Well, that isn't a "can't wear lipstick" situation but rather, a "I don't like wearing lipstick" situation to me. Here's how you can get over that "can't" and turn it into a "can".
To get around strong colours, you can try a lipstick that is more sheer in texture.
I'd suggest you try Kanebo T'estimo lipsticks but they are discontinued. Instead, try lipsticks from Japanese brands like Kate or Coffret D'or. Lipsticks from Japanese or Korean brands are usually sheerer in colour, offering just a hint of colour on your lips and high gloss. Try also Laneige. I haven't tried their lipsticks but they swatched quite sheer. From the drugstore, you can also try Maybelline Watershine or L'Oreal Color Riche or even Silkygirl lipsticks, all of which are sheerer and light in texture yet offer nice shine and a hint of colour.
Formula of lipsticks these days are also much lighter than they used to be in the days of yore and are more moisturizing too. I don't deny that there are some lipsticks that dry out lips like nothing else. I too steer clear of those.
Tip: To get around lipsticks that are drying, apply some lipbalm first.
If you think a strong lip color will look odd on you, go for a lighter colour. The celebrities do it all the time. Angelina Jolie popularized the nude lip look for her pouty bee stung lips. Julia Roberts on the other hand embraces colour for her distinctively wide mouth.You don't have to go the way of strong pigmented colours like Chanel Rouge Coco or YSL Rouge Volupte the way I prefer my lipsticks 🙂 You don't have to like red lipstick too! Lipstick comes in a whole range of shades!
Tip: If you'd like to try a strong colour, use it as a stain. Use a lip brush to apply the colour on your lips and then blot off before topping up with gloss. Or mix some colour with lip balm to create a sheer colour for your lips.
My personal belief is that there is a lipstick colour and texture for everyone. You just have to try it and not let "can't" get in the way of thinking. Think "can" for a change and try it. As I do enjoy using lipstick more, you can read my reviews on the different lipsticks I have tried. Who knows? You might find you like 🙂
But you are welcome to say that "I prefer lipgloss over lipstick" because I can understand "prefer" 🙂 Do you have a hang up about using lipstick? If so, what is it? Perhaps we could all help out with some tips 😀
Paris B