Day 26 of the 30 lipsticks in 30 days project features another drugstore favourite from the Maybelline Watershine line of lipsticks.
Maybelline WaterShine Lipstick – Fresh Cherry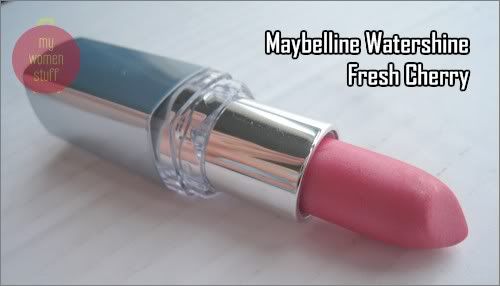 Maybelline was my first lipstick ever. I was a huge fan of the Jewel Berry lipstick until it got discontinued. Now, my favourite line is the Watershine line – glossy sheer and shiny colours.
Fresh Cherry is a bright looking pink in the tube. Almost bubblegum. Its a colour I'd say is "young and vibrant" because it is.
On the lips, Fresh Cherry is a sheer bright pink. A colour I never thought I'd be able to pull off but thanks to the sheer glossy formula, I can 🙂 Fresh Cherry looks best with a more neutral face as it can by itself brighten up your whole look with just one swipe.
If you prefer something redder, try Dragonfly Red – my other favourite colour from Maybelline Watershine lipsticks. They are truly a star drugstore find at about RM20+ each 🙂
Stay beautiful,
Paris B