We all know by now I'm a lipstick girl and that I own more than 30 lippies at last count LOL… I never did finish off Day 30 of my lipstick feature did I? Well consider this one compensation! 😀
Many readers noted that my lipsticks all tended towards the rose-red end of the spectrum, a color that suits me well. So, it looks like the new L'oreal Color Riche Glam Rose lipstick collection was made just for me! Haha… 😀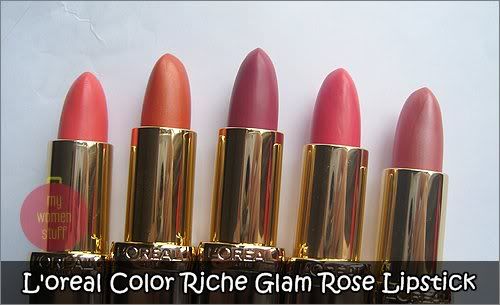 5 new shades of the bestselling L'Oreal Color Riche lipstick line for Asian skins and matched to your skintone so you never have to work out which works best for you. From left to right :-
Baby Rose 632 – Porcelain skintone
Rose Sunset 634 – Porcelain skintone
Rose Crimson 631 – Golden Tan skintone
Rose Petal 630 – Rose skintone
Rose Blush 633 – Golden Fair skintone
The skintones are a guideline, not a firm rule. I fall under the Porcelain skintone category and yes Baby Rose is a gorgeous "my lips but better" shade. However, Rose Sunset is a little too warm and Rose Petal is lovely to brighten up my face! I've featured the swatches below after the jump.
My favourite is Baby Rose a "my lips but better" look. Because its so sweet and delicate, I can just imagine pairing this with Miss Dior Cherie perfume and putting on a pretty summer dress and run barefooted in the fields. Its pretty – make no mistake!
Rose Sunset is warm orange with gold tones. It would be lovely if you can handle warm colours. Although slated for Porcelain skintones, I reckon it would make a lovely neutral if you are tanned.
Rose Crimson is marked for Golden Tan skintones but I rather like this too. Very nice if you can handle strong colours. Its not as berry as it looks in the tube and goes on my lips a lovely creamy rose red. I'm one for strong lips so I don't mind this one too!
Rose Petal is a favourite of mine. Its a sheer bright pink that instantly brightens up my face. I'm not sure what Rose skintone implies. I reckon it means those with a pink undertone. Its beautiful and I've been wearing it out! Perhaps since this works for me, this means I have a Rose Skintone?!
Rose Blush for Golden Fair skintones is a peachy rose with warm gold tones on my lips. Its actually very wearable for most people I would think. If you have a tan, it would make a pretty neutral lip.
The thing I noticed most about the new L'oreal Glam Rose lipsticks is that they all look solid and dark in the tube but apply more sheer and in some cases, rather different from what you see in the tube.
The texture is sheer, glossy and fragrance free! I somehow feel they have taken a leaf out of the Japanese lipstick book because these feel just like Japanese lipsticks at a much more affordable price!
Each L'Oreal Color Riche Rose Glam lipstick retails for RM33.90 and is available at most L'Oreal counters. As usual, watch out for discounts at Watsons and Guardian – sale time's a great time to pick these up.
So, which L'oreal Rose Glam lipstick do you think will suit you best? 🙂
Stay beautiful,
Paris B