Eyeko's Cream has a love-hate relationship with users if you read online reviews. I'd heard about it quite a few years ago, but had never tried it. It is touted as a 3 in 1 product – moisturizer, highlighter and eye cream. Personally, I'd say that this works best as a highlighter. If you place too much emphasis on the moisturizer and eye cream bit, you might be disappointed.
So now we've gotten that out of the way, let me tell you about the Eyeko Cream Extra Glow. This limited edition cream is the same as the original Eyeko Cream but with added shimmer. Scary thought? 😉 Don't be. I didn't notice the shimmer on my skin when applied. What I got was a glow.
This shimmery pink cream comes in a plastic tub which you either like or hate. I found it made the product look a little cheap. Packaging does matter. I think I'd prefer if this cream came in a tube 🙂
So, what is this really?! For me, its a cream highlighter. If you try to use it all over your face, you can risk looking like you fell face first into a pail of shimmer powder. So don't.
All you need is a tiny little dab of the cream on the tops of your cheekbones and down your nose. Perhaps a little dab around the eyes, if you are looking particularly tired on the day.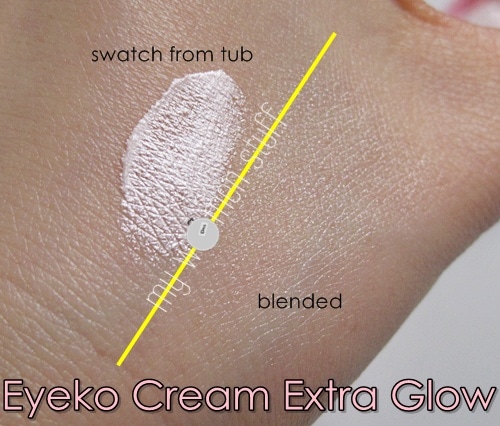 It looks scary shimmery when applied thick, but once you blend it out, I see nothing, except a hint of shimmer. You might be surprised, but this actually helps me look awake and alive. There are days when I don't 😛
I use this after I've applied all my skincare. Before applying foundation, I apply a dab of the Eyeko Extra Glow Cream at the places I've mentioned before and blend it in. Only then do I apply my foundation.
This works wonderfully with the Clarins Everlasting foundation which I previously mentioned looked a little "flat". I mix in some Extra Glow Cream into the foundation before applying over my face. There is no scary discoball shimmer, but just enough "glow" to keep things interesting.
You can apply it over your makeup too. Sometimes, if my blush doesn't quite "pop", I apply a tiny dab of this cream over it, and blend it in, and it works. Just be careful and do not overdo it.
Pros: Adds a nice subtle glow if used sparingly, works to add definition to flat liquid foundations

Cons: Can be very shimmery if applied too thickly, Only available online
Do note that I do not have very oily skin but it does not sink into lines or accentuate things it should not. Of course, if you have pitted acne scars as I do, it can accentuate that, but if you apply it very sparingly, it even has a way of diffusing it so it looks less obvious.
A 28ml tub can last you forever so if you plan to get it, why not get one tub and then share it out between a few friends? 🙂
Paris B
A 28ml tub of Eyeko Extra Glow Highlighting Cream retails at £8 at www.eyeko.com. Eyeko ships worldwide and "Eyeko" means "love".