I was browsing in Guardian pharmacy during the weekend when a small counter caught my eye. It held some small boxes of sun shades and hats in fluorescent yellow and light baby blue.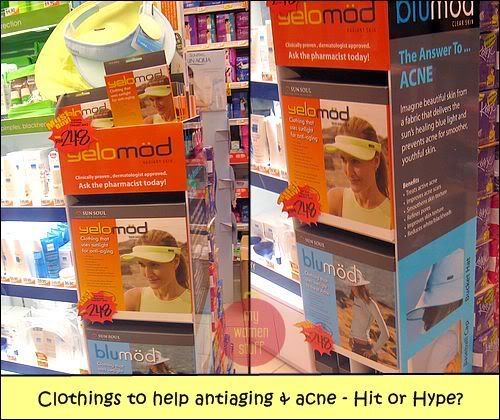 On closer inspection, I saw that the products were called YeloMod for radiant skin or Blumod for clear skin and it was by Sunsoul, a Canadian company.
Yelomod clothing that is anti-aging
The fluorescent yellow Yellowmod is a clothing line that supposedly harnesses the yellow light from the sun to convert "the sun's harmful UV radiation into healthy yellow light".
This they say helps with anti-aging and reduces skin damage and gives radiant skin. I cannot help but feel a little sceptical. Everything we have ever read points towards the sun CAUSING skin damage due to UV rays. Yes, the sun rays help provide us with Vitamin D but you only need very little sun to get your Vitamin D fix for the day.
Blumod clothing to fight acne
The blue coloured clothes and hats in the Blumod clothing line claims to "convert UV light into high intensity blue light" to help treat skin problems, stop breakouts and give you clearer skin. Again, this goes against everything we know – we are advised to stay OUT of the sun if you have an aggravated acne problem. So I can't help feeling a little "Yeah… right!" about all this.