After waiting for what seems like forever for the Guerlain Midnight Butterfly collection to arrive on Malaysian shores, I have finally sneaked a peek at the collection. Part of it anyway. I was at Metrojaya at Midvalley Megamall and did not see the Christmas collection displayed so I asked the girl at the counter who immediately brought out all the stuff for me to view. Apparently, there was no space for her to display the new products! Strange reason, but there you go! Bit of a waste really because most people would stop and stare at the beauty of the Guerlain Midnight Butterfly collection.
The whole Midnight Butterfly collection is done in a pale lilac shade which is quite unusual and very pretty. Butterflies are etched on the surface of the metal case of the lipstick. However, I was disappointed to note that the Meteorites Pearls come in a cardboard box albeit with a butterfly embossed on the cover. It was a bit of a let down.
First up is the Mysterious Butterfly eyeshadow palette (RM180). This limited edition eyeshadow palette comes in shades of purple with a butterfly etched on it and filled with shimmer. At a glance, I knew it wouldn't work for me.
I don't handle purples on the eyes well, and this was one purple palette I cannot handle because the colours tend towards being warm with reddish tones. Whilst pretty to look at, I found the eyeshadow palette too sheer. See the swatches below:-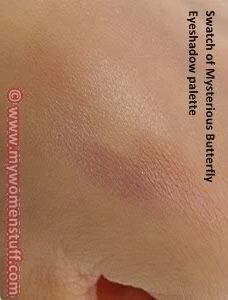 I'm not overly fussed with sheer eyeshadows, but even I found these a little too sheer for my tastes. The colours themselves have shimmer but minimal and I suppose if you swatch part of the butterfly design then there would be more shimmer.  I really like the Perles d'argent eyeshadow palette and to me, the Mysterious Butterfly palette can't hold a candle to that. Pity really because it is seriously pretty!
Continue Reading