I used to have a couple of Bobbi Brown's Shimmerbricks. They were nice but there is only so much shimmer a girl can take and only so much shimmer you would apply on a daily basis. So I stopped at 2.
However, the new Bobbi Brown Platinum Pink Shimmerbrick (link) has made me do a double take.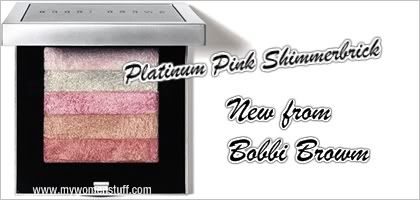 This limited edition Platinum Pink Shimmerbrick has five color bars to light up the face -soft pink, platinum, bright pink, golden coral and rose. I think this one trumps all the rest in terms of prettiness factor.
It looks like a highlighter, rather like the Meteorites popularized by Guerlain. I see the same sort of colours. However, as Bobbi Brown shimmerbricks tend to be very shimmery on the skin, I am wondering how this will perform as an all over highlighter. I used to use my shimmerbricks only on my cheekbones. The colours can also be used for eyes so I reckon its quite useful.
Still, I will be checking it out when it comes here to Malaysia. Its already out in the USA and retails for US$40. Bobbi Brown shimmerbricks used to retail here for RM135 but do let me know if the price has gone up because its been a while since I checked them out 🙂
Have a great weekend ahead!
Stay beautiful,
Paris B