Ever since I changed my shampoo to some strange brand that according to my hairdresser does not require a conditioner, I have not been using one. It doesn't kill my hair or dry it out unduly so I was not too fussed. However, a few months ago I was given a L'oreal Elseve Damage Care hair mask and so I decided to test it out.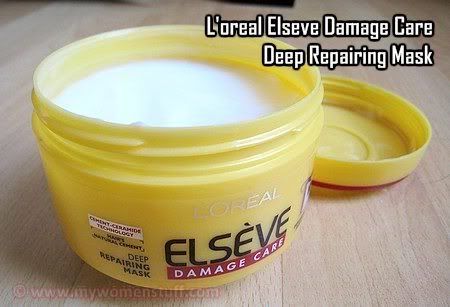 The L'oreal Elseve Damage Care Deep Repairing Mask comes in a bright yellow tub that cheers up my bathroom to no end. The paste is white and thick and chockful of silicones so it is slippery! It also has a strong sweet scent that was cloying initially.
You can read about this product on the Malaysian website (link) or in English, on the UK website (link). For some reason, in the UK Elseve is known as Elvive. L'oreal does this a lot – naming the same thing different names in different countries which confuses us all to no end. I know not why except maybe its to do with how a name or item is perceived in each country.
The concept behind the Elseve Damage Care series is to repair damaged hair with a replica of hair's natural ceramides. The hair mask is designed to intensify this hair repair and promises to leave your hair soft and silky.
But does it?

I find the mask thick and slippery. Many a time have I dug into the pot only to have the mask slip out of my hands as I try to close the cover in the shower. Believe me, trying to juggle slippery hair mask, an open container and avoiding the shower all at the same time is no joke!
I use this hair mask after shampoo with my regular shampoo and after squeezing out as much water from my hair as I can. I use one scoop of hair mask. One scoop here is not an exact science. Its one scoop using the tips of my fingers. I then spread it over my hands and only then massage it through my hair concentrating on the middle and the ends. Do bear in mind I have short-ish hair. If you have long hair, expect to use more.
Hair tip: When applying conditioner or hair masks, apply only from the centre of the hair shaft to the tip. Try to avoid putting conditioner on the roots of the hair or on the scalp because it can make your scalp more oily and make your hair look heavy and greasy.
I then leave it on my hair while I finish up the rest of my shower then wash off the hair mask. I do find that my hair is immediately much softer and tangle free. The fragrance lingers but I don't find over powering nor does it bug me much.
The nice thing is that this hair mask lasts through a few hair washes. The not so nice thing is that it is far too few washes. I wash my hair every day and only condition or use this hair mask once a week. So far, I found that my hair remains soft with a light fragrance for only about 3 days. With regular use however, my hair does feel lighter and looks a little smoother. I look less like a loo brush and more like a human! Yay! 😀 Here's the ingredient list for those interested:-
A 200ml tub retails for about RM26 or thereabouts at most pharmacies and L'oreal counters. I say its a decent price to pay as it can and will last you a long time. I had no adverse reactions to this hair mask – thank goodness!
Pros: Affordable, Hair feels light and silky after use

Cons: Tub packaging is hard to handle in the shower