When I encountered the Estee Lauder Chocolate Decadence collection for Fall 2008, I was stunned at the uncanny resemblence to Guerlain Ombre Eclat eyeshadow quads. So, I went home and rooted around my collection and realised that I hadn't reviewed them, so here it is.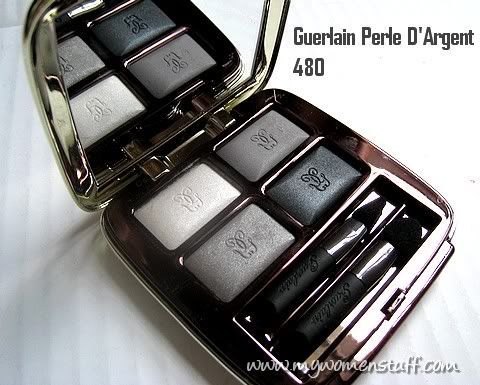 If you have seen the new Estee Lauder eyeshadow quads, don't you think the similarity is uncanny? The same golden square shaped quad with slightly domed shaped cover. The same rectangular pans inside and 2 sponge ended applicators. The only difference being that Guerlain kept the gold on the cover (which attracts fingerprints like crazy) while Estee Lauder put it on the inside. Oh and I think that the Guerlain quad looks more luxurious. For some reason, the 4 pans of eyeshadow make me think of chocolate bars. 😛
The Guerlain Ombre Eclat eyeshadow quads were a new release some time in 2007 as far as I can remember. It either replaces or will be sold alongside the older Divinora collection. The Divinora quads comes in a semi circle shape with a beaten gold cover, which did not quite appeal to me. I'd read that the new formula in these square quads are better, but as I've never tested the other ones I can't really tell.
What I can say however, is that I really like the Perle D'Argent quad! This is the grey-black quad in Guerlain's collection which is smokey eye material. Along with my Stila Smokey Eye Quad, this will call for a challenge some time soon! I do have one caveat – the texture is quite sheer so it takes a bit of layering if you like a really dark smokey look.
This is a swatch of all 4 colours on my inner wrist. It took quite a bit to get the colours to show and even then you can see that its on the sheer side. The 2nd colour, a matte grey is a really strange colour because I don't quite know what to do with it. It works as a base but I did not find the colour very flattering to my skin. The other 3 colours are shimmery and work well together so I usually just ignore that strange grey.
Now, here's the good thing about having a sheer coloured palette. You can wear it in the day! Yep! I have pulled off very subtle light smokey looks in the day for days when I am way too lazy to work on my makeup and every single time, this palette pulls the look off for me – even at serious meetings.
That strange grey colour did react a little to the oils from my fingers but the other 3 colours are still alright. The texture is slightly harder than it looks and I have to swipe it at least twice to get the colour on my lid.
Using a sponge applicator might make the job easier.
I like that the shimmer isn't over the top and because it is slightly sheer, the colour is more controllable. When working with darker colours, I usually prefer something sheerer so I make the minimum of mistakes. So for this, this Guerlain palette gets the thumbs up from me. Not everyone will like it however, so do test it out yourself to see if its for you.
The Guerlain Ombre Eclat eyeshadow quad retails at RM180 (US$54) which is on the pricey side, but hey, its Guerlain! On Nordstrom, its retailing for US$57 and you can see the rest of the colours available.
Pros: Sheer and buildable, Chic packaging, Nice shimmer

Cons: Expensive, Cover attracts fingerprints, Sheer
[rating:4/5]