I've used up some products recently, and it's opportune to share what I thought about them after finishing them to the last drop, as there were a couple that didn't quite blow me away. Yet, they didn't quite merit a post on their own, if you get what I mean.
There was one that surprised me, as it sort of grew on me the more I used it. Wasn't impressed initially, but by the end of its life, I was happy enough with it that I was contemplating repurchasing! 🙂
Cle de Peau Beaute Le Serum – Review
You can read my full review of the very luxurious Cle de Peau Beaute Le Serum that I shared prior to this.
Because it was such a luxury product, I was quite economical with my use, despite really liking it very much. It leaves skin feeling so soft, moisturized and comfortable every time I use it. Yet, because I was mindful of its pricetag, I think it marred my enjoyment of it somewhat.
I like being generous with my skincare product use, and I was aware that each pump of the product cost a pretty penny! For this reason, it is hard for me to justify a purchase, as there are many other products out there that feel lovely on skin, and are more wallet-friendly.
REPURCHASE: Yes, if budget permits

WHERE TO BUY: Cle de Peau Beaute counters and stores, Cult Beauty
Avene Very High Protection Mineral Cream – Review
I think you know the answer to this one as to whether I'd repurchase LOL! 😛
I was very happy and am still very happy with it. It is heavier than most sunscreen. It will leave a cast on deeper skin tones as the tint doesn't fit all skin tones. It is a little greasier than others.
But damn, it protects my skin like no other sunscreen I've used before this! This beats all the Japanese brands I've been using, which have all failed me on 2-3km sunny morning walks. There is really no better way to test a sunscreen LOL! 😛
My skin takes to it well, fortunately, despite it being a mineral sunscreen. I do double-cleanse when I get home, and for reapplication, or when I'm staying in, or just popping out for quick errands, I still use my Allie sunscreens for better comfort.
Unless I find another affordable mineral sunscreen that feels as comfortable for me for intense sun exposure, I forsee that I'll be sticking to this one for a while.
REPURCHASE: YES!

WHERE TO BUY: Most major pharmacies where Avene is sold – look out for discounts!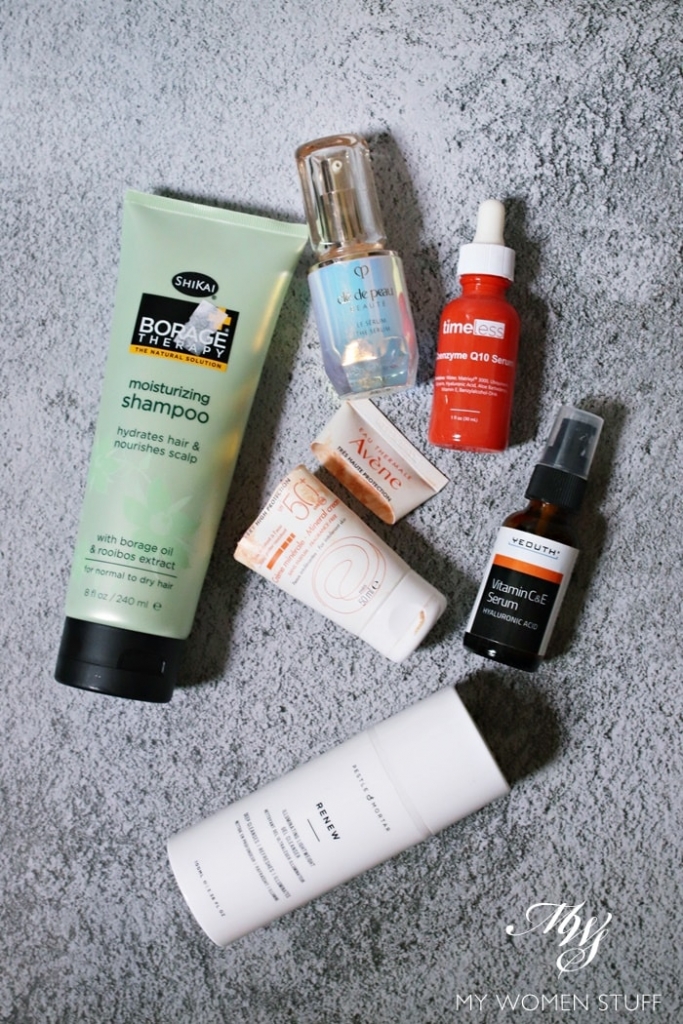 Pestle & Mortar Renew Illuminating Lightweight Gel Cleanser
I was curious about the products from this brand, Pestle & Mortar, but their famous hyaluronic acid serum costs the earth! So, I settled on trying their Renew Illuminating Lightweight Gel Cleanser instead.
I really liked it!
It is lightweight, as the name implies, and the texture reminds me somewhat of the Oskia Renaissance Gel Cleanser. It sort of feels the same way on the skin too. Feeling rather more oily than gel-like. For this reason, I preferred to use it as a first cleanse in the evening.
In fact, in many ways, it is quite similar to the Oskia Renaissance Gel Cleanser, using fruit enzymes in its ingredients to tighten and unblock pores, improve skin tone, and deliver a more illuminating complexion.
It felt very gentle on my skin, and was very comfortable as a first cleanse. I apply it on dry skin, massaging it in, then emulsifying with warm water, before rinsing off. It doesn't foam up, but it rinses off very clean and very easily. My skin felt so lovely and clean and rejuvenated!
The best part is that it isn't drying, and if anything, my skin felt cleaner, softer and even smoother after use. Boy, do I miss this one in my routine! The day I could pump out no more product, I said a little sad good bye. Haha! 😀
It's not cheap (It retails at £38) but it is absolutely lovely!
REPURCHASE: Yes

WHERE TO BUY: Feelunique
Shikai Borage Therapy Moisturizing Shampoo
The Shikai Borage Therapy Moisturizing Shampoo was the one that grew on me. When I first used it, I wasn't too sold on it.
I mean, I'm not fussy about hair care products usually. My hair is quite easily managed with most shampoos. But the longer I used it, the more I noticed that my hair was behaving itself quite nicely. It felt comfortable, I did not notice any residue build-up, and because I wash my hair so often (up to twice a day), it did not dry my hair nor result in any further hair-fall.
If anything, I could even get by without using a conditioner, and you don't need very much each time. It is one of those shampoos that do not lather up, but it does not weigh my hair down and rinses off cleanly.
I must say that my hair misses it very much indeed! LOL
REPURCHASE: Yes, eventually

WHERE TO BUY: TNS Skinlab
Timeless CoEnzyme Q10 Serum
I bought this a while ago, when Timeless USA still shipped to Malaysia. They don't anymore, as you can now get your Timeless products from Worthee Cosmetics. However, I must say that I miss the generous sales that I used to indulge in on the Timeless website 🙁
One of my purchases then was the CoEnzyme Q10 Serum, which regenerates and repairs skin by boosting the energy levels of our skin cells. This, alongside Vitamin E antioxidants, hyaluronic acid for better skin moisture and skin-firming Matrixyl 3000, you'd think I'd be in love with this one.
Funnily enough, I wasn't too sold on it.
The problem for me, is that from the time I started using the Timeless CoEnzyme Q10 Serum, until it ran out, I did not notice any noticeable benefits to my skin. Even after I finished it, and moved on, I did not notice any deterioration either.
It isn't to say that it isn't a good product. All it means is that it isn't a product that delivered noticeable results for my skin. Maybe if you have skin that does need these sort of boosters, it might deliver a result. For me, it was just something I'd apply but not thoroughly enjoy either way.
REPURCHASE: No

WHERE TO BUY: Worthee Cosmetics
Yeouth Vitamin C & E Serum – Review
I wrote about this in greater detail so it would be best to read my review on it to see what I think.
I do maintain that this is a pretty decent, affordable Vitamin C serum to use. It is comfortable, and light and fairly gentle on skin.
After finishing it however, I must say that I don't miss it. I don't notice that I no longer have it in my routine, and I have no real desire to replenish. If I were getting something on a budget, I'd suggest the Melano CC Essence, which I personally found more effective. Or, get the Timeless Vitamin C & E Serum instead, which will deliver noticeable results and isn't all that expensive in the big scheme of things.
REPURCHASE: No

WHERE TO BUY: iHerb
Have you used any of the products here? Any thoughts on them, if you have?
Feel free to disagree with how I feel about them 😀
Paris B