I'm going to tell you straight off that this is a splurge, and one I might never have tried, had I not been offered the opportunity to have a go at the Cle de Peau Beaute The Serum.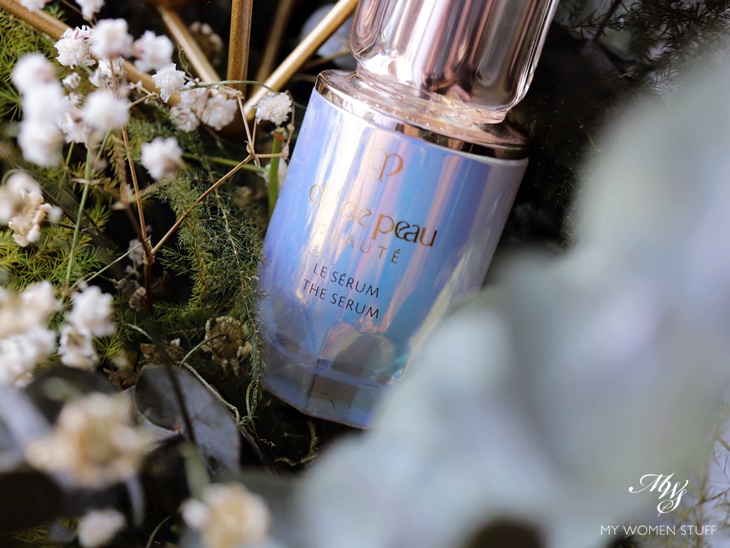 Cle de Peau Beaute revamped their skincare range some time last year, streamlining them with the Key Radiance system that I shared with you here.
I don't really want to repeat myself about what it is, and how it's meant to work, so I'd suggest that you read about it in my previous post 🙂
What I'm going to share with you instead, is my thoughts on what I deem the star product in the range, The Serum.
Cle de Peau Beaute The Serum – 2 sizes
The Cle De Peau Beaute The Serum comes in 2 sizes – 30ml and 50ml. Reasonable, as the entry price point is very high. However, if you use it based on the recommended use, you'd run through it very quickly!
What The Serum does is target dryness, and it is said that with prolonged use, skin will feel softer and smoother, more supple and more healthy.
The Serum, I'm told, is the key that unlocks your skin, to allow for better product absorption. This is why it is the first product you apply after cleansing, unlike most other serums.
The CdP Serum is formulated with their signature ingredient Skin-Empowering Illuminator powered by precious Platinum Golden Silk to enhance skin's ability to defend itself against different types of stress for radiant skin.
It acts almost like a pre-serum, in that it preps the skin for better absorption of skincare, while delivering moisture to the skin. It includes a blend of red, brown, and green kelp to activate skin's regenerative powers and help promote a smoother looking skin texture.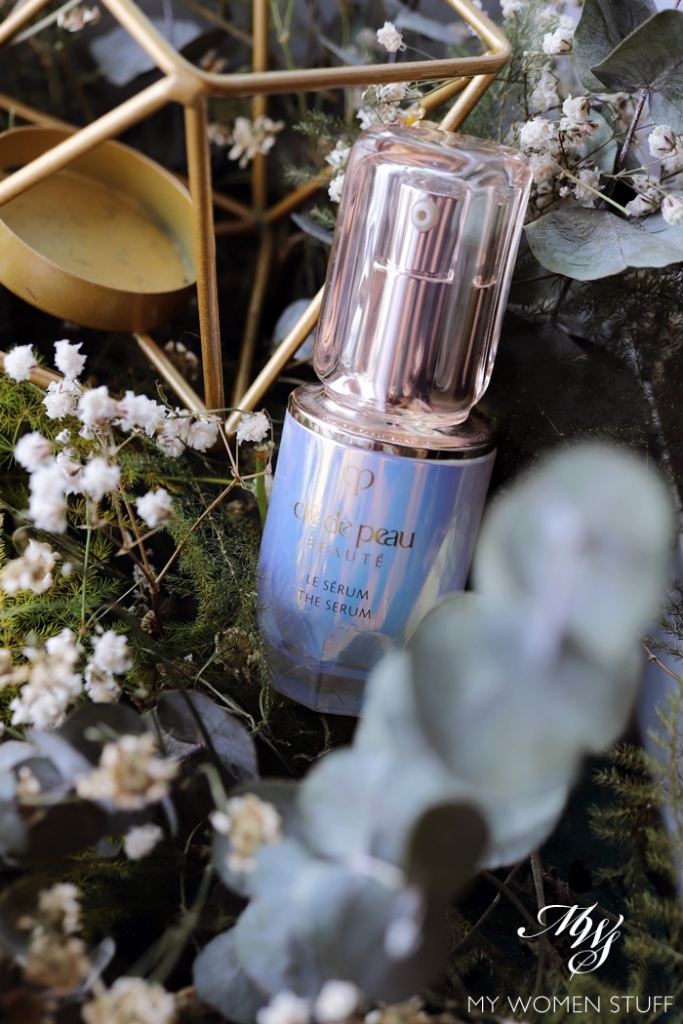 Very light texture
The Serum has a very light, gel-like texture, that absorbs quickly and easily into the skin. Like most light gel textured products, it does make skin feel instantly hydrated.
The recommendation is to use 3 full pumps on your skin, which is a lot of product. While I am very generous with product use, and like to follow recommended amounts of product, I found that far too much for my skin.
The Serum was so liquid and there was so much of it, that I was spreading it all over my neck, chest and arms! Not a bad thing, but a little extravagant, I felt.
Instead, my personal method is to use just 1 pump, which I smooth all over my skin. It spreads very easily, gliding over skin, absorbing almost instantly into the skin, leaving it feeling smooth and soft.
Skin feels hydrated and plumped
I swear that it is almost as if my skin is plumped up from the get go! I am no stranger to using hydrating serums that contain high amounts of hyaluronic acid. This feels just like a gel-textured hydrating serum, but with a significant boost to it.
With other hydrating serums, my skin feels hydrated. With the CdP The Serum, my skin is not only hydrated, it feels and looks smoother.
I have been going out in the sun a lot in the mornings in recent months, as that's when I walk my dog. So, I usually do a quick routine in the morning, go for our walk, then come back and shower, before doing a more involved, hydrating routine, to pamper my skin from the drying effects of sun exposure.
I use the Cle de Peau Beaute The Serum in my 2nd step of my morning routine, and I can safely say that my skin isn't drying out more than it should be. If anything, it remains hydrated and feels smooth.
The Serum pumps out a clear gel-liquid, that goes on very comfortably on skin.
While Cle de Peau Beaute says that The Serum also promotes skin clarity, that is something I find debatable to gauge, as I am an avid user of Vitamin C serums, that do the same thing. That my skin remains fairly clear can be attributed to either product, so I'm not vouching for that.
Drawbacks : Scent and Price
As much as I've enjoyed using the Cle de Peau Beaute The Serum, I have to say that there are 2 major drawbacks to the product in my book.
The first is the scent that I find a little too strong. While I am not averse to using scented skincare, I am sensitive to strong floral scents, and I find the scent in this serum a little strong for my tastes. A lighter scent, or even unscented serum would fare better in my book. That said, I understand that many people enjoy smelling nice after putting on their skincare, so it's a personal preference.
The second drawback is the price. The Serum weighs in at a hefty RM750 | US$190 for 30ml and RM1,200 | US$295 for 50ml. That, by any reckoning, is a jawdropping pricetag!
It is for this reason that I say that the recommended 3 pumps per use is just too much both in terms of product and in terms of price. Going by that recommended use, a 30ml bottle will deplete very quickly!
Personally, despite my lavish spending habits on skincare, I would struggle to spend this much on a serum that hydrates my skin and leaves it feeling smooth. but is otherwise unsustainable in the long term.
RELATED READING: When contemplating your skincare, the key tip to keep in mind is to BE PRACTICAL READ HERE
For this reason, as much as I have enjoyed the Cle de Peau Beaute The Serum, and as thankful as I am for the rare opportunity to try it, I struggle to recommend it, especially in today's economic climate. If it comes within your budget, I say, go for it. Your skin will love it! But this isn't for everyone, and especially not now.
IN A NUTSHELL

The Cle de Peau Beaute The Serum is a very lightweight gel-liquid that applies easily to the skin and absorbs very quickly. It hydrates and plumps up the skin almost immediately, leaving it feeling smooth and hydrated. I thoroughly enjoyed using it, although 30ml doesn't last very long, but I struggle to recommend it because it is priced very high, and that is something that is unsustainable in the long term for most of us. For those who can afford it, try it. It's very nice!

PROS:
Lightweight gel that absorbs quickly into the skin
Hydrates skin almost instantly
Skin feels soft and smooth after using

CONS:
Highly scented
Very pricey

WHO WILL LIKE THIS: Anyone with a budget for luxury priced skincare and wants a nice hydrating serum

PRICE: RM750 | US$190 for 30ml and RM1,200 | US$295 for 50ml

WHERE TO BUY: Cle de Peau Beaute counters and stores, Cult Beauty
For those interested, this is the ingredients list for the Cle de Peau Beaute The Serum.
WATER(AQUA/EAU), BUTYLENE GLYCOL, ALCOHOL DENAT, DIPROPYLENE GLYCOL, PEG/PPG-14/7 DIMETHYL ETHER, BETAINE, GLYCERIN, TREHALOSE, PHENOXYETHANOL, CARBOMER, SODIUM CITRATE, PPG-13-DECYLTETRADECETH-24, CITRIC ACID, ERYTHRITOL, FRUCTOSE, XANTHAN GUM, DIPOTASSIUM GLYCYRRHIZATE, ALLANTOIN, FRAGRANCE (PARFUM), DISODIUM EDTA, SODIUM ACETYLATED HYALURONATE, TREMELLA FUCIFORMIS POLYSACCHARIDE, POTASSIUM HYDROXIDE, SACCHAROMYCES FERMENT LYSATE FILTRATE, HEXYL CINNAMAL, ALPHA-ISOMETHYL IONONE, CITRONELLOL, LILIUM CANDIDUM BULB EXTRACT, CENTAUREA CYANUS FLOWER EXTRACT, LIMONENE, LINALOOL, THEANINE, HYDROLYZED SILK, DISODIUM ADENOSINE TRIPHOSPHATE, INOSITOL. POTENTILLA ERECTA ROOT EXTRACT, BUPLEURUM FALCATUM ROOT EXTRACT, POLYQUATERNIUM-51, TOCOPHEROL, HYDROLYZED CONCHIOLIN PROTEIN
What's the most expensive serum you've tried so far?
This comes in close to the top for me, I think! I was quite generous with use till I checked the price tag, then I was much much more careful 😛
Paris B
Disclosure: Featured service was a media trial by the brand for consideration. Our commitment is to honesty and fairness. For review guidelines please read the disclaimer.