Hello hello!
Here's me easing back into the scheme of things with a product category that's close to my heart – sunscreen!
Most of you know that I have my favourite brand (Allie, if you didn't already know), and that I'm very particular about the sunscreen I use. Once I find one I like, I tend to stick with it, unless they reformulate or the price gets too high.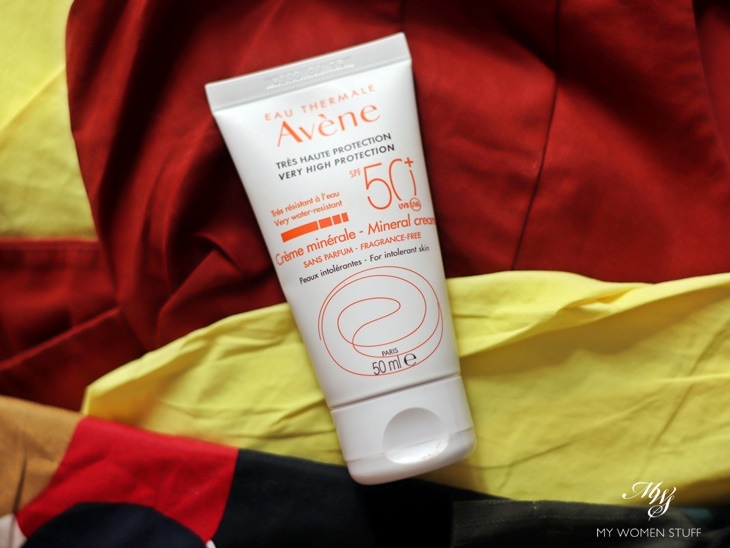 For me to try a new sunscreen, and like it a lot, is quite something.
This more so, when it's not a Japanese brand, as I'm usually partial to Japanese formulation.
I bought the Avene Very High Protection Mineral Cream SPF50+ online some time during lockdown, when my fingers got a little itchy and a sale was on. I hadn't even heard of it so I was flying blind.
But love it I did! 😀
Avene Very High Protection Mineral Cream SPF50+
Avene touts this sunscreen as a very high protection sunscreen, that is free of chemical filters and fragrance. It is formulated to be tolerated on even very sensitive skin, which means there is really no more excuse to not wear sunscreen 😛
Instead of using chemical filters to protect against UVA and UVB rays, Avene uses a physical blocker in the form of titanium dioxide. The 2 most common physical or mineral UV blockers are titanium dioxide and zinc oxide. I was a little surprised that it wasn't a blend of the two seeing as this was a purely mineral sunscreen.
This means that the Avene Very High Protection Mineral Cream SPF50+ is a broadspectrum sunscreen that blocks UVA and UVB rays, and is photostable.
Being from Avene, the Avene Very High Protection Mineral Cream SPF50+ also contains their signature thermal water to soothe skin. This, alongside pre-tocopherol that provides antioxidants to the skin makes this a creamy textured sunscreen that is moisturising to the skin.
I haven't used a purely mineral based sunscreen in many years, and to be honest, I wasn't sure why I bought this LOL! I was just as puzzled when my order arrived, and I pulled it out of the box.
Sunscreen has a tint
The first time I used the Avene Very High Protection Mineral Cream SPF50+, I was surprised to see that it is tinted with a light peach tint. But I understood why it was needed.
The problem with a mineral sunscreen is always the white cast on skin. This, especially on darker skin tones. Titanium Dioxide is a white powder and it reflects the light as well, which makes skin look whiter and in many cases, ashy grey.
The inclusion of a tint therefore helps it adapt better to skin tones, although I cannot personally say how it will look on more tanned skin tones. I am now not as light-toned as I used to be, so when I apply the product on my skin, I can see a whitish tint on my skin.
However, I am happy to report that it seems to adjust itself after a few minutes, so I don't see the white cast or tint on my skin anymore.
Creamy but moisturizing texture
If you don't like the feeling of sunscreen or creams on your skin, you probably won't like this one. The texture can feel a little heavy on skin, and it has a noticeably creamy texture going on skin.
Unlike most mineral based sunscreen that tend to be very drying on skin (a concern, as I have dry skin), this one isn't. While it isn't terribly moisturizing either, it is comfortable on my skin.
It does not oil up, and unlike most sunscreen that aren't fully mineral based, it does not sting my eyes when I sweat. This is crucial for me, as I wear this in the morning before I go out on a 2-3km walk, often under the morning sun. This means I end up sweating a lot, and I noticed quite immediately how my eyes did not sting, unlike when I was using the Allie sunscreen.
Offers good protection against the sun
Having used this for more than a month now, I must say that it has fast become a favourite skincare product. I wear it in the mornings before I head out for my morning walk, and when I know that I will be out running errands under the sun.
How do I know that it offers good protection from the sun rays?
I judge it 2 ways. The first is how my skin feels when I wear a sunscreen and go out under the sun. If my skin heats up (and you can feel it when it does), I know my sunscreen isn't offering me enough protection.
When I wear the Avene Very High Protection Mineral Cream SPF50+, my skin feels fairly neutral. It is flushed from my walk naturally, but it does not feel 'burnt'. When I noticed that, I gave it a tick of approval in my head.
The second way is whether my pigmentation and freckles increase in intensity or density. I am in tune with my skin, and I am diligent about using serums like Vitamin C serums and Alpha-Arbutin serums to counter the sun damage.
If I wear a sunscreen and notice my pigmentation looking darker, or having more spots appear, I know it's not working for me. With the Avene Very High Protection Mineral Cream SPF50+, I noticed that it worked well with my rehabilitation serums to control my pigmentation. It's still there, but it's under control despite my increased daily sun exposure.
While these are anecdotal experiences they are mine, and I am very happy with the results 🙂
Highly water resistant
Avene does claim that it is water resistant, and it is true because the only way to ensure that I properly remove it is to double-cleanse my skin. If I'm feeling lazy, running the Foreo Luna over my skin helps too 😛
I have noticed that when I apply it on my arms, if I don't properly clean it off, the water balls up on the surface of my skin instead of running off. That's a sure sign of water resistance!
Thick texture and white cast may not appeal to everyone
The stumbling block for most will be the texture, in my view.
While I have no complaints about it, the texture is thick and a little hard to spread. If you use a lot of product, then the white cast becomes very noticeable.
I was initially a little perturbed, as I use quite a lot of sunscreen each time I apply.
However, with the Avene Very High Protection Mineral Cream SPF50+, I realised that I could not apply that much, or it would feel uncomfortable. Instead, I apply much less, yet derive a similar benefit. I use a little bead, rather like what you see in the picture above, one on each portion of my skin, and spread it out. It seemed to work well enough for me to protect my skin 🙂
The white cast actually helps me gauge the areas I apply the sunscreen on, as I rub it all over. So, if I miss a spot, I'll notice LOL! 😀
However, I will understand that these 2 points are potential deal breakers for most people, so if you can test it in store, I suggest you do. If you can't, then you just have to appreciate that it is a product that may not suit your preference, depending on whether you are tolerant to heavier textures on your skin.
Me? I love this!
I wear this first time in the morning, before I head out for my walk. When I get home and shower, I reapply with Allie as I'm then mostly indoors for the rest of the day. If I'm headed back out, it's the Avene Very High Protection Mineral Cream SPF50+ again as I feel that it protects my skin better, and I'm all for protecting my skin better in this weather! 🙂
IN A NUTSHELL

The Avene Very High Protection Mineral Cream SPF50+ sunscreen is a sunscreen that is made with purely mineral UV blockers. In the case of this product, the ingredient is Titanium Dioxide. There is a noticeable cast on the skin despite the tint, but it evens itself out after a while. The texture is also rather thick and creamy, which can be off-putting, but I'm fine with it. It sits comfortably on my skin, and I experienced no breakouts nor discomfort. It isn't drying at all, which is a huge plus. Most importantly, my skin feels protected when I wear this, especially when I'm out in the sun. My skin does not feel exceptionally heated, and my pigmentation seems under control. It is also water resistant and does not sting my eyes when I sweat. I like wearing this when I'm doing outdoor activities, as it protects my skin better, feels comfortable, does not sting my eyes and is water-resistant with all the sweating. A surprise find, that is a huge WIN for me!

PROS:
Don't need as much product to cover and protect my skin
Tint is very light and disappears into the skin after a few minutes
Not drying on skin
Comfortable texture for drier skin types
Protects skin well from sun and heat
Water resistant and useful for outdoor activities
Does not sting eyes

CONS:
A little pricey but can be found on sale often
Creamy texture may feel thick for some
White cast on deeper skin tones

WHO WILL LIKE THIS: Anyone who is intolerant of chemical filters in sunscreen, Anyone who wants a purely mineral based sunscreen that feels comfortable and protects skin well

PRICE: RM95 for 50ml

WHERE TO BUY: Shopee Official Store, Watson's stores and online (often on sale)
For those interested, this is the ingredient list for the Avene Very High Protection Mineral Cream SPF50+
AVENE THERMAL SPRING WATER (AVENE AQUA). TITANIUM DIOXIDE. ISODECYL NEOPENTANOATE. TRIETHYLHEXANOIN. C12-15 ALKYL BENZOATE. CYCLOMETHICONE. C30-45 ALKYL METHICONE. GLYCERIN. POLYGLYCERYL-4 ISOSTEARATE. CETYL PEG/PPG-10/1 DIMETHICONE. HEXYL LAURATE. ALUMINA. WATER (AQUA). STEARIC ACID. CAPRYLIC/CAPRIC TRIGLYCERIDE. CAPRYLYL GLYCOL. DISODIUM EDTA. IRON OXIDES (CI 77492). IRON OXIDES (CI 77491). OCTYLDODECANOL. PENTAERYTHRITYL TETRA-DI-T-BUTYL HYDROXYHYDROCINNAMATE. SILICA DIMETHYL SILYLATE. SODIUM CHLORIDE. SODIUM MYRISTOYL GLUTAMATE. SORBIC ACID. TOCOPHERYL GLUCOSIDE. TRIETHOXYCAPRYLYLSILANE. XANTHAN GUM
Have you tried this Avene sunscreen? What's your current favourite?
I chose this online blind, and I'm so happy I went with this instead of yet another Japanese/Asian brand of sunscreen. I can tell you that on days when I use a different sunscreen and head outdoors, I can actually feel the difference on my skin, and that says a lot! This is remaining a staple for now, for outdoor activities. Love! 😀
Paris B