It's been a little while since I last talked to you about Vitamin C serums. The last one I used and featured is, I believe, the Obagi C10 serum which I absolutely loved! I used it up to the very last drop, but when the opportunity arose for me to get a new bottle, I balked.
I want to be good about using up my Vitamin C serums. I swear by them, the way some people swear by their plastic surgeon LOL! Instead of getting a new bottle of Obagi C10, I broke out one I'd been keeping for a while – the Timeless 20% Vitamin C + E + Ferulic Acid Serum.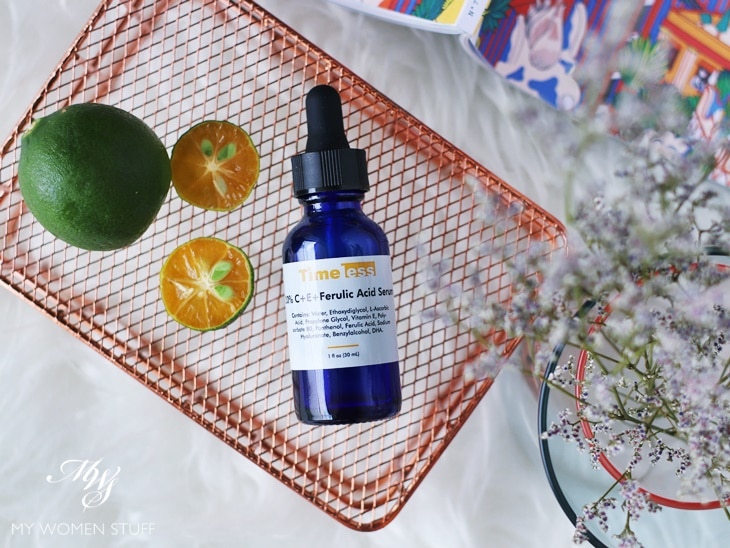 It's quite a mouthful, so I'll call it the Timeless Vitamin C serum, for ease of reference. At present, Timeless Skincare only makes 1 Vitamin C serum, so it's not that confusing 😛
I was actually very excited to try this one, because SO MANY PEOPLE have pushed it at me. "Try the Timeless Vit C, PB! You'll love it! It's so effective!" That's about the gist of it.
One memorable comment from a long-time reader made me laugh. She said that it brightened her skin tone so much, she shocked herself when she looked in the mirror as she looked ethereal! LOL! I had to check out Casper for myself 😀
Timeless 20% Vitamin C + E + Ferulic Acid Serum – What is it?
What is this Timeless Vitamin C serum then?
Timeless Skincare hails from the USA, and is in fact, quite an affordable range of targeted skincare products. The affordable price tag will please many of you I know 🙂
The Vitamin C serum is formulated with 20% L-Ascorbic Acid (Vitamin C) which is quite a high concentration. For this reason, if you are brand new to using Vitamin C serums, I don't recommend you dive straight in at the deep end. Start with something more gentle first (the Melano CC essence is a good place to start) then progress onwards to the 10%, 15% and then 20% to allow your skin to get accustomed to it.
Timeless also included Vitamin E and Ferulic Acid into their formula, to help boost luminosity and reduce signs of aging. What I understand also is that Ferulic Acid also helps to boost the antioxidant properties of Vitamin C and E and helps the product stay stable for longer. This is because L-Ascorbic Acid is a notoriously unstable ingredient that oxidises quickly in the air.
This Timeless Vitamin C is also popularly referred to as a dupe for the much more expensive Skinceuticals CE Ferulic Serum, which I haven't tried, but hope to one day!
Packaging
The Timeless Vitamin C serum comes in a dark blue bottle with a dropper. The dark blue bottle helps protect the contents better.
However, because you open the bottle every time you dispense the product, air will get in and eventually your product will oxidise. That said however, I have yet to come across a Vitamin C serum in an airless pump packaging. The closest I've come to a product that promises fresher delivery each time is the Clinique Fresh-pressed Vitamin C serum.
A note of warning!
While it sounds ominous, I must put here a word of warning to anyone wanting to buy and use this Timeless Vitamin C serum.
Please buy only when you intend to use it almost immediately. I speak from experience.
You see, not only does the Vitamin C serum oxidise on contact with the air, the Timeless Vitamin C serum also degrades quite quickly even when stored. I believe it is to do with heat as well. It is for this reason that Timeless makes their Vitamin C fresh from time to time, so you can be sure that you get a fresh bottle each time you purchase, thereby prolonging its lifespan.
I bought my first bottle from the Timeless Skincare website when they were running a sale. It was a painless shopping experience. However, when it arrived, I was still using other Vitamin C serums so I stored it in my skincare cupboard. It is a dark cupboard in my room that's relatively cool.
However, a few months later when I took it out to use, I saw that the contents were a deep yellow. That is a sure sign that it had oxidised. I was terribly upset, because this was a brand new bottle!
So I immediately contacted the local distributor for Timeless Skincare – Worthee Cosmetics – and asked about the freshness of their stock. They were upfront with me about the dates of manufacture (it is printed on all the boxes) and I appreciated their quick response.
For this reason, and this reason only, I recommend purchasing Timeless Vitamin C from a local distributor – you are assured of fresh stock that will be delivered to you in the shortest possible time, spending the least amount of travel time in the heat and sun. Also, if you find that the contents aren't fresh, you can immediately revert to them with your comments and seek a replacement.
This is how my Timeless Vitamin C serum looks now. I've been using it for about a month, and I am careful to keep it in its box, in my darkened room away from heat and sunlight. Some people keep it in the fridge to make it last longer. It still looks the same as the day I got it – a little cloudy.
Reports are that the Timeless Vitamin C serum will oxidise more quickly than other serums so it is a point to note to be a little more careful with it, and, as I will share with you below, to use it more generously – it is actually more effective that way!
How I use the Timeless Vitamin C Serum
Edited to add this, thanks to a note from a reader 🙂
I use about 6-10 drops of the Timeless Vitamin C serum as part of my morning/daytime routine. Sometimes, I use it at night as well.
How I use:

Cleanse -> Mist -> Timeless Vitamin C -> Mist -> Hydrating Serum -> Mist -> Moisturiser -> Sunscreen

Note: I mist multiple times as part of my moisture sandwich Helpful for dry or dehydrated skin types
Timeless recommends on the box, that you use their product as part of your night routine. Most Vitamin C serums recommend this. However, I use it in the day, as I had read a while ago, that because Vitamin C is supposed to be an antioxidant, and we are faced with the most stresses, pollution and oxidants in the day time (when you're outside and exposed to the environment etc) it is more effective to use it in the day. It is also supposed to boost the efficacy of sunscreen.
You can use it both day and night, but I use other products like acids, retinol or other actives at night, so I'd much rather keep them separate as they cannot mix.
Whether you choose to use it day or night, be sure to always wear a good high UV protection sunscreen in the day time. But then, you already do that, don't you? If my nagging has any effect that is… 😉
What did the Timeless Vitamin C Serum do for me?
The first few times I was using it, I used about 3-4 drops. I give the bottle a little shake (it's recommended) and then I pick up a dropper full of product, quickly open the bottle, drop a few drops in my palm and close it back as quickly as I can.
The texture is quite watery and quite literally feels like water on the skin. I found that the serum will almost immediately sink right into the skin, which is great for those who don't like having any skincare residue on their skin.
About 2 weeks in, I noticed that the product level had barely dropped, and I was paranoid LOL! 😀 I really did not want this serum to oxidise before I'm done with it!
So, I did the next most rational thing. I upped my dosage. I now use 6-7 drops of product with each use, which is almost (but not quite) a full dropper. However, my skin still drank it all up! It feels like nothing going on your skin and although there is a slight metallic scent, like most Vitamin C serums do, it isn't unpleasant.
Interestingly however, it was when I increased the product that I started noticing more significant results. Before this, my skin looked fairly even-toned, and I'd peer at myself each time thinking "My skin isn't looking that much brighter at all!"
Now, about 3 weeks in of using 6-7 drops (almost) every morning, I must say that I am noticing a discernible brightening of my skin tone. I still have my pigmentation, but it almost seems like I need less concealer. My skin tone looks more even in general, and brighter. It's like dialing up the brightness filter on your favourite photo-editing software LOL! 😀
I have been quite fortunate that in my dotage, pimples and acne have finally left me at peace *touchwood* so I cannot vouch for lightening of post-inflammation acne marks. My acne scars are ancient, and will likely remain (laser isn't an option right now – I'll explain in a different post) but from a skin tone and texture point of view, I'm very happy with it.
I will also note that although I have skin that tends to be dry, I do not find the product drying. I find it comfortable, but it must also be said that I am big on hydration in my skincare routine, and drench my skin with both the moisture sandwich technique, and hydrating lotions/serums and moisturisers. So, perhaps it cancels it out, or perhaps it even makes it work more efficiently. I'm not scientist enough to tell you – but whatever it is, I'm very happy with how my skin looks right now with my current skincare routine.
Do you need the Timeless Vitamin C Serum?
If you are a fiend for Vitamin C serums as I am, yes.
If you want an affordable Vitamin C serum that is comfortable on skin, and very effective at brightening your skin tone and maybe even reducing the appearance of dark spots (sun spots primarily) then, yes.
If you aren't prepared to be generous with your use of the product, then no. The reason is because it will oxidise fairly quickly, and you are recommended to use it up within 3 months. So, I suggest that you buy this only when you need it, and from a local distributor, not online from too far away. When you get it, be generous with your use.
I will finish this bottle, but I will take a break thereafter. I have a policy of not using products that are too intensive for too long. So I might drop back down to a 10% Vitamin C serum for a while for "maintenance" before going for a "boost" again later. But I know I will return to this one eventually.
IN A NUTSHELL

The Timeless 20% Vitamin C + E + Ferulic Acid Serum is a very effective, lightweight Vitamin C serum that absorbs very easily and quickly into the skin. It has a texture like water that is comfortable and does not leave a residue on skin. I do find that 6-7 drops of product gives skin a boost, and you will notice a significant brightening of your skin tone. That is quite impressive, coming from someone who regularly uses Vitamin C serums. I don't recommend hoarding this, as I found that it oxidises even though stored in a dark place. Perhaps it will last longer in the fridge, but for me, it isn't practical. If it is for you, then please go right ahead. But this is a very good, high potency Vitamin C serum to try, that is chockfull of good ingredients, and for a lovely wallet-friendly price!

PROS:
Very high percentage of Vitamin C
Good mixture of ingredients to combat aging
Very effective at skin brightening
Very lightweight watery texture

CONS:
Can oxidise quickly even when stored

WHO WILL LIKE THIS: Anyone looking for an effective and affordable Vitamin C serum, Anyone who enjoys using Vitamin C serums

PRICE: RM135 | US$25.95 for 30ml

WHERE TO BUY: Worthee Cosmetics (MY), Timeless Skincare website, From personal experience, I recommend buying from a local distributor to minimize travel time and exposure to heat which can cause product to degrade more quickly
This is the ingredients list for the Timeless Vitamin C Serum.
Ingredients: Water, Ethoxydiglycol (penetration enhancer), L-Ascorbic Acid (vitamin C/skin brightening), Propylene Glycol (hydration), Alpha Tocopherol (vitamin E/antioxidant), Polysorbate 80 (stabilizer), Panthenol (vitamin B5/hydration), Ferulic Acid (antioxidant), Sodium Hyaluronate (hydration), Benzylalcohol, Dehydroacetic Acid (antimicrobial agents).
Have you tried this Timeless Vitamin C serum? Anything else from Timeless Skincare worth trying?
I see that they have a hyaluronic acid serum as well, and I love hyaluronic acid serums, so that's the next thing I'm going to try! 😀 Let me know if you love this Vitamin C serum as much as I do!
Paris B