Back last year, when Chanel announced their Boy de Chanel range, I think I got more excited about it than most men LOL! To tell the truth, I wasn't that big on the whole gender equality part – Chanel makeup packaging is, to me, quite neutral seeing as it's all black anyway.
But I loved the look of the matte navy blue packaging. So, when the opportunity arose for me to get an item from the range in Seoul, Korea where it was first launched, I opted to pick up the Boy de Chanel Eyebrow Pencil.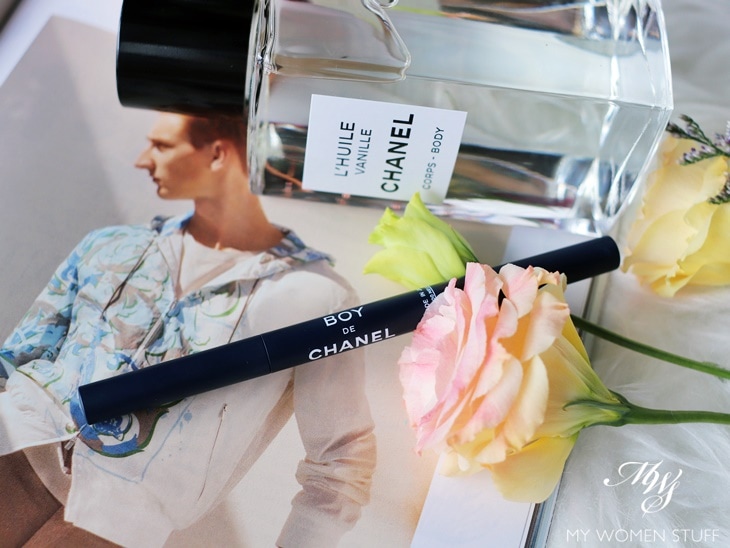 The Boy de Chanel Eyebrow Pencil comes in 3 shades (Grey 204, Deep Brown 206 and Black 208) which are on the deeper end of the colour spectrum. I suppose it's premised on the fact that men have darker brows? Who knows!
But I've been playing around with it for a while, and I also recently visited the Chanel beauty boutiques here in KL, where Boy de Chanel is finally available, so I can share a little more information and thoughts on the Foundation too! 🙂
Boy de Chanel Eyebrow Pencil – RM154 | US$40
I hadn't yet seen many pictures of the Eyebrow Pencil when I was deciding what colour to get, so I pretty much took a chance. I picked it up in 206 Deep Brown, which I felt was a safer colour for me, as I use a deep brown in the regular version of Chanel's Waterproof Eyebrow Pencil (810 Brun Profond).
It turned out that I was quite accurate in my choice. I checked out the colours in store last week, and Grey 204 is a straight charcoal grey with cool tones, while Black 208 is well, black! Chanel does say that the Boy de Chanel Eyebrow Pencil can also be used to fill in facial hair, not only the brows, and most facial hair is darker.
The Boy de Chanel Eyebrow Pencil is constructed in the same way as the regular brow pencil. It is a retractable pencil with a slanted tip that makes it easier to define brow hairs and shape the brow, for me. This is my preferred shape for brow pencils.
Difference between Boy de Chanel Eyebrow Pencil and regular Chanel Eyebrow Pencil
The difference, at first glance, lies in the packaging. The Boy de Chanel Eyebrow Pencil comes in a sleek matte navy blue body, as opposed to the shiny black of the regular version. That was the only difference, I thought.
But after using it for a while, and having done a side-by-side comparison with the regular eyebrow pencil, I've come to the conclusion that there is another slight difference in the Boy de Chanel Eyebrow Pencil that I prefer!
I find that the formula of the pencil feels a little different.
The Boy de Chanel Eyebrow Pencil feels a little drier and harder (rather like the Shu Uemura Hard Pencil 9). In a brow pencil, this is not a bad thing, because it gives you better control when it comes to shaping and penciling in your brows.
While I do like the regular Chanel Eyebrow Pencil very much (I've already bought 2 since!) I do find that it can be a little more creamy, so each stroke of the pencil delivers colour that is bolder. By contrast, the Boy de Chanel Eyebrow Pencil delivers a slightly lighter stroke of colour, and that gives you better control, especially when you are as prone to mistakes as I am 😛
I also feel that the Boy de Chanel Eyebrow Pencil looks a little more matte. While the usual version isn't shiny, when worn next to each other, the Boy de Chanel side looks a little more natural.
To be fair, the differences are very subtle, and most people might not notice it. But I chatted to the makeup artist at the Chanel store about this, and we both had similar observations.
As strange as it might sound, I do find myself preferring the formula in the Boy de Chanel Eyebrow Pencil over the regular version! 😛
I'm wearing the Boy de Chanel Eyebrow Pencil in 206 Deep Brown in these photos.
To be honest, it just looks like normal brow colour LOL! But when you use it, and if you have used the regular version, you may notice the difference.
Why The Blue Tax, Chanel?
There is one thing however, that irks me. The Boy de Chanel Eyebrow Pencil is a little more expensive than the regular version. It comes in at RM154 or US$40, while the regular version comes in at RM140+ or US$33 (prices have gone up and I don't have the new prices).
The thing is, why is there a blue tax, Chanel?
This is about as bad as women having to pay more for clothing that may require less cloth, or paying more for shampoo or a pink razor. Personally, I feel this to be wrong whether it be a pink tax or a blue tax.
Men wearing makeup are not the majority at the moment, and that is a fact. However, penalizing them in the pocket while at the same time creating a makeup range for them is not going to endear them to you.
From a marketing standpoint, it could well be that fewer quantities are made, so the prices are a little higher to cover the costs. Yet, Chanel is big enough that they can absorb whatever little difference there is, I'm sure.
Whatever the excuse, I cannot see a justification for the price difference. It also irks me because I actually prefer the Boy de Chanel version of the eyebrow pencil 😛
Boy de Chanel Le Teint Foundation and Lip Balm
While in store, I also had the opportunity to check out the Boy de Chanel Le Teint Foundation and Lip Balm – the other 2 items in the Boy de Chanel range. Quite naturally, save for the brow pencil, Chanel has kept the men's range small, anticipating that men would most likely just wear something to even out skin tone, and maybe wear a lip balm. No colour.
3 shades of the Boy de Chanel foundation (RM284 | US$65 for 30ml) are available locally – 20, 30 and 40. I usually wear Chanel foundation in 10 (or sometimes 12) so these were out of bounds for me.
But here's the swatches as they look on my hand, if anyone might find this helpful.
The coverage is light to medium, and there is a matte finish. The texture feels lighter than most foundations in the regular Chanel foundation range. If you're in the market for a lightweight, matte finish foundation that is quite light in coverage, then you could even consider this. I don't see why women can't wear the men's makeup! 😛
The Boy de Chanel Lip Balm (RM146 | US$38) is a clear balm in a stick form, that is matte. I don't wear lip balm, but on the back of my hand, I find the texture to feel a little like the Les Beiges Healthy Glow Lip Colour sans colour. It feels emollient and I'm told that it functions very nicely without any tell-tale shine.
This isn't the first time I've come across a lip balm marketed towards the men. I believe Kiehl's men's range carries one too and is similarly matte.
IN A NUTSHELL

The Boy de Chanel makeup range is a small makeup range by Chanel targeted at men. The packaging, as anticipated, is sleek and the matte navy blue finish is beautiful to look at and hold. The finishes tend to be more matte, anticipating that men will not want to glow, and I find that the brow pencil performs a little better than its regular counterpart. However, I am not happy that the prices of the Boy de Chanel products are a little higher than their regular products in a similar category.

PROS:
Matte finish
Eyebrow pencil is easier to control

CONS:
More expensive than regular women's makeup

WHO WILL LIKE THIS: Men! LOL! Those who might be open to wearing a little base, brow colour and lip balm anyway

WHERE TO BUY: Chanel beauty boutiques only, Chanel online
Do you know of any men who might use the Boy de Chanel makeup? Anyone eyeing it just for the packaging?
I confess I got it purely for the packaging 😛 It's so sleek! Plus point is that it performs so well too. But I'm not sure if I'll repurchase in future, because look at that price! 😛
Paris B