I'd been coming across this skincare trend (I say trend, because I don't foresee it lasting) called the 7-Skin Method. Apparently, it originates from Korea, and this method of applying toner (lotion) is supposed to infuse your skin with moisture and hydration and to make your skin feel supple, soft and oh-so-moisturised!
Naturally, I got curious.
While called the 7-skin method, it really only refers to the use of toner or lotion. Apparently, in Korean skincare, toner/lotion = skin. Search me. Don't shoot the messenger!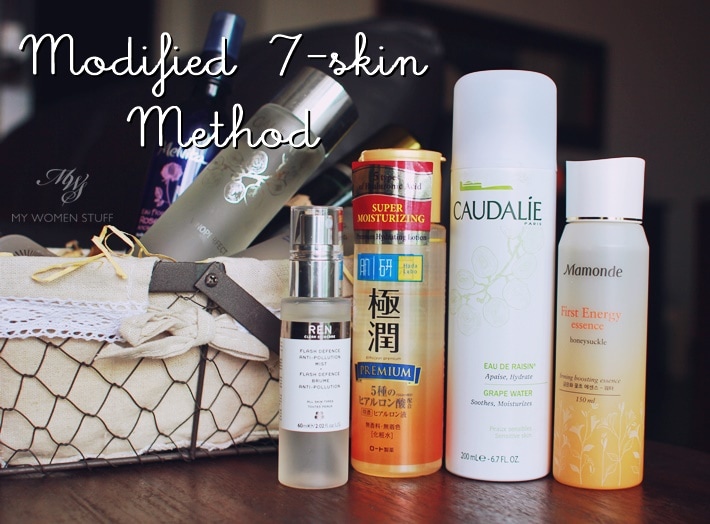 Now, the 7-Skin Method is performed thus:-
After cleansing, you take a toner/lotion, preferably a light, hydrating one, and pat onto your skin, with a piece of cotton pad, or with your hands.
Allow it to dry for about 2-3 minutes, and repeat.
Do this up to 7 times. Be patient.
Conclude with a light moisturiser.
I attempted this all of twice. Yes, my skin did feel lovely and hydrated with a lovely healthy glow to it, but seriously. Who has the time? 😛
I may be dedicated with my skincare routines, but not even I was crazy enough to spend 15 minutes just applying toner. Then, I saw that some people felt the same way I did, and cut their routine down to a 3-Skin Routine. Similar concept, except you only do 3 layers. That was still 10 minutes too long for me.
However, despite my grumbling and rolling my eyes, I noticed one day, that I was, in fact, already practising a modified version of the 7-Skin or 3-Skin Method! I was already doing this all along, and hadn't realised it! Might this be why I had been reaping the benefits of my skincare all along? 😀
So, let me tell you how to use my modified 7-Skin Method or 3-Skin Method and why it works, and that it is far quicker than this tedious 3-Skin or 7-Skin Method.
The concept behind the 7-Skin Method is to add or push moisture into dry and dehydrated skin. I can tell you that if you live where it gets cold and you are exposed to cold and heaters, or if you live where humidity is low, you will benefit most from this 7-Skin Method, as your skin will dry out. It is no surprise then, that people in Korea love it. Korean weather can get pretty extreme in winter.
However, if you live where humidity is high, and it's warm e.g. in the Tropics, you will find your skin will not dehydrate so quickly, and it is actually easier to replenish the moisture. For this reason, I feel that the 7-Skin Method is just too much for our tropical weather, and if you're not careful, it can break you out.
The other reason I was not so enamoured with the 7-Skin Method, is because it doesn't leave room for active skincare that really do the work to protect and repair your skin. I'm all about using serums and facial oils, and the 7-Skin Method leaves no room for that. After 15 minutes of patting toner into your face, it really doesn't have space for anything else.
Also, bear in mind that your skin can only absorb so much product. After the first few products, post cleansing, it won't be able to absorb much else. If you adopt the 7-Skin Method and then proceed with serums your serums won't be helping much. Personally, I prefer to let my serums do all the work (it's also why I spend more money on them) so, I want to get my skin moist, like a wet sponge, but not saturated. If you think of it like a sponge, by the time you saturate a dry sponge, any additional water just runs off – ditto your skin.
So, here's what I usually do.
This is part of my regular skincare routine, which I have been practising for a few years now. You can see how it fits into my routine in this routine post and this one. I'm working on a current skincare routine post 🙂
After cleansing, I go over my skin with an acid toner (exfoliating toner). Then, I spritz my skin with a facial spray (STEP 1). This serves to add some moisture back into my skin. I use a variety, but the Caudalie Grape Water Spray is a staple, and I use others like the Omorovicza Queen of Hungary Mist, REN Flash Defence Anti-Pollution Mist, Floral waters from Melvita and Sanoflore, Hada Labo Kiwamizu lotion/mist etc
I then follow up with a light hydrating lotion or toner (STEP 2). This one will have a watery texture, and sometimes, the Korean first essence does the job. Otherwise, I go for something light and watery of which you can find an abundance in the market. Currently, I'm using the Mamonde First Energy Essence, Caudalie Vinoperfect Concentrated Brightening Essence, Hada Labo Kiwamizu Lotion and I've also used the Estee Lauder Micro Essence in this step.
The final toner step is a hydrating essence or lotion (STEP 3). This will usually be a slightly thicker textured product as compared to the rest. My favourites in this step are the Hada Labo Premium Gokujyun Lotion, La Mer The Treatment Lotion and Bobbi Brown Treatment Lotion. The texture is usually more viscous, and it feels more hydrating.
Recommended Reading: Read about my moisture sandwich method that works so much better at keeping skin well hydrated and moisturised all day long.
The difference between my version of the 3-Skin Method and the regular one, is that I use different products with different textures to layer, and I do not wait for each layer to dry first. Seriously, you and I don't have time for that 😛 Also, I use a variety of brands, not necessarily Korean skincare brands (which I don't have much of an affinity to unfortunately)
The Facial Spray Mist usually sprays out a fine mist so that dries fairly quickly. A few drops of watery hydrating lotion usually sinks in more quickly after that, and when I seal off this layer with a hydrating essence, my skin already feels lovely and soft. I then follow up with my serum and oil and a moisturiser.
I also do this twice a day. It's not hard, it doesn't need a lot of thinking, and it's routine for me. For me, this makes my skin feel soft, and importantly, moisturised. I rarely battle flaky skin or dry patches *touchwood*, and the variety keeps me invested in my routine.
While I realise that this means you end up having to spend money on more skincare products, do note that they do not have to be expensive products. I use a mix of high and low end, depending on how my skin and wallet feels, and what's important for me, is the product, and how it is used.
Of course, you don't have to use this method so long as you already incorporate a hydrating lotion and/or serum in your routine. A full 3-Skin Method or 7-Skin Method serves those who have dry and dehydrated skin best, who may not already have a proper skincare routine in place. If you do, and regularly use lotions, serums and moisturisers, I feel the pure 3-Skin or 7-Skin Method is superfluous. I'd much rather just use a modified routine like mine – more interesting, quicker and just as effective, if not more so! 😀
Have you tried the 7-Skin Method or 3-Skin Method? Is it something you will practice regularly?
I personally deem it to be a fad. Better yet, understand the purpose of each product, and how it fits in your routine, and even more importantly, understand your skin and what it really needs. Then, modify accordingly. There are merits in the 3-Skin and 7-Skin Method, but honestly, execution is just a pain in the butt 😛 Have you tried it?
Paris B