Most of you would have been aware of the huge excitement surrounding the re-entry of YSL Beauty into Malaysia recently. They were here many years ago, but pulled out, and are now back, with lines still happening outside their solo store in Pavilion KL, waiting for the free engraving. Hmm… Know what? I still haven't visited the YSL Beauty store! LOL! Not one to queue for this, me.
I've been getting many queries from people, asking me "Is YSL really all that? Are their lipsticks really as nice as everyone claims them to be?" Because you see, they can't be arsed to queue either! LOL! 😀
Well, I have to say that I can understand why their lipsticks get a lot of love. They're beautiful to look at, lovely to hold, and have beautiful colours. Also, I believe they're probably one of the more affordable items in store to buy 😛 Don't quote me – haven't stepped into the store, remember? 😀
I have a couple of the famed YSL Rouge Volupte Shine Oil-in-Stick lipsticks, so I'd just quickly share some thoughts with you. For the record, have also tried Rouge Pur Couture lipsticks (square packaging) but I'm not a fan of those – too drying.
I bought my first YSL Rouge Volupte Shine Oil-in-Stick lipstick in Singapore a couple of years back, while beauty shopping with an old blogger friend. I was at a bit of a loss as to what colour to get, when she pointed out the colour No. 33 Fuchsia Intense to me. Ordinarily, I wouldn't have gone for it. But on the day, I was feeling rather adventurous, so I got it.
That's the #33 Fuchsia Intense on left, and #12 Corail Incandescent on right.
The colour in tube of #33 Fuchsia Intense is actually quite purple in real life. There is an iridescent sheen to it, that makes the colour change a little as you angle it, which makes it look very pretty. I wasn't sure if the purple hue sat well with me, but it did. It is very cool toned.
I received #12 Corail Incandescent during the YSL Beauty party recently, to celebrate the brand's re-entry into the local market. I was quite pleased, because as it turns out, I particularly like the texture of the YSL Rouge Volupte Shine lipsticks.
They slick on like butter, with very strong, pigmented colour, and a beautiful shine. The shine on your lips is a beautiful gloss that is very flattering, and far more attractive to me, than the flat matte lipsticks favoured by many today. Me, I go for a lovely shine any day!
You may see from these hand swatches, the texture I mean. It glides on – literally GLIDES on – and applies with beautifully intense colour. Although it has a shine, I don't find it to slip around, as many lipsticks of this texture would, and even better, the colour actually stains your skin a little. So, even if the lipstick wears off, a tint of colour remains. It's really quite something!
I love both the colours I have. #33 Fuchsia Intense, as you can see, is a cool-toned fuchsia pink with a purple undertone. It may not appeal to everyone, but it really grew on me. Bold, yet with a twist. #12 Corail Incandescent is a rather bright, warm coral with more peach tones. On my lips, it enhances the red tones, so I actually end up with a coral-red shade, that is very flattering for me. It is quite bright, as are most of the colours in the range, from memory.
Here's how they look on me, with my almost regular barely-there makeup look these days haha! But a bright lip makes everything look better! 😀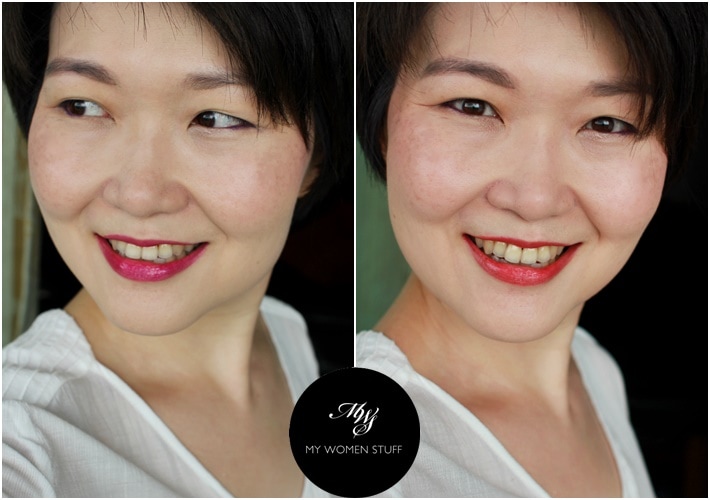 No. 33 Fuchsia Intense is on left, a lovely purple-based fuchsia that really pops, while #12 Corail Incandescent is a warm coral. I think they're both very lovely colours, and I love the shine you get with these, that make your lips look so plump and juicy! 😀
I do remember that many people, back when the Rouge Volupte Shines were first launched, really liked the pale pinks and nudes. Not being one for pale pink or nude lipstick, I avoided those colours like the plague. I like having some colour on, and these 2 shades do it for me.
But as much as I love the texture and colour and longevity of these Rouge Volupte Shine lipsticks, there is one major fly in the ointment – the scent. OMG! Imagine if you will, the scent of crushed, sweet, ripe mangoes, held under your nose all day long, as you wear the lipstick. Gag! 😛
I love mangoes, but you can get too much of a good thing, and honestly, I don't know why they chose this sweet, fruity scent, or why I detect the scent of mangoes. Most people don't notice it, but I warn everyone who asks me about this, because seriously, it's strong. And it bugs me. So I don't wear these beautiful lipsticks as often as I would like to. Make them fragrance-free, YSL and I'd collect them all!
Well, except the nude and pale pink shades LOL! 😀
IN A NUTSHELL

The YSL Rouge Volupte Shine Oil in Stick lipsticks come housed in beautiful, hefty, golden tube packaging, with an intricate lace-like motif around the middle, like a bodice. The colour of the lipstick is reflected so it's easy to pick out the colour you want. The texture is very smooth, and it glides on without tugging on lips, feeling almost like a gloss, yet applying like a lipstick. There is no balminess, but it is not drying, and the colour will stain your lips, so a tint of colour remains as the day wears on and your colour wears off. However, the strong, sweet, rich scent of ripe mangoes right under my nose bugs the hell out of me, and that's why I don't have as many as I'd like to own.

PROS: Lightweight texture, Glides smoothly and evenly on lips, Pigmented colour, Tints lips as it wears off, Long lasting, Not drying, Beautiful packaging

CONS: Strong, sweet, fruity scent of mangoes, Pricey

WHO WILL LIKE THIS: Anyone who enjoys glossy shiny lipsticks, Anyone who can tolerate the strong sweet fruity scent

PRICE: RM145 | US$37

WHERE TO BUY: YSL Beauty boutique at Pavilion KL, YSL Beauty online, Nordstrom, StrawberryNet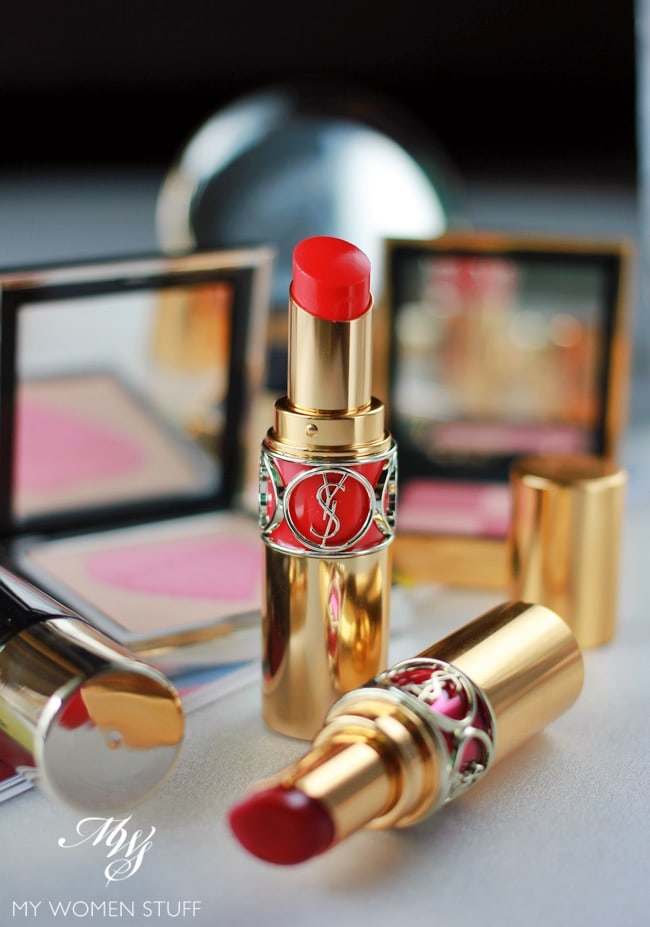 For the record, I did not get any of my products engraved in store. I don't see the point. After all, you buy it coz it says YSL, not <your name> right? 😛
Do you own any YSL Rouge Volupte Shine Oil-in-Stick lipsticks? What other YSL Beauty stuff should I be looking at?
I own a few YSL Beauty pieces from years gone by, when they were still accessible locally. I also used to buy them online, or when I travel so I didn't really feel like I was missing out. I used to enjoy the blushes and powders, and I'm told their new liquid foundation is worth a look, as is their cushion foundation. I don't know – tell me where I should start! What's your favourite YSL Beauty item? 😀
Paris B