Anyone who knows me knows that I'm always up to try a new facial oil. Ever since I discovered how lovely it was for my skin that's maturing and turning drier over time, I've always made space in my skincare routine for a facial oil. Naturally, when an offer dropped earlier in the year to try a new facial oil, I jumped at the offer. I mean, who wouldn't really LOL!
The brand, Nourish, is one I came across about a year back and then promptly forgot about. You know how it is, don't you? Sometimes something flits past your consciousness, and if you don't focus, it disappears, just like a flash of lightning. Nourish is a brand of organic skincare that hails from London, and I think, is fairly new and a little niche.
I received the Nourish Radiance Firming Facial Oil, which, if I'm to be honest, is a beautifully formulated facial oil. I guess that kind of sets the tone eh? 😉
The first time I laid my eyes on it, I admit to being a little surprised at how small the bottle was. The Nourish skincare facial oils come in 15ml bottles, which I initially thought was a little small. That's about half the size of most facial oils in the market that clock in at about 30ml, for the most part.
Yet, I can understand why a 15ml bottle works. When it comes to facial oils, you don't need very much product, or you may find it uncomfortable. Nourish recommends applying a small drop and then massaging it into your skin. I personally am much more indulgent with my facial oils.
The other reason I think this 15ml size works, is because Nourish skincare is organic (the Radiance Firming Facial Oil is labelled at 98% organic) and organic skincare (and oils, for that matter) do go off more quickly. A smaller bottle means there's a higher chance you'd finish it up before it goes off 😛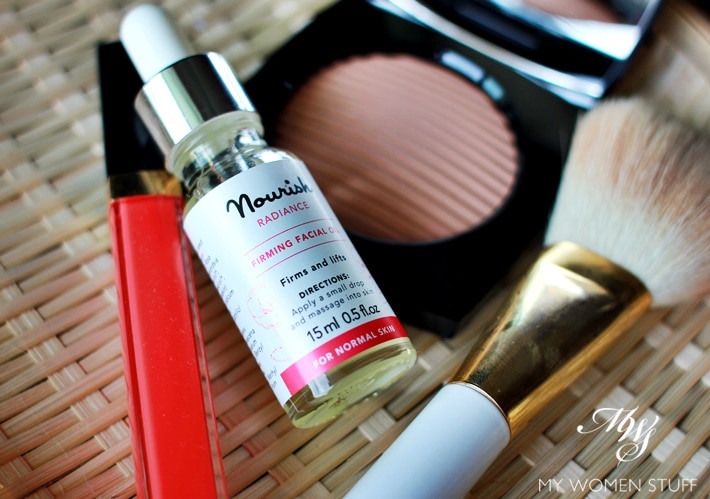 Now I'm going to tell you that if you are leery about using facial oils that feel oily (I know it's oxymoronic, but I've had people tell me this – they prefer the texture of a dry oil that feels less oily) then you may not enjoy this as much as I did.
The Nourish Radiance Firming Facial Oil has a distinctly oily texture, with a beautiful feel when I warm it up between my palms. The directions call for one small drop, massaged into your skin. I don't follow instructions 😛 So, I usually use about 3-4 drops, warmed up between my palms, and then massaged onto damp skin.
I use it pretty much as I would any facial oil (suggested uses and tips for using facial oil here), and always on damp skin, to help it absorb more easily. There's one thing I must say I love about this oil, and that's the scent. Oh man, I live to use it purely for the scent!
As you warm up the Radiance Firming Facial Oil between your palms, you will release the most beautiful scent of fresh roses. I'm not the biggest fan of rose scented anything, but I make an exception for this, because it quite literally fills me with joy at using it! 😀
The thing however, is that I can't quite measure if it firms up the skin. I think it's a beautifully formulated oil that isn't too oily, fairly lightweight and sinks into skin quickly, and smells beautiful. But does it firm up the skin? I don't know. I don't know how you can measure it, to be honest. But I like it, because the way I use it, it keeps my skin, well, nourished LOL! 😀 It keeps my skin moist and comfortable, especially if the air is dry. I do find that it doesn't work as well as a mask, as some of the other thicker oils I use, but this also means that I've tried using one drop, massaged into skin for the day, and it works well, without making my skin oily. I can't use it on its own as I feel it to be too light for my skin. I have to layer it under a moisturiser for best effect. If your skin isn't as dry, or perhaps combination, then you may appreciate it a little better.
One more thing I noticed, is that after about 2 months of owning this oil, I find the base oil scent getting a bit strong. It doesn't smell rancid per se. The scent of roses is just as fresh as the day I received it, and I store all my skincare products in the same, cool dark environment. But for some reason, I detect a stronger smell of oil now. Hasn't spoilt my enjoyment of it yet, but it has encouraged me to be more generous with use, so I finish my bottle, because it would be a waste if I didn't.
IN A NUTSHELL

The Nourish Radiance Firming Facial Oil has a medium-weight oil feel – not too oily, not light like a dry oil – and has a beautiful smell of fresh roses infused. If you prefer a lighter feel on skin, use just 1-2 drops, well warmed up between your palms and then applied onto damp skin. I personally prefer using more, at least 3-4 drops. It is also because I like the texture of oil on my skin. I do find that this oil does absorb quite well into my skin, without feeling oily or heavy, and it does not break me out at all. My skin feels lovely the next morning, after a night in an air-conditioned room, which is always a good thing. I do notice a distinct, stronger smell of oil after about 2 months, but it could just be my sense of smell.

PROS: Lovely oil texture that is not too heavy, Absorbs easily into skin, Keeps skin feeling moist and comfortable, Possible to use in the day if you use just a drop and massaged into skin, Beautiful scent of fresh roses

CONS: Rather pricey, I detected a slightly stronger 'oil' scent than I liked after a few months owning this

WHO WILL LIKE THIS: Anyone who enjoys using a facial oil that feels like an oil, Anyone who enjoys a rose scented oil, Anyone who wants a facial oil from a certified organic brand

PRICE: RM149 | £25 for 15ml

WHERE TO BUY: V Philosophy website (MY), Nourish skincare website, M+ Pharmacy at Bangsar Village, Ben's Independent Grocers, Robinson's The Gardens
For those of you interested, here is the ingredient list for the Nourish Radiance Firming Facial Oil.
One interesting thing I've noted, is that the one I have, and the one you will get if purchased, has the packaging shown here in my photos. On the Nourish website, the packaging looks different, although the ingredients are the same.
If you look at the oils used, primarily macadamia, sunflower, jojoba, pumpkin, sesame and borage, these are fairly light oils which balance out the heaviness of rosehip oil. It explains the lighter texture of this oil, while keeping the oil texture I love. Lovely texture – can't get over it 🙂
Have you used any Nourish skincare before?
I have to say that I am quite interested to try something else from this brand. It is an organic brand and I am a little more careful trying natural and organic products, but this one does intrigue me enough to take a look at some of their other products 🙂 Let me know if there's anything worth trying!
Paris B