Bonjour mes amis!
I'm back from Paris, and if you had joined me on my trip on Instagram and Snapchat, I hope you enjoyed it! I was on my own a lot of the time so it was nice having you along! Now, I was in Paris for a beauty related event, but it didn't stop this beauty buff from keeping her eyes peeled for OTHER beauty brands and products. Oh yes, I have to admit to a roving eye when it comes to beauty!
And we all know that French pharmacy stocks some of the better, affordable beauty products out there don't we? You don't? Ah, now you do! My skin takes incredibly well to many French pharmacy brands and formulations of skincare, which is why over the years, I eventually moved away from Asian skincare and American brands. It's a personal preference and it's not a recent thing, but been going on a while. I mix it up a little more now, but if I'm trying something new, I usually know that a European or French brand would likely work better for me.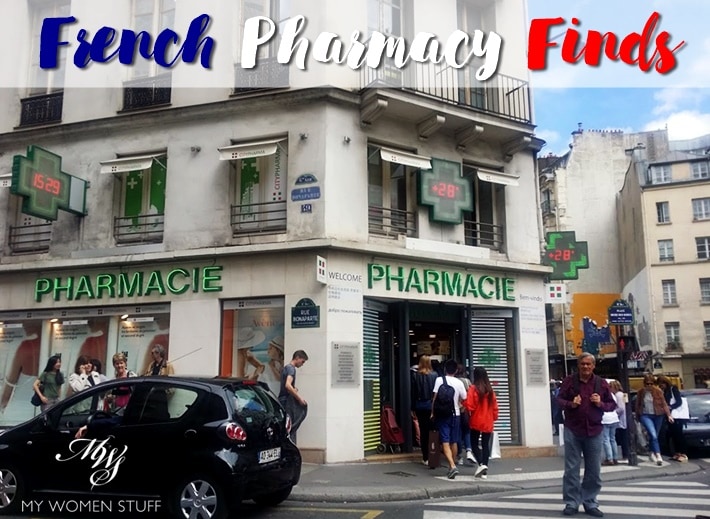 City Pharmacie aka City Pharma at 26 Rue Four, 75006 Paris (Corner of Rue Four and Rue Bonaparte Metro: Saint Germain des Près (Line 4) or Mabillon (Line 10))
There are pharmacies on almost every corner in Paris. Some are larger and better stocked than others. But almost all carry the major French brands – Vichy, La Roche Posay, Avene, Nuxe, Bioderma, Caudalie etc. Before I went, I did my research and while it was easy to find most of the products and brands I was interested in most pharmacies, the one I kept coming across as a must-visit was City Pharma at Rue Four.
I'm not quite sure if City Pharma (or Citypharma) is a chain, but I came across another in the Tolbiac area (Metro: Tolbiac), when I was there for Vietnamese Pho (oh yes, I ate pho in Paris and it was among the best I've ever had! 😀 ) But the one you want to visit is the City Pharma at Rue Four because in this store, the prices can be significantly cheaper than in others! It's even a bit cheaper than the one in Tolbiac which shares the same name. I'm not sure why this is so, but it's an open secret because the store was HEAVING with people when I arrived at about 3.30pm. Oh dear!
I can't show you the inside of the store because photography isn't allowed (I got told off). But also because it was so jampacked in there with bodies, that I could barely move, much less get any photos. It was full of tourists and locals alike. The latter were getting recommendations for skincare from the many store assistants around, and the former were throwing bottles and boxes of skincare into their baskets like it was going out of style.
I saw so many people on their phones – talking, texting, facetime-ing to make sure they were buying the right thing. It was surreal. I mean, it's pharmacy skincare and yes, it's a little more affordable than in other stores, but really, there was no real need to buy in bulk the way some people were!
That said, I could understand the frenzy, because by comparison to local (Malaysian) prices, they were affordable. The popular Bioderma Sensibio micellar cleansing water was sold in twin packs at a fraction of the price you'd get here in KL (you could get 2 bottles for the price of one here, but then again, local prices are far too inflated. It's even cheaper to buy online and have it shipped). Caudalie Grape Water sprays were about half the price there compared to the prices locally, and Vichy, La Roche Posay, Nuxe and Avene were ripe for the picking. I was enthralled…. and suffocated! LOL! It was the height of summer after all, and the store is very small and cramped and I swear I was about to pass out from the bodily crush.
Shelves are placed close to each other and there is barely enough space to walk, much less browse. I ended up picking some items I wanted, but not as much as I hoped to. Probably for the better too, for I could barely fit them all into my luggage on the way back! LOL! 😀
French Pharmacy Skincare Haul
But I know, instead of me yapping on, you want to know what I bought right? So, here is my haul. The collective picture you see above shows an idea of just how much I ended up buying. I spent a mint, but I was quite pleased about it because they were things I'd been meaning to try, or that I already use, or that I was curious about. It was less than what I expected to buy, but in the larger scheme of things, a fairly restrained haul. Well, relatively speaking! 😛
I'll just show you a representation of the items I got. Some, I got in multiples because they were affordable, or because I was stocking up.
I came home with a suitcase full of face sprays and mists! I didn't realise it till I was packing and then I thought "Oh dear, why do I have so many bottles of face mists again?!" But it was because I use them and these are brands I like very much.
Caudalie Grape Water spray – I will review this soon, but since using this face spray, I've been quite reluctant to switch away. It cools down my skin and calms it down and leaves it feeling lovely and hydrated, better than other thermal water sprays. I got a few in the full size 200ml spray as well as the limited edition pink packaging 75ml spray. The latter is wonderful for travelling and kept my skin comfortable in the dry plane air!
Melvita Rose Floral Water – A personal favourite that I've used a few bottles of. It was so much more affordable in the pharmacy that I had to grab a few bottles! It'll last me a while.
Sanoflore Rose Water – I came across some reviews online that said that Sanoflore face mists were both affordable and good, and they're also organic. Naturally, when I saw them, into the basket it went!
La Roche Posay Micellar water – I don't usually use cleansing water, but I like it for removing my face makeup before I do my double cleanse. So, I got this one to try. Almost every brand on the shelves had a micellar water, I didn't know which to pick!
Bioderma Sensibio Micellar Water – This one everyone knows. I'm not a big fan of this, so I only got the little 100ml bottle which is very useful for travel. But the shelves were almost swept clean of the large bottle twin packs!
These are the creams and serums I bought. Not very many at all. See what I mean by being restrained? 😛
Avene Physiolift Nuit Cream – The Avene Physiolift anti-aging range was just launched and is available here, but not the cream. We only get the lotion/emulsion and I much prefer creams for night. So when I saw it there, I got it.
Vichy Teint Ideal – This is a foundation that I was somehow interested in. The tester felt very nice going on the back of my hand so I picked up a tube. We don't get Vichy here in Malaysia anymore which makes me sad. I wanted to pick up a couple of the Aqualia and Idealia ranges but I remembered how scented their products can be so I didn't. Also because the crowds got to me.
Bioderm Atoderm Intensive Balm – I'm not sure why I got this LOL! It says it's for very dry, irritated and sensitive skin. Maybe it'll come in useful one day.
La Roche-Posay Redermic R – This is a retinol treatment that I'd come across before and because we don't get LRP here in Malaysia, I picked it up to give it a go. Retinol is a good thing anyway, and a friend tells me I picked the right thing!
Filorga Hydra-Kyal Intensive Hydrating Plumping Concentrate – You tell me you don't want this, after seeing that name?! Filorga is a brand I'd been very interested to try, and it's quite hard to get it online. When I saw the whole shelf, I admit I was lost. So I only picked 2 items.
Filorga Meso Mask – This was the one product I'd made a special note to buy. I was given a sample sachet a while ago and I loved it so much, I knew I had to buy the full sized tub! I hear that it gets a lot of raves in China as well, which might explain why the Chinese were hoovering it up like it was going out fashion.
L'Occitane Ultra Rich Cream – I love this one and it was a little cheaper there, so into my basket it went! On hindsight, I might have swapped this out for something else.
So, that was basically what I bought from the pharmacies when I was there. I came across "must-buys" online which I chose not to pick up, like the Embryolisse cream (too rich) or Biafine (for sunburn which I know won't happen to me), Homeoplasmine (nipple cream also touted for chapped lips, neither of which is a problem I have) or Topicrem body milk (not something I'd use). I suppose it's because I live where it's hot and humid (didn't realise how much I missed the humidity till I didn't have it!) that I knew that these products just weren't suitable for me. So, I thankfully did not go mad. My only regret was failing to pick up a tube of LRP Effaclar Duo.
The queue at CityPharma Rue Four was amazingly long, and it took about half an hour before I got to the cashier. Everyone had gigantic baskets and multiple plastic bags, I felt a little sorry for those who only wanted to buy 1-2 items. They should have an express lane for them.
Tips for visiting City Pharma on Rue Four
If you plan to visit City Pharma on Rue Four, here are a few tips I have for you:-
Go early – I hear that queues can start before the store opens at 8.30am, but even if you aren't there at that time, go early. You'll be done more quickly and it doesn't get as stuffy in store. I got there by the afternoon, and while it was well stocked, the crowds made it an uncomfortable shopping experience.
Try not to bring any bags into the store – The store is tiny and cramped. The narrow aisles are often full of people blocking the way, talking on their mobiles, taking orders etc. It doesn't help when you have a bag on you that you're trying to keep closed, so you don't get pickpocketed, and trying not to bump into things. If you are going with a friend, take turns and leave your bags outside if you can. You'll be done more quickly too. If you are travelling alone as I was, keep your bags to the minimum, which means you might want to make this your first stop. I made the mistake of making this my 3rd stop so I had too many other bags on me, and that made it harder to move around.
Know what you want – Now is not the time to ask how to use a product. If you don't know, then you probably don't want it. If you don't know a brand, this isn't the time to ask what it's good for. Do your homework BEFORE you go. If you want to ask questions, go to a quieter pharmacy. You may pay a couple of Euros more but it'll still be cheaper than buying in your home country.
Be patient – It's hard to navigate the cramped store, you may not find everything you want, the queues are long, but be patient, for the prices make it worth your while. If you'd rather not get into the human crush, visit another pharmacy. The prices aren't as attractive (you save just a little by comparison, unless you're buying a lot) but you have a much more pleasant experience. I visited the City Pharmacie at Tolbiac which was empty when I got there in the evening. The prices were a little higher (a couple of Euro difference) but it was comfortable and I was able to browse more easily, and ended up picking even more stuff! LOL! 😀
Claim your Tax Refund – Do your math and if you're a tourist from outside the EU, remember to claim your tax refund at the cashier with purchases of €176 and up. If you're close to the limit, get a couple more items so you meet the limit because it'll be worth it! 🙂 Remember to validate your tax form at customs or at the Pablo electronic tax refund machine at the airport!
Aside from the French pharmacy skincare hauls, I picked up a couple of other beauty buys as well.
Kiko Milano makeup – These were the ONLY makeup I bought this time around! I think I'm losing my touch haha! But I got a few shades of the Kiko Long Lasting Stick eyeshadow which comes highly raved, and one of the Kiko Eyebrow Sculpt pencils. It also comes highly raved.
Clarins Booster Serum – This was actually a gift, but I was so excited about it because it's a serum I'd been wanting to try ever since I heard about it! In Malaysia we'll get it early next year, but it's already available in Europe. There are 3 versions – Energy (Orange), Repair (Blue) and Detox (Green) and you add just a couple of drops into your night creams. I was given a sachet sample which I tested and I have to say, it does seem to give very quick results!
Biologique Recherche Lotion P50W – Since I was in Paris, I had to get a bottle of the famed P50 Lotion toner thing! I hunted down the Biologique Recherche store on Champs Elysees, and stumbled in there, sweaty and hot to ask about this lotion. I was recommended to get P50W as I'd never used it before so this was the starter version. It comes in 3 sizes and I picked the middle one. I was also told Malaysia now has a distributor, so I will get that information and share it with you later, once I've given the lotion a go!
So that's my Parisian beauty haul. Not as much as I expected, but not very little either. I actually restrained myself from buying too many serums and creams, as much as I wanted to, because I knew that they'd expire before I had a chance to use them all. Instead, I got multiples of the face mists and sprays as I run through them, and it'll be nice to have ready stock on hand 😀
Now, which are you most interested to hear about first? Which have you tried?
I'd love to know if you've tried any of them and like them (or don't) Those I've tried, I've linked up to the reviews so you can understand why I bought them, even though we can find them here too 🙂 If there's any you're interested to hear about first, let me know! 🙂
Paris B