Those of you who have been hanging out with me for the past 6 years will know how HUGE a proponent of cleansing oils I am. I'm not just saying it. I have a post where I tell you about every single cleansing oil I've ever tried over the years. Its a MONSTER of a post – go read it. But you know what?
I don't use cleansing oils anymore. I haven't said this before have I?
The reason is, they are far too drying on my skin now than they used to be. When I realised this (it's very important to know your own skin, folks!) I started looking for alternatives to my double cleansing routine. I started out trying cream cleansers but if I'm to be honest. I find them a bit too fiddly for my liking. So, I shifted focus to the hottest new skincare product in recent years (to me anyway) – miceller solutions or cleansing waters. Oh dear. I think I've hit on a new obsession.
I started out trying micellar cleansing waters with the very popular Bioderma but you see, I started out with the wrong one. I had purchased 2 large 500ml bottles in Hong Kong a while back (what can I say? I'm kiasu :P) and started out using the Bioderma Sébium for oily-combination skin. I thought, "Hey I don't have sensitive skin. I'll go with Sebium first. How different can they be anyway?"
Mistake. I hated it.
Ok, I didn't hate it per se, but I don't like it. It felt drying, didn't seem to clean very well and although my skin felt clean, it also felt stripped. Oh and I felt like there was a layer over it. Long and short, I didn't like it and shoved it aside, tarring Bioderma Sensibio with the same brush. Oh boy! Was I wrong to do that!
I then moved on with my micellar water journey with Caudalie Cleansing Water but when I had finished it up, I told myself to use something I already had as opposed to running out and getting something else. I have a bad habit. I'll freely admit it 😛
So I pulled out the Bioderma Sébium Micelle Solution again, and again hated it. Sorry if you like it, folks. I can tell you that this is not one for anyone with dry skin or even combination skin. It might work for someone with oily skin though. I can't say. But yes, hated it and I go around telling people "Honestly, I don't get the fuss about Bioderma cleansing water. My skin doesn't feel that clean and it feels dry. Meh!"
And then I picked up the Bioderma Sensibio and suddenly, I saw the light. I understood why people rave over this one. It does leave my skin feeling lovely and clean and cool. It feels gentle on my skin, and most importantly, my skin did not feel dry!
The way how miceller solutions work is a bit scientific to me but what these products are, are essentially waterless cleansing solutions. The Bioderma Sensibio Micelle Solution for Sensitive Skin says that it cleanses, removes makeup and sooothes skin, while the Bioderm Sebium cleanses and purifies skin. You don't have to rinse after that.
Technically, the Bioderma Sensibio operates as a makeup remover, cleanser and toner in one handy bottle. You can wipe it over your skin at the end of the day to remove your makeup and then move straight on to your skincare. For those with sensitive skin that is easily irritated you reduce the amount of products on your skin and that can help calm sensitive skin.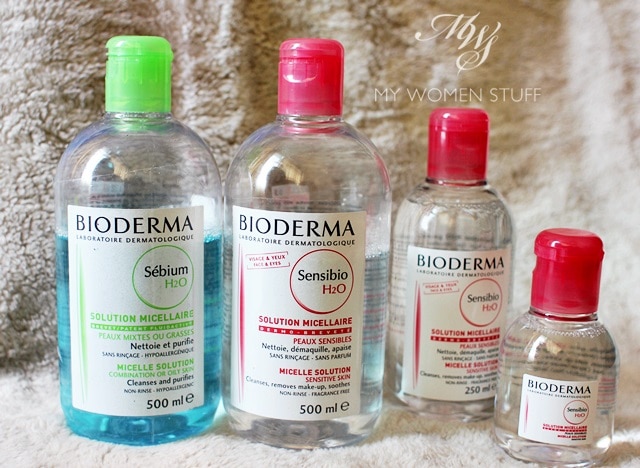 A family of Bioderma Sensibio H2O Micelle Solution for Sensitive Skin 😛
I however use this as a makeup remover and as the first step to my double cleansing routine. Yes, I still cleanse. My skin just doesn't feel very clean just after this you know, and I don't get the idea of not rinsing a cleanser off your skin 😛
I tried using the Bioderma Sensibio to remove eye makeup but it fails at that for me. Eyeshadow is removed quite easily but waterproof mascara stays put. After a few frustrating attempts, I quit altogether. I still use a separate eye makeup remover that does the job in a faster time with lesser fuss. So, I use this purely to remove face makeup.
I just soak a cotton pad with the solution (careful, the hole in the flip top cap can dispense too much at one go) and then gently rub it over my skin in circular motions. You can do wiping motions, its your choice. Then, I flip the cotton pad over, go over once more and that's it.
If I wanted it truly clean, I'd go over again with a clean Bioderma Sensibio-soaked cotton pad. I've found that it does need about 2 passes with the cotton pad to get my makeup off completely with Bioderma Sensibio but after that, my skin feels cool, clean and smooth. I do do another wash in the shower with my regular Vichy cleansing gel just to be sure its all clean. And that's it for my night routine.
Some people use this in the day, as their morning face cleanser. Your face doesn't get very dirty in the night while you're sleeping so a quick pass with a piece of cotton soaked in Bioderma Sensibio is enough to refresh and clean your skin. I tried it, but couldn't get the hang of it. I still need that splash of cool water on my skin in the morning to wake me up.
I've been using this for a few months now, and I strongly believe that it's part of my change in my skincare routine that has helped it be at its best in a long time. It may be gentle, but it also gets my skin clean with minimum fuss. My skin doesn't dry out, and it feels clean and comfortable. That is so important!
Here is the ingredient list for both Bioderma Sebium and Sensibio.
If you come across references to Bioderma Crealine and are wondering how that is different, apparently that's the old name. Its now renamed Bioderma Sensibio H2O Micelle Solution 🙂
In a nutshell

Bioderma is a French pharmacy brand of skincare that popularised micelle solutions or waterless cleansing in the beauty world in recent times. Bioderma Sebium which comes in a light blue clear liquid and green packaging is targeted at those with combination and oily skin. The product cleanses and purifies skin and acts as cleanser and makeup remover. I don't recommend it for anyone with dry skin because I find it too drying myself. Bioderma Sensibio is targeted at sensitive skin and I also think it suits dry skin better. Its very gentle on my skin, removes my face makeup (I don't use it for eyes) and leaves my skin feeling soft, clean and refreshed. Its now my first step in my evening double cleansing routine and my skin looks and feels so much better! I can't say I won't stray but I'll definitely keep this one as a staple.

Pros: Affordable, Easy to use, Cleans off makeup and dirt from skin well without drying and irritation, Leaves skin feeling smooth clear clean and refreshed, Gentle formula

Cons: Not available in Malaysia at time of writing, Nothing else 😛

Who will like this: Anyone who feels regular cleansers may be too harsh on their skin
I'm about halfway through my 500ml Sensibio bottle and I can't use the Sebium one so I use it to remove makeup swatches or for cleaning my fingers after putting on my makeup 😛 Now here's the sucky bit for fellow Malaysians – we still don't get Bioderma in Malaysia (at least not that I know of at time of writing) BOO! 🙁 It is available in Singapore if you'd like to have your friends or family there pick it up for you. I think I spotted it at Watson's… (or was it Guardian pharmacy?) but from recollection, it was quite pricey.
I picked mine up in Sasa in Hong Kong for roughly RM55/500ml which I now realise is a bargain. If you are keen on trying these, you can get it online at Escentual.com (goes on sale often including now!) or StrawberryNET.com. I just picked up the 250ml and 100ml bottles during the last Escentual.com sale. Couldn't resist. Update: I stumbled on a couple of local online stores that sell these but the price markup is crazy. Just go with either of the 2 international sites here. You will have a little wait, but price-wise you could get the 500ml for the price of a 250ml priced locally. Much better value.
Further update: Reader Rahainah has informed me that she does Bioderma pre-order sprees sourced directly from France and her prices are quite competitive plus! If you'd like to know more, you can check out her spree thread on LowYat.com here.
ISN'T IT SO CUTE?! 😛
Ok, I have a reason for getting the 100ml, other than the fact its cute. I figured, I could reuse the bottle when I'm done and it'll come in handy when I fly. Not often, but when I do, it'll come in handy 😀
Are you a fan of Bioderma micelle solution cleansing waters? Which one do you use?
I think most people would use Biderma Sensibio. To answer my own question, I think it does live up to its hype. I do think its excellent for my skin and I don't have to worry about clogged pores from mineral oils etc in cleansing oils anymore. Sure, its not as one-stop as a cleansing oil is, but my dry skin loves it better. I've found a new obsession so you can expect me to be testing micelle solutions around the block! Hit me with your faves! 😀
Paris B
Bioderma Sensibio H2O Micelle Solution (combination or oily skin) and Bioderma Sebium H2O Micelle Solution (sensitive skin) Price: RRP £4.50-14.50 Availability: Escentual.com and StrawberryNET.com both ship worldwide