I'd like to share some thoughts on this one today because I've seen many people fly out and buy lots of new beauty items or the latest releases or the full collection "for the blog" and later feel burnt out or their wallet starts hurting, and they think of giving up. I've also been asked by people point blank how to get hold of PR people for free products so they didn't have to buy them.
For the former, if you have a nice big budget and feel that the newest violet lipstick is something you'd wear everyday, then please don't let anyone stop you! For the latter, I think they have a really skewed perception of blogging. You don't start a blog for purposes of getting free stuff; you start a blog because you want to share your views and knowledge. Less common these days, but still, there's hope.
Fact is, most of us who blog are just beauty buffs wanting to share our thoughts and views on products and on beauty in general, and not all of us have those sorts of deep pockets or PR connections. Quite often, I see blog sales happen with products that are brand new or barely touched and it does make me feel a little sad because the product doesn't quite go to waste, if the new buyer wants it, but for the large depreciation which never covers your costs. It's basically a waste of money on the part of the blogger. I've even heard of people putting up PR samples for sale – the biggest faux pas that can happen. Putting yourself on a no-buy only makes things worse sometimes. Its like going on a crash diet. You'll bounce back worse.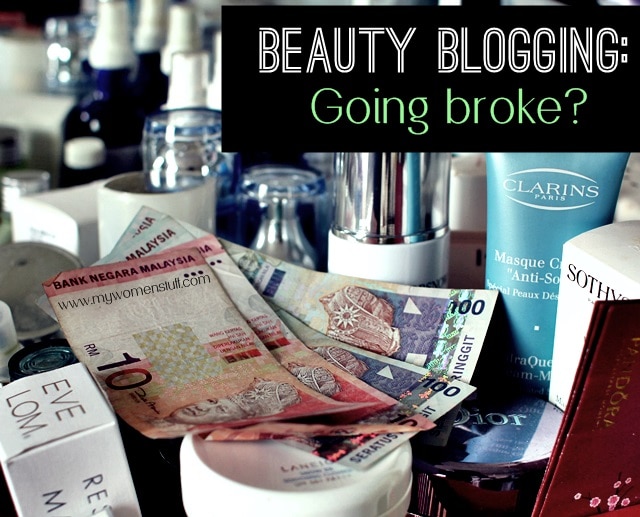 You see, blogging about beauty or beauty blogging isn't just about the latest, the newest and who can buy the most. Its about having a passion for beauty. Quite often, I warn new bloggers who ask, that you have to have a passion for your subject and you have to be a beauty buff to start with. You can't set up a blog to blog about beauty and then start thinking of what stuff to buy to blog about, or then hope that if you have a blog, PR companies will send you lots of freebies. Yes, I've been asked this too.
No, there are no tips for what to buy to start a blog, you either have them or you don't. Sometimes the PR thing happens in which case, good for you! But these days, the field is getting more crowded so lean times are ahead and fact is, we're pretty much on our own.
So, what does a beauty blogger do? Does she go broke buying everything she sees so she has something to review? Does she buy a new lipstick every day or every week? Does she kiss ass with PR so she gets showered with freebies that she could never use up nor even like? Does she have to do massive shopping hauls and share them with her readers?
Well, no you don't. Do it if it makes you happy and doesn't send you to the poorhouse. Don't, if it will or if you feel it places unnecessary pressure on you and your finances. Here are some ways to get started if you don't already have a large beauty collection, or don't want to fall into the trap of crass consumerism 🙂
1. Share your beauty buys with a friend
Unless your bank account is nice and fat, you won't be able to buy everything out there. So why not share with a friend or a sibling or your Mom? If your friend has a blush or eyeshadow palette you like, ask if she'll let you borrow it to trial. You can then blog about it as Tine has demonstrated here and you don't have to spend a penny, but you share something new on your blog!
2. Samples add variety
For skincare and even some makeup like primer or foundation, don't be afraid to ask at the counter for a sample. The worst thing that can happen is the SA says No. Otherwise, you get a sample to try, and you can share your thoughts about it and again, it doesn't cost you anything. Sometimes, you can cut out or print out a voucher and redeem a sample. Don't want to put a picture of a sample sachet on your blog? Grab a stock picture and use it. Nothing wrong with that at all! Ditto perfumes. Its so easy to work out if you'd like a perfume without buying it. Just ask for a little spritz at the counter and you'll know 🙂 I hesitate to recommend that you buy samples from certain websites that sell them. Sure, its cheap but I am wary about their age (expiry dates are rarely printed on samples) and if they are original products. I'd just rather err on the side of caution and ask at the counter. Its free.
3. Beauty blogging isn't only about product reviews
Herein lies the fallacy – that a beauty blog is about writing review after review of the newest and the latest. You know what? It bores me. It bores me to churn out review after review and I know it bores readers. So, mix it up.
Share a story. Went somewhere? Had tea with a friend? Share what you wore on your face or some snippets of your delicious tea. Did you lipstick mark your tea cup? Which was it?
Have a beauty tip? Share how you apply foundation or apply cream blush… for example 🙂
Do a makeup look. Doesn't cost anything 🙂
Have an opinion. Everyone and their aunty will be talking about the new collection from MAC. Think it sucks? Say so!
Have a beauty problem? Write about it and perhaps your readers can help you solve it. The blog post that gets me the most traffic till today is one I wrote almost at the beginning of my blog where I wondered about shampoo causing acne, and about how probiotics cause me to break out. These are things that don't need money and can potentially help someone much more than a product review ever can.
There is so much more to the beauty world to discover. If you are stumped, do a "What's in my makeup bag" or "What's in my handbag" post. Its fun, quick and a refreshing change. I have noticed that people often blog about "Empties" – that's a good idea too. Its always nice to know what works so well for someone that they empty the product.
4. Buy magazines that give out samples
These days, many women magazines have some beauty samples attached as a sweetener for you to buy it. They are sometimes quite generous with their samples and you can usually try anything from makeup to deluxe sized luxury skincare products. Buying a magazine is cheaper than buying the full size product, so you don't go broke and yet have something new to share 🙂
5. Shop in your stash
I keep repeating this, but beauty blogging isn't about everything that's new and the latest. It feels that way but it truly isn't. I'm quite sure that most people would already have a sizeable beauty stash before they even start thinking about starting a blog. Looking forward is great, but I like to look back sometimes.
It might surprise you but it is the common everyday items that people tend to overlook in favour of the next shiny collection. Do you have your favourite shower gel? Mine is (Eucerin PH5!) Do you feel embarrassed that its just a drugstore/pharmacy brand that everyone is using? I'm not! It might surprise you but one of the most popular searches that land on my blog come in for Olay Total Effects. Everyday brands and products tend to get overlooked by the majority so why not fill that niche?
6. Subscribe to a beauty box
Those who have sizeable beauty collections or sensitive skin won't enjoy beauty box subscriptions too much. But when you are starting out and want to blog about new stuff, I think subscribing to a box or two is a good way to get new things to try at a small pricetag. If you have 5 items in the box, you have 5 product review posts. Review the service, and that gives you 6 posts! Enough for a week, or enough to tide you over up to 3 weeks 🙂
7. Have you used it before? Share your thoughts
Perhaps you've used a product before that's finished or that you no longer have. This is most common among skincare or bath and body items. Well, why not share your thoughts anyway? No one said you only had to blog about something you are currently using. Here's an example – my mammoth overview of all the cleansing oils I've ever tried.If you don't have a photo, get a stock photo online from the brand's website. Don't steal another blogger's photo whatever you do, but if you want to borrow it, ask and then give them the proper credit by linking to their blogpost.
8. Attend a beauty workshop
Many brands hold beauty workshops at various times throughout the year when entry is by way of purchase of a voucher, usually affordably priced, which you can then use to redeem products. Quite often, generous samples will be given out too during the workshop, so you not only get a full size product (review #1), you get a little bag of samples (review #2, 3, 4, 5) and the learning experience (review #6) How about that? Almost 3 weeks worth of posts from 1 event if you pace yourself right 😀
If you are a beauty blogger or want to start one, is this a valid concern of yours? Are you afraid of overspending for your blog or have you felt the pressure to?
I hope this will also help any new bloggers out there who want to start blogging but aren't sure how to continue once you've finished talking about the products in your collection; and also those who are feeling the pressure to buy, buy buy! Remember, do it for the love of it, not because everyone else is doing it and be creative about the various topics and content. A product review blog is a dime a dozen, but a good beauty blog transcends that 🙂
Paris B
Simple Blogging Tips are some simple tips I have for fellow bloggers, based on my own experiences. I'm no 'guru' but I hope they will help you. You may read up on previous Simple Blogging Tips here or please feel free to ask your question in the comment box or in email.