Last week, I talked about how what we eat and how our internal plumbing affects our skin. A couple of you mentioned taking probiotics and how you derived benefits from it.
Well, when I was doing my personal research, I found that probiotics is definitely helpful for helping with digestion and bowel movement. What it is, is billions of beneficial bacteria introduced into your gut via a capsule or a yogurt or yogurt drink or even a drink like Yakult or Vitagen (I happen to love drinking the latter 2 as a kid, nevermind the sweetness. It was such a treat!)
The purpose behind probiotics is to introduce more good bacteria to balance out the bad bacteria in your gut. It is being touted as a new health thing and like all health things, there will naturally be pros and cons. If you look out there though, the pros outweigh the cons of taking probiotics by about a million to one. Probiotics is even said to be able to help people who have skin problems, allergies or acne.
Well, guess who discovered a small side effect of taking probiotics that isn't quite as inspiring as all that? 😛
Yours truly actually had acne after taking probiotics. Yep. It defies imagination doesn't it? Here is this capsule of all these supposedly good bacteria that's supposed to help with digestive problems, clear up internal plumbing and maybe even help with clearing up acne on skin.
What I experienced was otherwise. I was having some spots. This was during the time before I decided to do anything to my diet. It was highly irritating. I was then suggested to try some probiotics. Everyone in my family was taking it and everyone was raving about how regular it made them. That was the primary reason for taking the probiotics I might add.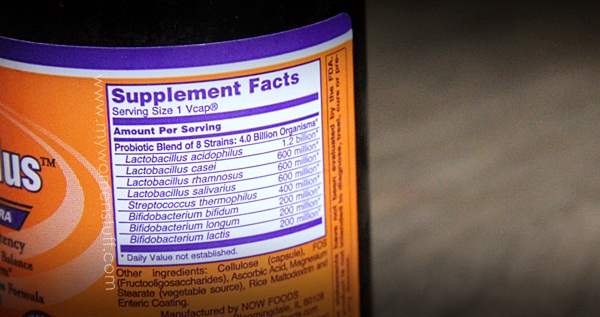 So I started taking it once a day. After about a week, I started to realize that my skin, which was bad before, was now stark raving NUTS! I was having huge, painful cystic acne on my chin and honestly, after not having such bad skin for such a long time, it was a downer. It wasn't hormones, I might add. It wasn't close to that time of the month when hormones go nuts, and I haven't had hormonal acne for a while now.
I don't know what made me think about the probiotics I was taking. One morning, I woke up and thought "I wonder if its the probiotics?" Perhaps it was some instinct so I stopped it. Within 2 weeks, I started to notice a difference to my skin. Coupled with my lifestyle and diet change, I found my skin was healing itself, with no lasting damage. Was it the probiotics then? Could it actually cause me to have acne?
I looked for information online but there was little to no information. Most people said it HELPED their acne problem. It was on a few little known forums where I found one or two people who mentioned the same things I experienced. Within a couple of days of taking probiotics, they erupted with acne along the chin and jaw line. After stopping, the breakouts stopped. Most people shot that theory down and told them to stick it out but I personally felt there was something there. I wasn't going to stick it out, no matter what anyone said.
I'd gotten my problem under control by this time. Barring the regular random blackheads my skin was back to normal. So, I decided to experiment. I popped a probiotic capsule just last week in the morning. By evening, there was a painful hard spot forming on my chin. By the next morning, it was a full blown painful cystic acne spot. I wasn't waiting around to see what happened if I popped another capsule!
So, going from my personal experience with probiotics, I'm going to stick my head out and say that yes, in some very rare cases (like mine) probiotics can cause you more harm to your skin than good. Probiotics can, in my case, cause you to break out and have acne problems where you had none before, or even make your problem worse.
I've stopped taking probiotics and am now treating the spot with the Nexcare patch which is helping to bring down the swelling and reduce the painful spot. Once it flattens out or comes to a head, I'll go with tea tree oil and then perhaps a whitening spot corrector to get rid of the mark and hydration to get my skin back to normal.
Its a horrible process and if you ask me, I think this an awful way to discover that probiotics isn't for me. I might add that it could also be the strain of bacteria used in this particular brand (it all looks like the normal stuff in most probiotics supplements though). Not being medically or pharmaceutically trained, I can't tell. The only thing I will say is that I'm quite safely NOT going near anymore probiotic supplements from now on.
If anyone has shared a similar experience as I have, I hope you could share it. Perhaps you had a good experience with taking probiotics. Share it too! 🙂
Paris B