When word leaked out that Dior was doing a cream blush in little pots that looked like macarons, you should have seen how much of a tizz the beauty blogging world went into! Suddenly cream blush was back IN! I'd say its rather opportune since I've only just worked out how best to apply cream blush for a lovely natural look, so I was finally brave enough to tackle these.
For your viewing pleasure today is the Diorblush Cheek Creme in 651 Panama and 851 Capri, 2 of the 4 shades available in the capsule Summer Mix collection. The cream blushes come with matching nail polishes in similar bright pops of colour.
Dior's offering come in a glass pot with a black screw on cap, with CD printed on the cover. What I like about the pots is that the opening is large so its easy for you to get your fingers or the tip of a brush in there quite easily. It reminds me of the pots used for cream eyeshadow and its about as big.
Something that perturbs me when I open the cap is to find that the cream blush has "shrunk". You may notice even from a brand new tub, that the sides are pulled away from the glass tub and if you are experimental as I am and upturn the tub over your palm, the cream blush falls out like a little cake. It does look very much like a macaron at this point! 😛 In this regard, I do think a little work needs to be done with the formula in terms of presentation. In terms of performance, I have to say, colour me impressed!

The texture of these cream blushes are actually rather dry to the touch. They aren't sticky or "wet" the way some cream blushes are and have a dry touch so it is pretty much a cream to powder finish that is comfortable for application and when wearing on skin.
Left-Right: Panama and Capri
You might be able to see how the blush has pulled away from the sides of the tub. I tipped Panama out by accident while taking these sets of pictures 😛
651 Panama is a bright coral shade with warm orange tones. Truth to tell, I was a little afraid of it. It looks a little too bright for my use and a little too warm. The swatch which you'll see below didn't quite help allay my fears either. However, as you will see a little further down, when I sheer it out on my cheeks and only use a little what I get on my skin is a lovely coral-pink flush. It is a little bright, but quite easily sheered out and has a nice pop of colour. On a more medium-deep skintone, I think this shade would be made for you for the prettiest flush on your cheeks!
851 Capri is a much more acceptable to the masses light pink shade that is described as "cotton candy". Its light, but not that light to me. This one does not swatch very impressive. It looks almost too light going on my arm but remember, you don't wear blushes on your arms, you wear them on your cheeks! So I was very pleasantly surprised to see the very pretty fresh kawaii glow it gives to my cheeks, seemingly a bloom of youth from within. Very pretty! However, this one will likely work best for those who have light to light-medium skintones because it is a very light shade and anyone with a deeper skintone will be frustrated.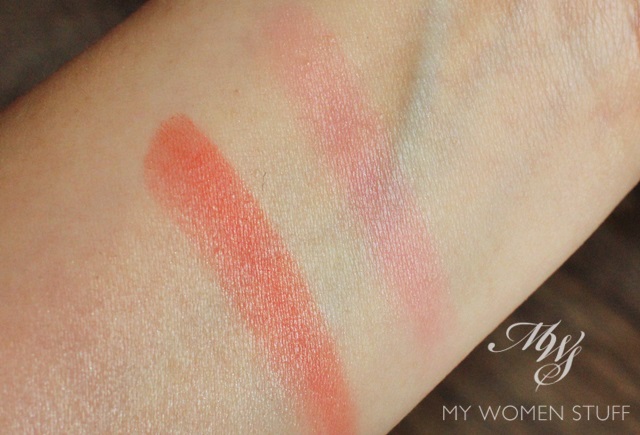 These swatches of Panama on left and Capri on right should give you an idea of what it looks when applied heavily. I just rubbed my finger over the surface of the blush and drew 1 swipe down my arm. It is surprisingly pigmented! You might also see how Panama on my skin is such a bright orange while Capri is a much more wearable colour on my skintone, but how it may not show up well on a deeper skintone.
But its when its on the cheeks that I think these cream blushes come into their own. They are very easy to apply with your fingers. I use my 3rd and 4th finger, pick up a little colour and then tap it on my cheeks, blending as I go. The colour goes on quite strongly but it is very easy to blend but I don't favour this method because I find it messes up my base of foundation and concealer. However, what I've found is that when I use my cream blush application technique with a brush, lightly bouncing it on my skin, the colour goes on a little more light, but much more even and makes it a lot easier to get it right immediately and to add layers, and I don't mess up my base!
On left, we have Panama which as you have seen in the arm swatch above, is a scary bright orange. But when just a little is used and sheered out, I get a warm glow to the cheeks, that looks like I've spent some time out in the sun. This was applied using fingers and I used a little more so it'd show up in photographs. When I wear this normally, I apply a little less and it is less of a "sunburnt" look 😛
On right is Capri which is a very pretty glow-from-within pink on the skin. Again, I applied this with my fingers and a little more than I would wear normally so the glow is generally a lot more subtle. It does dry down to a powder finish and doesn't really slip once it goes on. It doesn't stain skin either, so you can wipe your fingers on a piece of tissue when you're done and it's clean.
As for longevity, the general consensus I've gleaned from Tracy and Tine is that they last long, almost all day. I do wonder if it might be the climate where they are both based (cooler and drier) because here in the tropics, I didn't experience all day longevity. It does last on me up to about 5-6 hours with no problems (and even through very vigorous house cleaning as I did after I took the photos haah! 😛 ) but not much longer than that.
I also find that how well it lasts depends on the foundation base I use. When I use the Diorsnow BB Creme, it lasts longer than when I use the Guerlain BB Creme or the Clinique CC Cream. When I use the Revlon Colorstay foundation or the Laura Mercier Silk Creme foundation as I did in these photos, it lasts longer than when I use a more emollient foundation. So, for me mileage varies but I sort of forgive that, because the very natural transparent flush on your skin is just SO. DAMN. PRETTY. 'nuff said 😛
In a nutshell

The Diorblush Cheek Creme cream blushes are limited edition offerings from Dior in their Summer Mix capsule collection that introduces 4 shades of cream blush and matching nail polishes. The cream blushes have a dry powdery finish and they perform like a cream to powder product so it isn't sticky or slippery at all. It is very easy to apply whether with fingers or a brush and the colour is very easily built up. I like the transparent pigment that allows it to give your skin a very natural flush of colour, almost as if you were truly blushing from within. A very healthy sort of look, without looking like you've put on makeup. The only thing I don't quite like is the packaging element where the product looks like its dried out and pulled away from the sides of the tub even though its brand new, and also how it can fall out like a piece of cake if you aren't careful. Otherwise, these are winners in my blush book.

Pros: Portable, Lightweight texture never turns oily on skin, Cream to powder finish that gives a lovely natural flush to the cheeks, Wide opening makes it easy to pick up product, Pigmented colour that is easily adjustable with fingers or a brush, Longlasting with the right foundation or in cooler drier climates

Cons: Pricey, Limited Edition, Looks dry even though its new

Who will like this: Anyone who likes using cream blushes, Anyone who wants an easy to use non-staining cheek colour that looks very natural on skin
In case you were wondering, yes for purposes of this post, I did wear both Panama and Capri on different sides of my cheeks 😛
Panama on your left, Capri on your right. Other products used: Laura Mercier Silk Creme Foundation in Soft Ivory dusted with Guerlain Meteorites in Teint Beige, Nars Radiant Creamy Concealer in Vanilla Light 2, Giorgio Armani Eyes to Kill Silk Eyeshadow in #15, Lancome Gloss in Love
I might even be able to get away with going out looking like this. Eh? Eh? 😛
Have you checked these new Dior cream blushes out? Which colour do you prefer?
I spotted these at the counter early last week when I was hurrying through and peeped at the other 2 colours not featured here – Bikini 871 (a bright warm pink) and Pareo 971 (a bright deep fuchsia pink). I'm sort of glad I didn't get those because they do look like quite a handful. But I'm also glad Dior came out with those shades because I can safely tell you that there's a blush for everyone in this little collection of 4. Most of the shades will show up very prettily on most medium-deep skintone while Capri prettily covers the light skintones. Sometimes, less is more 🙂
Paris B
Diorblush Cheek Creme cream blushes come in 4 shades – Bikini, Pareo, Panama and Capri Price: RM110 each Availability: Dior counters Limited Edition: Yes, Summer Mix collection 2013