You know, in the early days of blogging, a mere 10 years ago or thereabouts, blogs were only just evolving to break the mould of traditional print media. Instead of thinly veiled advertorials and pretty pictures found in magazines, bloggers came on the scene to offer something more unique – honesty. It was refreshing!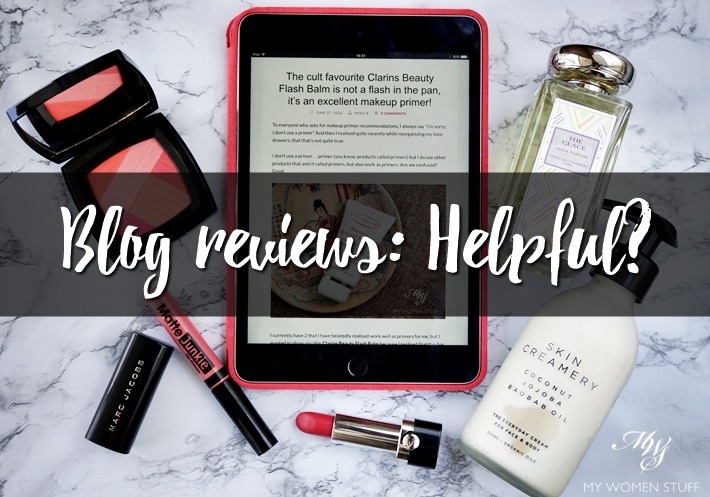 Over the years, as blogs, bloggers and blogging has evolved, this focus and perception too has evolved.
These days, I'd be hard-pressed to find anyone who reads blogs anymore. Or who'd admit to it anyway 😀 But that got me wondering – do you find blog reviews helpful or useful at all?
Personally, I still do find blog reviews useful. I say this not as a blogger, but as reader, and as someone who uses the internet to search for information.
I particularly find blog reviews useful or helpful for food (restaurant or street food recommendations or reviews), gadgets and travel. I haven't actually found as many useful travel blogs as I hoped to, but it could be because I'm looking for different things. Naturally, I find beauty product reviews helpful as well LOL! I'd be a traitor to my niche if I didn't 😉
The reason I find blog reviews useful or helpful is because for the most part, it is a write up about a personal experience with a particular product or service. Beautiful photographs help, but I prefer helpful photographs, especially when I'm looking for a review on a gadget or something technical. Pictures of a product in action are always helpful, and a picture of the exterior of a restaurant is always welcome!
That said, I will acknowledge that it's a lot harder these days BELIEVING in a blog review. They are helpful and they are useful, but it's hard to believe, especially when you realise that there's a proliferation of undisclosed sponsored or paid reviews. Companies aren't stupid. When they realised how much more influence a blogger had over the general public, they pounced. Blogging has never been the same since.
Gratuitous shot of some beauty products of which you can read reviews on the Chanel Sunkiss blush, Marc Jacobs lipstick and the Silkygirl Matte Junkie liquid lipstick. The others are a work in progress 🙂
In recent times, there have been exposes on the failure of brands and bloggers/influencers to properly disclose their affiliations when publishing content. It's informative reading so you should read the articles on Fashion Law here and here. While there is regulation in the USA and to some degree in the UK, the rest of the world is pretty much fair game; and we know that blogging and the internet knows no borders. This is true for food reviews as well. I rarely trust or believe the food/restaurant reviews on he very large food blogs, because a lot of their food is sponsored and I can tell you that when you're invited for a meal, it's quite different from when you visit the restaurant incognito. I much prefer reading the experience of someone who went incognito, as that's how I prefer to do it. When I blog about food, that is 😀
So, while I find it hard to BELIEVE a blog review, I still find it useful and helpful for a representation of the product, or to gain an impression of a place or item. For a service, I find it less useful, because I can reliably tell you that sponsored services are usually better than the ones you pay for, which isn't strange, but is troubling the same way it is with food reviews. That's why I don't really bother with sponsored services anymore – it's too ambiguous.
So that's me. I think blog reviews are helpful and useful, because it's far quicker to skim a written post than it is to listen to a rambling video; and there is more information contained in a written blog post than on Instagram or Facebook. For this reason, I think there's still a place for bloggers. As for credibility however, I'd say that's definitely taken a beating.
Do you find blog reviews helpful or useful? Do you still read blogs?
I do. I enjoy reading blogs that mix things up a little by way of content because it keeps me coming back to see what's new. If it's a predominantly review blog then I check back now and again to see if the products catch my fancy. But either way, I do find them useful and helpful – some more than others 😉 You?
Paris B