Sometimes, you think "Oh, not another limited edition pretty blush!" as yet another limited edition pretty blush hits the counters. I tend to be a little dismissive these days of pretty looking makeup because experience has taught me that sometimes, they're just a pretty face – pretty to look at, not so pretty to use.
And then you come across one that is not only pretty to look at, but quite quite lovely on skin. And then you go "Oh darn! I'm going to have to rave about this one!"
Enter the pretty blush du jour, the Chanel Sunkiss Ribbon Blush Harmony. A blush so pretty to look at, it comes tied up in its own ribbons.
Forming a part of the Spring 2016 LA Sunrise Chanel makeup collection, I was a little taken aback when I first saw press images. Doesn't this look like something the brand might put out for Summer? Those corals and beiges sure look summery to me!
The design is that of interlaced ribbons, in 5 different shades. While pretty in pictures, when the blush landed on my desk, I was quite blown away by the intricacy in detail. It really did look like ribbons! All the way down to the texture of a satin ribbon, with the subtle Chanel name embossed, the way they are on actual Chanel ribbons. If you've ever had anything gift wrapped at the Chanel counter, or bought anything from the boutiques, you will know what I mean. They're beautiful ribbons, and now, everyone can have them in this blush!
But is it just another pretty blush?
You know, it took me DAYS before I could bring myself to swatch this. I knew it would all but destroy the pretty embossing, which it did. But swatch it I did in the name of science – the lengths I go to for you guys! 😉
Here's the palette, that's been swatched with my fingers. I took care to rub only on the areas where the name wasn't so prominently embossed. It doesn't look so roughed up in pictures, but in real life, it is quite. I even took the enclosed brush to it, as you can see.
Which brings me to the brush included. It's a rather flat, angled brush that feels fairly soft. Not like the coconut husks we used to get once upon a time. It comes packaged in its own velvet pouch. If I'm to be honest, I tested it and it can work… but only in a pinch. Otherwise, the brush picks up too much colour, deposits colour too unevenly, and doesn't blend it out, so you do not end up looking very good at all. It's such a pity, because this is a beautiful blush!
In instances like this, I often wish that the brand will just ditch the brush altogether. Anyone who can afford to buy this blush will already have their own, good quality blush brush, or in the case of a collector, not even use it! They could have shaved off a few pennies and made us happier. So, personally, I'd say, skip the brush enclosed.
To show you what the blush looks like, I swatched each colour individually and then ran my finger all over to blend the colour.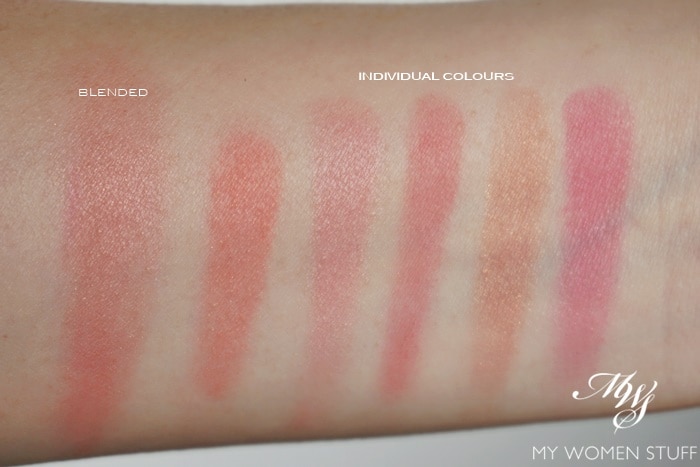 The individual colours were swatched in a clockwise motion starting from the orange in the top right segment. I was rather pleased that the brown shade didn't come out bronze or orange, but a more beige tone, which actually serves to add some depth. The light pink in the middle lifts and lightens the overall shade.
While you can, if you wish, try to pick up each colour individually, I'd tell you to forget it. Each segment of colour is too small, except for maybe that pink and beige shade. What you should do instead, is run your brush over all the shades, in which case, you end up with a very lovely coral shade, as you see on left above.
What I will have to note is that the colours look crazy in the pan. It's so bright! Look at that orange! That fuchsia pink! But I found that the pigment, while good, tended to be a little transparent. I hesitate to use the word "sheer" because it isn't exactly sheer. But it is a little transparent once it goes on the skin. So, you see colour, but you also kind of see through it to your skin, so what you end up with is a glowy shade.
What this means for me (Chanel foundation No. 10 or generally just very light shades) is that this blush comes off as a lovely transparent, glowy coral-pink on my skin. Not too strong, but the colour is buildable, if you prefer something stronger. However, I came across a review by a woman of colour (Style and Beauty Doctor), who said that despite how bright and pigmented it is, it doesn't show up on very deep skintones. So that is something to think about, unless you plan to buy just to collect.
So this is how it looks when I use the Sunkiss Ribbon Blush Harmony.
I intentionally kept it fairly light, so you may see the pink glow around the cheeks, but nothing too in your face. I used the Wayne Goss Brush No. 2 and a light hand to achieve this, because this is how I'd like to look. If you prefer something more intense, layer the product on, but don't overdo it.
My lip colour is the Spring 2016 Rouge Coco Shine lipstick in Mighty, which is a sheer pink that I'm not much a fan of (it's not so red in person) and it's a pity you can't see it, but I'm wearing the Chanel Stylo eyeliner in Fervent Blue over a neutral eyeshadow. You can see the eyeliner and lipstick below.
I will however note one more thing about this blush. I find that it is quite powdery. When you run your brush over it, it kicks up a load of powder, that does make the palette look a little messy after each use. You can probably see the little bits of powder in the product pictures above.
So on an overall basis, I'd say buy this if you love blushes and collect them, or if you have the funds for a pretty blush that also looks pretty good, in a transparent way. Buy it if you like coral toned blushes. But don't, if it's going to mean you don't eat for a week because this is pretty pricey!
IN A NUTSHELL

The Chanel Sunkiss Ribbon Blush Harmony blush is limited edition for Spring 2016 and is part of the LA Sunrise collection. It is a blush with 5 different shades that I'd suggest you use by swirling your brush all over to pick up the colour. Actually, don't swirl. Just lightly roll or tap your brush over it, or lightly brush over it. The product is soft enough to be picked up quite easily, and it blends out beautifully, with a good blush brush. Ditch the one enclosed. You'll hate the blush otherwise. The colour goes on surprisingly lighter than I expected, but it is a pretty shade, and is buildable. For me, having light skintone, I think it's beautiful. For those with a deep skintone, you might disagree because it might not even show up. So, this is one where your mileage will definitely vary depending on what you prefer.

PROS: Transparent glowy colour on skin, Pretty to look at, Easy to pick up colour and to blend on skin, Colour will suit most skintones whether warm or cool

CONS: Pricey, Not as pigmented as it looks, Powdery, Embossing will disappear fairly quickly, Brush included is pretty useless

WHO WILL LIKE THIS: Blush collectors, Anyone who likes coral-pink blushes, Anyone who likes a blush that isn't too strong but is buildable in colour

PRICE: RM245 | US$70

AVAILABILITY: All Chanel counters in major department stores, Chanel website, Nordstrom, Saks Fifth Avenue
And here's a close up of the blush in its pristine condition, before I pretty much ruined it by using it. But you know what? As pretty as it is to look at, it's far far prettier on the skin, so if you buy this, for goodness sake, USE IT! 😀
Do you have your eye on this pretty blush? Did you pick up anything else from Chanel's Spring 2016 collection?
I like how the ribbons really look like they are interlaced, with only certain letters peeking out here and there. It lends such a note of authenticity to the whole design! Definitely something quite different 🙂 Are you getting it? 😀
Paris B