I'd received so many queries about the La Mer Soft Fluid Long Wear Foundation over on Instagram, that I figured it was time I sit down and actually write about it. I haven't been able to give very straight one word "I like it" or "I hate it" answers, because the truth is, it's complicated.
This isn't the first time La Mer has had a foundation. They had a whole base makeup range a while back (their concealer and loose powder came highly recommended to me then) but in recent years, they discontinued the range, pulled back, retreated, reformulated, and they have now relaunched the Skincolor de La Mer range.
The Skincolor de La Mer range consists of The Soft Fluid Long Wear Foundation, The Powder, The Concealer, The Reparative Skin Tint (which you have seen before) and The Foundation Brush. I'd like to focus here on the Soft Fluid foundation, although I'll give my 2 cents about The Powder as well (you don't want to miss that! 😉 ).
La Mer The Soft Fluid Long Wear Foundation
The La Mer Soft Fluid foundation, as expected from this luxury brand, comes in a beautiful, solid frosted glass bottle. There is a lovely solid feel about it, its rounded sides moulding comfortably to the palm of your hand. The pump dispenses product well and really, in terms of packaging, I cannot fault this one bit.
But the frosted glass and the name of the foundation does tell you a little bit more of what to expect from it. From experience, most foundations that come in a frosted glass tend to lend themselves to a more satin/matte texture. This gels, when you see that this is a Soft Fluid LONG WEAR foundation. "Long wear" tends to lend itself to a more matte finish as well.
So, I really shouldn't have been surprised that it does go on my skin with a satin-matte finish. The coverage is a little tricky as well. I'd peg this as a medium coverage foundation, but you can lighten the coverage by applying less for a sheerer finish, or by thinning out the formula with moisturiser or a drop of oil, as La Mer suggests. This not only gives you a lighter finish, it also offers a more moisturising formula that might feel more comfortable.
You can also build this up by layering thin layers, for a fuller finish. I find that it lends itself well to layering, as the formula is fairly light and runny (unlike most long wear foundation formula that tends to be thicker in finish) so it doesn't feel heavy or cakey on skin.
What I like therefore about the Soft Fluid foundation, is the comfort and how even just a little bit of product evens out my skintone, and offers up the illusion of my having good skin, without me doing very much. Let me show you how the before-after looks (unretouched, of course)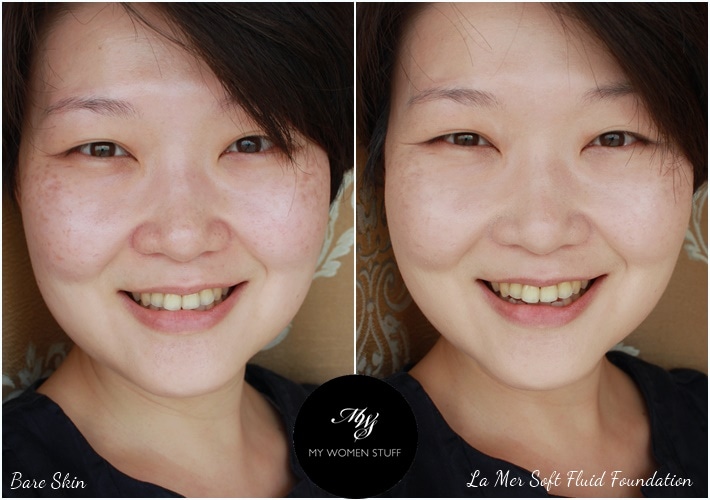 I think you'd agree that the La Mer Soft Fluid foundation offers a very nice, natural finish to the skin, with an almost satin effect. This is a fairly thin layer of product that I buffed into my skin (I do find that this foundation lends itself well to some gentle buffing – I use this foundation method, for the uninitiated) and I like how it looks. I usually top up with a little more concealer where I need it and a very very light dusting of powder to set it. But if you don't want to set it, I do find that it has a satin finish on the skin.
Here are a couple of comparison swatches of 3 different shades of the La Mer Soft Fluid foundation. There are 9 shades available to suit different depths of skin tone and whether you are warm or cool toned. There is a foundation shade finder tool at the La Mer counter that will be used to help determine your shade, so that would be helpful as well.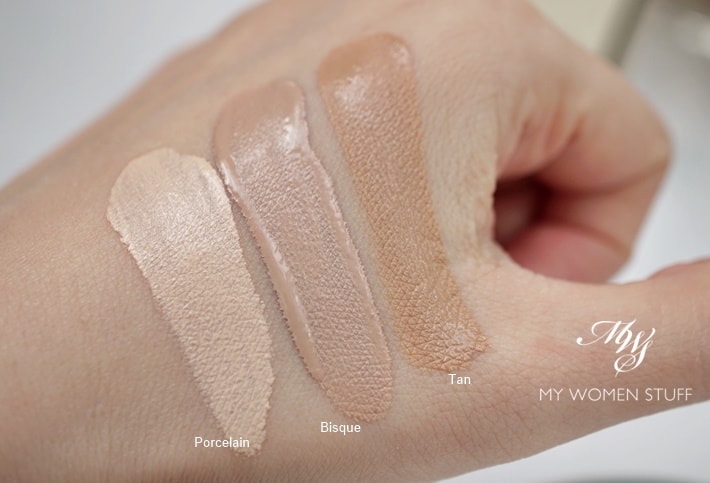 I did find that the jump in shade from the light to the medium shade is rather drastic. I wear Porcelain, which I believe might be the second lightest shade available. It looks very light, but because of the texture, it blends itself quite seamlessly into my skin. I can't go any higher, or it'd look too deep.
To compare Porcelain with other foundation shades I regularly wear, here are some side-by-side swatches.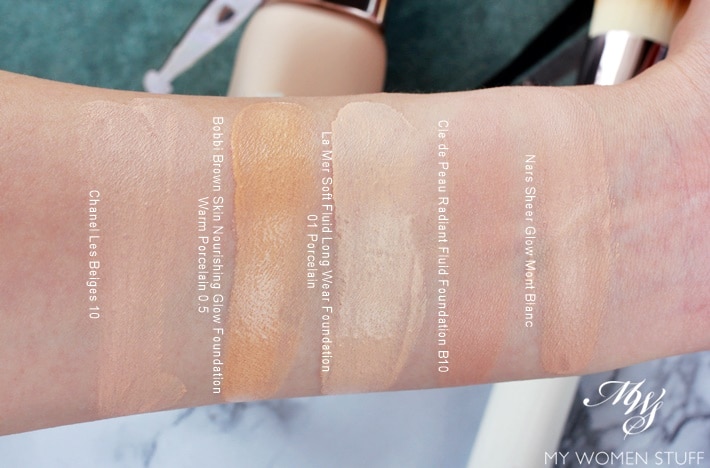 This is one of the lightest shades I own but trust me, they all work. As I showed you the last time, that Bobbi Brown Glow Foundation, which looks strong and peachy in the swatch actually looks fine when I blend it out.
BUT… and yes, there is that buzzing fly in the ointment that prevents me from gushing on about this foundation… What I'm not crazy about is the texture of the Soft Fluid foundation. I find that on my normal-dry skin, it has a tendency to sink into my skin as the day wears on, and has a slightly strange dry-but-not-dry feeling. It doesn't feel drying for me, but it doesn't look as good either. If you have bits of dry skin or flaky skin anywhere on your face, it will accentuate it. It will also settle a little into lines or large pores as the day wears on.
I actually find that when I wear the La Mer Soft Fluid, and the day has been a hot and humid one, my base actually looks better. So, I personally feel that this foundation will lend itself better to those who have a combination skin-type, or who live where it's hot and humid. If you live where it's cold and dry and you have the heater going, or if you have very dry skin, I don't personally think this is the best foundation for you. If you do like it, you can make it work.
A drop of moisturiser or serum or facial oil will lighten the texture of the foundation, and allow it to sit more comfortably on drier skin. It also adds a bit of a glow to the skin, if a satin-matte texture isn't your cup of tea. I tried it with the Renewal Oil (which I love) but I didn't like how it felt. It seems to make it too glowy, and it makes it very light and slippery, to be almost like a BB cream or tinted moisturiser. That didn't sit well with me.
At La Mer's price point for this foundation, I pretty much expect it to work right out of the bottle, without my having to tinker with it. But as I said, it does warn you by saying that it's a Long Wear foundation, and I have to attest to the fact that it does wear well for long hours, but that is a clear message that something will have to give. At the same or similar price point, I feel that the Cle de Peau Radiant Fluid Foundation does a far better job and feels much more comfortable on those with a slightly drier skin type. It offers up a beautiful texture, glow, and photoshop finish that makes me reach for it any time I know I need to look good without trying. I can't say the same about this La Mer one.
What makes me conflicted however, is that I tend to get compliments when I wear the La Mer Soft Fluid! I don't know why, but people I haven't seen in a while often ask me if I've done something drastic with my skincare (perhaps I have, that Vitamin C thing) but it's always when I wear this foundation!
So, do I like this? It's complicated. I suggest you test it out for yourself. Get a sample if you can and test it out for a few days. I'm not crazy about this, but I still wear it because this girl's vanity loves the compliments 😛
IN A NUTSHELL

The La Mer Soft Fluid Long Wear foundation is a liquid foundation with SPF20 in a lightweight formula. It is infused with the signature Miracle Broth and while it touts to offer hydration, I personally don't find that it sits as well on drier skin as it should. It will settle into lines or large pores as the day wears on, and may feel drying for some. I personally find that in hot and humid weather, it wears well, especially if my skin has a slight oily feel due to the weather. So, I personally think this will be more suitable for someone who has combination skin. The texture is very lightweight and comfortable, and has medium coverage which you can lighten, or layer to increase coverage. I'm not quite crazy about this foundation, but I tend to receive compliments when I wear it, which makes me very conflicted about this. It's expensive and not something you can buy on a whim, so do try to sample it at the counter and wear it for a few hours before you decide if you like it.

PROS: Beautiful packaging, Lightweight texture, Good coverage and buffs beautifully for a natural finish, Gets me compliments on my skin, Longlasting, Comfortable to wear, No cakey finish

CONS: Pricey, Can be drying on dry skin types, Can accentuate flaky skin, Can settle into lines and pores as the day wears on

WHO WILL LIKE THIS: Anyone who has combination-oily skin who wants a lightweight, long wearing foundation with buildable coverage and a satin finish

PRICE: RM475 | US$110 for 30ml

WHERE TO BUY: La Mer counters and online at Nordstrom, Selfridges, Net-a-Porter, Neiman Marcus
Here is the ingredient list (copied off the back of a box, so my apologies if there are any typos. My eyes were going bonkers with the tiny font 😛 )
Active Ingredients: Octinoxate 7.5% Titanium Dioxide 1.9%
Declustered Water, Cyclopentasiloxane, Isododecane, Dimethicone, Phenyl Trimethicone, Butylene Glycol, Polysilicone, Polymethyl Metacrylate, Coco Caprylate/Caprate, PEG/PPG 18/10 Dimethicone, Silica, Algae (seaweed) extract, Sesamum Indicum (sesame) Seed Oil, Medicavo Sativa (Alfalfa) Seed Powder, Heliathus Annus (Sunflower) Seedcake, Prunus Amygdalus Dulcis (Sweet Almond) Seed Meal, Eucalyptus Globulus (Eucalyptus) Leaf Oil, Sodium Gluconate, Copper Gluconate, Calcium Gluconate, Magnesium Gluconate, Zinc Gluconate, Tocopheryl Succinate, Niacin, Sesamum Indicum (Sesame) Seed Powder, Polyglyceryl Isostearate, Citrus Aurantifolia (Lime) Peel Extract, Chondrus Crospul (Carrageenum) Extract, Cucumis Saticus (Cucumber) Fruit Extract, Mordeum Bulgare (Barley) Extract, Molasses Extract, Chlorella Vulgaris Extract, Gelidium Cartilegineum Extract, Corallina Officinalis Extract, Saccharomyces Lysate Extract, Silibum Marianum (Lady's Thistle) Extract, Whey Protein, Laminaria Saccharina Extract, Codium Tomentosum Extract, Sucrose, Glycerin, Cholesterol, Eryngium Maritimum Extract, Laminaria Digitata Extract, Glycine Soja (Soyabean) Protein, Acetyl Glucosamine, Caffeine, Sorbitol, Sidesbeckia Orientalis (St. John's Wort) Extract, Tourmaline, Acetyl Hexapeptide, Sodium Hyaluronate, Hexyl Laurate, Cetyl PEG/PPG 18-1 Dimethicone, Disteardimonium Hectorite, C1Z-15 Alcohol, Magnesium Aluminium Silicate, Trehalose, Yeast Extract, Dimethicone Shylate, Propylene Glycol Dihethylhexanoate, Yeast Polysaccharides, Caprylyl Glycol, Trietyhl Citrate, Tetrahexyldecyl Ascorbate, Palmitic Acid, Hydrogenated Lecithin, Methicone, Propylene Glycol Dicaprate, Tocopheryl Linoleate, Sodium Chloride, Aluminium Hydroxide, Hexylene Glycol, Triethoxycaprylylsilane, Fragrance, Alcohol Denat, Disodium EDTA, BHT, Phenoxyethanol, Mica, Titanium Dioxide, Iron Oxide
La Mer The Powder – RM370 | US$95 for 25mg
I just had to give special mention here to the La Mer The Powder, which is a translucent loose powder that you can use for setting your base makeup. La Mer boasts of this being a weightless powder, and you know what? They were right. If you were to dip your finger into the powder, you wouldn't even FEEL the grains of powder. You won't even feel anything! All you feel is a slightly dense feeling of air. It's crazy. Don't believe me? You have to test it for yourself 😛
La Mer The Powder comes in a beautiful glass tub which doesn't lend itself to travel unfortunately, and comes with a fluffy powder puff which, if I'm to be honest, serves little purpose. Use a fluffy brush.
What I love about The Powder is how weightless it feels on the skin. Seriously, you can't feel a thing on your skin and it does not look cakey at all. In fact, you can't even see it. But when you touch your skin, after buffing on a light layer of powder, your skin feels so velvety soft! Just use a tiny little bit.
I remove the puff, give the container a little shake, then use a powder brush to pick up the powder and dust it all over. Just once. No double-dipping. It gives a beautiful finish, no matter what liquid foundation you use. I had heard so much hype over this powder back in the day, but by the time I wanted to buy one, it had been discontinued.
I'm so glad that La Mer brought it back, because if there's one thing you should check out from the Skincolor de La Mer range, it's The Powder. Sure, the Soft Fluid foundation will get all the hype, but when you look past the hype, look at that unobtrusive squat glass tub at back, with the silver cover. This one deserves every bit of hype it gets. It's beautiful! 😀
Have you tested any products from this range? Did you try the previous versions?
The range has been out for about a month now, at all La Mer counters and I'd love to hear your thoughts if you've sampled any of them. Always helpful to know how they work on different skin types, if you agree or disagree with my view 😉
Paris B