Do you have something that you wouldn't necessarily call a favourite, yet find yourself reaching for it now and again, a little more often than you might expect? I'm sort of that way with the La Mer Reparative Skintint SPF30, which is La Mer's version of a tinted moisturiser-sunscreen thingy.
In fact, if you read La Mer's description of this product, they don't really talk about the "tint" of colour, calling it instead, a "healthy wash of colour" which I've learned, is marketing speak for "very sheer colour". So, when you have that in mind, you'd be less inclined to be disappointed when you find out that the product doesn't offer a lot of coverage.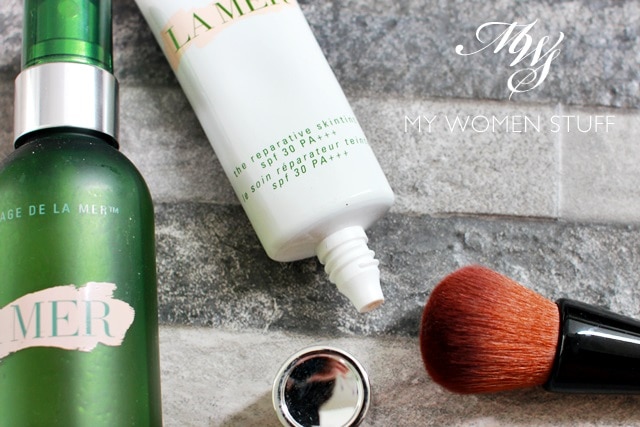 So why bother wearing a tinted product, if you aren't going to get any coverage on skin? Well, speaking personally, I do, a little more often than I realise. It will depend on what you really need the product to do. Are you concerned about reducing the appearance of redness and uneven skintone on your skin? Or would you prefer something that will cover up imperfections as well?
For the former, I find that soft tints or washes of colour do a pretty decent job. For the latter, go with a proper foundation. It also comes with being comfortable with your skin and realising that there are other ways you can actually wear a makeup base, without a) looking like you're wearing makeup and b) without having too much product on the skin. I"ll actually show you below how I do this 🙂
But coming back to the La Mer Reparative Skintint, I'd consider this a tinted moisturiser with sunscreen. The reason I say so is because the texture of the product is fairly thick and creamy so I'd hesitate to suggest this to someone who has combination-oily skin. You might find it uncomfortable or that it turns oily. On drier skin, like mine, it does help make your skin feel a bit more comfortable as the day wears on.
Now, some of you weren't sold on my theory about makeup base being good for your skin in polluted environments (nothing against you of course! 😀 ) but part of the reason I realised it was because I realised that when I wear this particular product, my skin seems to feel softer at the end of the day when I remove it.
Texture-wise, it is fairly thick, and if I've one major complaint, it's to do with the shades. For some reason, the shades of the Reparative Skintint are abysmal and orange. I honestly have no idea where La Mer are getting the idea that people are orange, but there's that. The shades tend to be warm and orange and honestly speaking, I don't find them flattering.
The shade I use is Very Fair, which is what you see in the picture. It is light, with a slight pinkish tone. In fact, I think this shade will be worn by most people who have fair to medium skintones, because the next step up – Light – is orange. It is, I swear! I tried it and was quite horrified at how warm it was. If you have very deep skintones, the odds are that you'd only be using Medium. A magazine editor I know does, so that's how I know it'll work.
The leap in shade from Very Fair to Light is a huge chasm. Very Fair blends out fairly transparent, as you can see in the picture above. Light will impart a warm, transparent shade of colour. I think that if you're the sort who wants a "healthy glow" then Light might work, but I'd still caution you about looking orange.
That said, despite the sheerness of colour, I do find myself quite happy with this product because for some reason, it seems to even out redness and skintone pretty impressively and makes skin look better than it really is. I treat this as I would a makeup base, so I apply it after skincare and sunscreen.
While I can use my fingers to apply this, I find that this sometimes results in my using more product than I like, so I usually use a brush. This is more so because I find that when I use fingers to apply, the product doesn't spread out very smoothly on my skin. The texture, as I've warned you above, is a little thick so using fingers to spread it isn't quite the way to go for me, personally speaking. A brush seems to even it out better, and is actually quicker.
Let me show you how it looks in this little collage, and what I mean when I said right at the top, that it works for me by giving me a good base, without my having to wear more makeup than necessary.
The photos are unretouched, so on left is my bare skin. In the middle, I've applied a thin layer of the La Mer Reparative Skintint in Very Fair. You may notice how it has evened out the redness and uneven tone somewhat, especially around the shadows of the eyes and nose. You may also notice how the pigmentation I have isn't really concealed, because it is very sheer. Yet, the skin looks better already doesn't it?
In the picture on right, what I've done is dabbed some concealer (Nars Radiant Creamy Concealer) on my under eye area and on my cheekbones where my pigmentation clusters are. And that's it! On another day, I might even apply a light dusting of loose powder, and what this does is give me a very light, very natural base that doesn't look like I have any makeup on. Magical! LOL 😀
Will you like this? I don't know really. I'd love to tell you to try it, but this being a premium brand, it is quite pricey. This is more so, if you can't actually test it, because the shade selection is very poor. However, if you have drier skin and do find a shade that suits you, and aren't too put off by the price, and don't really want to wear a lot of makeup, yet want to just have your skin look a bit better than it already does, I think it's worth taking a look.
IN A NUTSHELL

The La Mer Reparative Skintint is a fairly creamy textured moisturiser with SPF30 PA+++. I'd wear this as makeup i.e. after skincare and sunscreen and not in place of either. However, I do find that this Skintint does make my skin feel softer and hydrated at the end of the day after I remove it, which is very comfortable. The tint is very sheer and there are only 5 shades, which tend to be deeper and more orange than usual, so I'd suggest stepping down a shade, if you're buying sight unseen. I like how it evens out skintone very nicely, and leaves skin looking better, although the tint is so sheer. It is very comfortable for me, but there is a light scent. While I won't categorise this as a favourite, I find myself reaching for it more often than I expect. Which I suppose says something about it.

PROS: Keeps skin feeling hydrated, Sheer tint of colour evens out skintone and redness while keeping skin very transparent, Expensive

CONS: Poor shade selection, Thick texture may not suit those with oilier skins, Very sheer tint of colour does not cover imperfections on skin

WHO WILL LIKE THIS: Anyone who has drier skin as the texture is fairly creamy and thick, Anyone who can find a shade match as the shade selection is fairly poor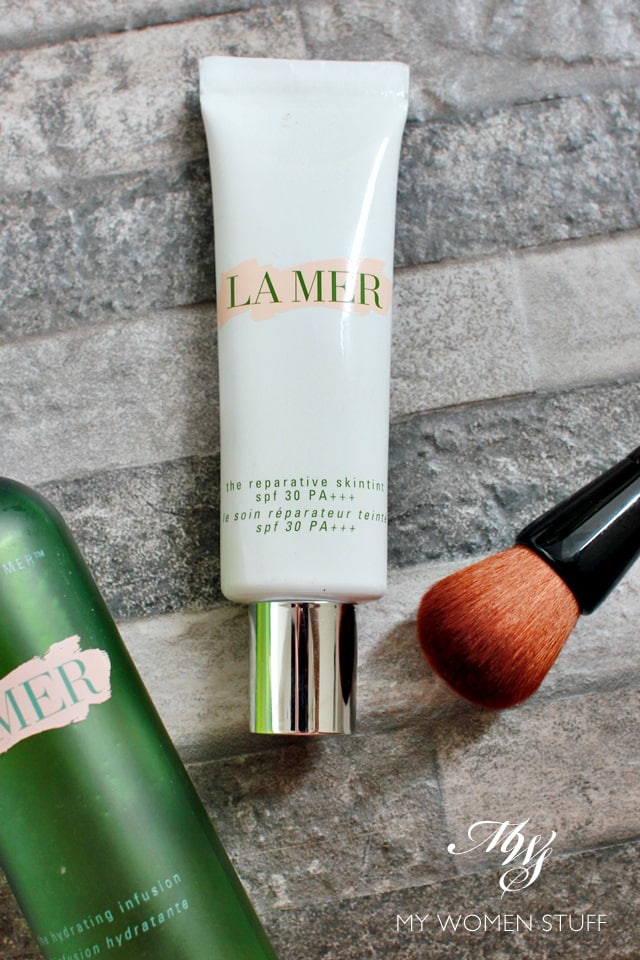 I managed to unearth the ingredient list for The Reparative Skintint SPF30 PA+++ so here it is:
Water, Butylene Glycol, Octyldodecyl Neopentanoate, Cetyl Alcohol, Laureth-4, Ascorbyl Glucoside, Neopentyl Glycol Diheptanoate, Algae (Seaweed) Extract, Sesamum Indicum (Sesame) Seed Oil, Medicago Sativa (Alfalfa) Seed Powder, Helianthus Annuus (Sunflower) Seedcake, Prunus Amygdalus Dulcis (Sweet Almond) Seed Meal, Eucalyptus Globulus (Eucalyltus) Leaf Oil, Sodium Gluconate, Copper Gluconate, Calcium Gluconate, Magnesium Gluconate, Zinc Gluconate, Tocopheryl Succinate, Niacin, Sesamum Indicum (Sesame) Seed Powder, Polyethylene, Helichrysym Arenarium (Everlasting) Extract, Cucumis Sativus (Cucumber) Fruit Extract, Magnolia Officinalis Bark Extract, PEG-100 Stearate, Scutellaria Baicalensis Root Extract, Morus Nigra (Mulberry) Root Extract, Hydrogenated Lecithin, Corallina Officinalis Extract, Gelidium Cartilagineum Extract, Vitis Vinifera (Grape) Fruit Extract, Saccharomyces Lysate Extract, Mentha Viridis (Spearmint), Pelargonium Graveolens (Geranium) Flower Oil, Lamirania Saccharina Extract, Citrus Grandis (Grapefruit) Peel Oil, Laminaria Digitata Extract, Methyldihydrojasmonate, Segisbeckia Orientalis (St. Paul's Wort) Extract, Acetyl Hexapeptide-8, Sucrose, Glycerin, Glycyrrhetinic Acid, Caffeine, Propylene Glycol Diethylhexanoate, Lecithin, Isohexadecane, Polyglyceryl-3 Beeswax, Whey Protein, Dimethoxytolyl, Propylresorcinol, Citrus Aurantifolia (Lime) Peel Extract, Acetyl Glucosamine, PVP/Hexadecane Copolymer, Tourmaline, Yeast Polysaccharides, Caprylyl Glycol, Rosa Damescena (Rose) Flower Oil, Yeast Extract, Isostearic Acid, Propylene Glycol Dicaprate, Stearic Acid, Hordeum Vulgare (Barley) Extract, Tromethamine, Acrylamide/Sodium Acryloyldimethyltaurate Copolymer, Galactoarabinan, Nylon-12, Zeolite, Synthetic Fluorphlogopite, Tocopheryl Linoleate/Oleate, Sodium Hyaluronate, Boron Nitrade, Xanthan Gum, Polysorbate 80, Silica, Aluminium Hydroxide, Alcohol Denat, Tin Oxide, Disodium EDTA, BHT, Linolool, Geraniol, Citronellol, Limonene, Phyoxyethanol [+- titanium dioxide (CI77891) Iron Oxides (CI77492) Iron Oxides (CI77491) Iron Oxides (CI77499) Mica]
Have you tried this La Mer Skintint? Do you use lightly tinted base products at all?
I know that many people tend to slam sheer base products because of the lack of coverage. Yet, sometimes, they do have their uses, for those who'd rather not wear a foundation with more coverage. Quite often, foundations, no matter how light, tend to have more coverage than tinted products. So, curious minds want to know if you wear them? 🙂
Paris B
La Mer Reparative Skintint SPF30 PA+++ comes in 5 shades – Very Fair, Light, Medium Light, Medium and Tan Price: RM330 | US$95 Availability: La Mer counters in major department stores