Anyone still here for Day 6 of Cushion Foundation Week 2 (The K-Beauty Edition)? Let's hear you! Oh yes, we have T-1 more to go before we're done! Go here to see what's been featured so far.
Naturally, I will not have ALL the brands in the market for this head to head comparisons – Korean brands aren't all that generous at providing samples, unlike the Western brands I worked with before this – but I have enough to take you through 7 (yes, count that) SEVEN days of Cushion Foundations. This time, we will have a whole WEEK of cushions and then on Day 8 (if I have not yet collapsed from exhaustion), I'll give you a round up, and on Day 9 (Yes, I've thought this through) I'll do you a quick comparison of Korean vs Western brand cushions based on what I've tested so far. Whew! There's a lot to get through so, fasten your seatbelts, here we go!
When I did my first round of Cushion Foundation Week, I was told by so many people that I had to a) please try all the Korean cushions (what? sponsor me? 😛 ) and b) please try this April Skin Magic Snow Cushion SPF50+ PA+++ because this one was THE BEST IN THE MARKET!
I raised a sceptical brow. You know me right? I couldn't resist the challenge 😀
But when momentum gathered for Cushion Foundation Week 2 (the K-Beauty Edition), and I had a missing slot, I hunted around online for a site to buy this one to try, that wouldn't scalp me and that I didn't have to wait till I was 80 before it got here. Happily I found it on a local website (Hermo) and now I know what you're wondering. Is this April Skin Magic Snow Cushion deserving of all the manic raves out there? Is this truly THE BEST CUSHION?!
Cushion Foundation: April Skin Magic Snow Cushion SPF50+ PA+++
Now, I don't know anything about April Skin as a brand. All I know is that people rave about their cushion foundations, which come in different coloured cases to distinguish the different types available. I naturally had no idea which to pick, so I just took a wild stab in the dark – hur hur 😛
I picked the black case because it looked different from the rest of the white cases out there. It stood out. Oh, and apparently, April Skin cushions are so popular that there are fakes in the market. WHAT?! People are sick. So, buy from a trusted source, or as you will see below, perhaps you don't really need this one. Ooh, spoiler! LOL! 😀
The April Skin Magic Snow Cushion in the black case is supposed to offer high coverage, be moisturising, have high sunscreen protection and be comfortable to wear. Let's see how it fares!
Sunscreen protection : SPF50+ PA+++
I'm not sure why I kept this section in, because all Korean Cushion foundations come with high SPF rating. That said, if you're using a cushion foundation in place of sunscreen, come, let me smack you 😛
However, what is good about cushion foundations, is their portability and lightweight texture, like this one, so you can use it as a touch up for your sunscreen through the day, or to touch up your makeup in the afternoons after it's faded off a little. The lightweight texture feels comfortable, and the light-medium coverage means you can boost your base makeup, if you have to, for the evenings.
As I've noted, many Korean brand cushion foundations use zinc oxide and titanium dioxide in their ingredients which are physical UV blockers. These are my preferred choice of UV protection and I'm happy to see them in this one as well. However, due to the coverage of this particular cushion, I don't think you'd be touching up very much.
The Packaging & Refills
It bugs me, because the product is just 15g (as with all Korean cushion foundations) but you do not get refills with your purchase. All you get is a case with the refill clipped in. You can buy the refills separately, but again, due to the warning about fake products out there, be sure you buy from a trusted source. This reminds me of Innisfree who also doesn't sell their cushions with refills, and the perceived notion of affordability goes out the door. Once you add in the refill, it pretty much brings it to the price of a higher end cushion foundation. To be honest, I'd much rather go there.
The compact is well made and fairly sturdy, and based on the brands I have, no other refill fits. It has the donut ring type of case with a cover. While the black matte cover looks sleek, it is also a dirt magnet. Every smudge shows up, which, if you are OCD, will bug you like crazy! I just wipe it down occasionally, but I don't pick this up often (ooh! 2nd spoiler! 😛 )
The Cushion
Hmm… Ok, this isn't your traditional cushion foundation cushion sponge. The cushion itself does not come saturated to the surface, and when new, this is what you see. It reminds me a lot of the Bobbi Brown Cushion Foundation, and I have a sneaky feeling, BB might have drawn inspiration from this one.
The surface of the cushion feels a little loose and puffy and looks a bit domed. April Skin says that this is because the foundation is sandwiched between 2 cushions in the compact. When you depress the sponge puff on the surface, you will see the foundation ooze through the top layer. Whether you like it depends on how much a stickler you are for things looking neat and tidy.
I do find that the product is quite close to the surface so only very little pressure is needed to get the product through the very porous sponge and onto your puff. So be gentle, because you will find that you only need very little product. Also worth noting is that because the sponge is a little domed, you will find product transfer onto the plastic cover. Not for fussy people.
The Sponge Puff
Again, this was a category I kept in from the previous Cushion Foundation Week series, and I'm not sure why, because the Koreans know their sponge puff applicators! This April Skin one is no exception. I will tell you right here right now, that for best effect, ALWAYS USE THE SPONGE PUFF!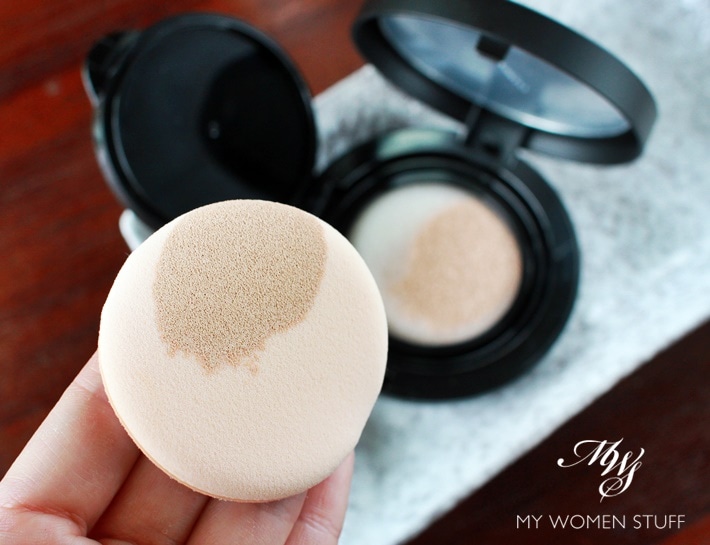 The puff is a beige, and you can see at back how the cushion surface is now stained with the product, but only in places where I depress. Other parts remain white. The sponge itself feels a little soft, and I do find that it absorbs product a little more readily. There isn't that rubbery density on the surface that I'd gotten used to with other brands.
TO USE: Slip your fingers through the loop (it only accommodates 3 fingers for me so I find it a little small), dab the sponge on the surface of the cushion (you can see this is just 1 dab) and then dab it on your skin, in a press and roll motion. Press on skin, and roll it off. It helps the foundation adhere better to your skin.
The texture of the April Skin Magic Snow Cushion is quite high coverage, so just 1 dab gets me very far in terms of coverage. However, I don't know about others, I find the coverage a little uneven. I attribute it to the sponge, which isn't as rubbery as I like. I swapped out a Laneige sponge and it actually applied better!
Texture, Coverage & Finish
What April Skin has going for them is high coverage. If you are used to cushion foundations or BB cushions (call them what you will, they're the same thing to my mind) being sheer and not doing much, then you will find that April Skin disproves that notion. In this black one anyway.
I found that the coverage is very high. Higher in fact, than either Hera or Mamonde, with just 1 pat. However, because I'd tried the other 2 first, I wasn't so enamoured with the high coverage of April Skin. If I hadn't experienced other high coverage cushions, I might have been more impressed.
The difference between this and Hera or Mamonde is that I found I couldn't sheer this April Skin one out very much. No matter how I try, the coverage is very high. I definitely needed no concealer with this. But I did use some powder to set, as the texture felt a little tacky on skin.
Let me show you the before-after pictures where I am wearing the April Skin Magic Snow Cushion in #21.
The coverage is crazy right?! Super high, and this was a fairly light hand that I used.
However, you may feel (and you would be right to feel this) that the shade looks a little off. This is because I noticed that the April Skin Magic Cover Cushion shade pulls with a pink base. Not a bad thing, because pink bases are usually more brightening, and they work for me. My visage does look brighter. But for the majority of people who wear warmer bases, this can make your skin look artificial and ashy.
If you click back to the Mamonde Cover Powder Cushion review, just to see the coverage, you may appreciate the shade difference. However, you may also notice that the Mamonde has a more matte effect, while this April Skin cushion has a bit more glow to it. It doesn't look very shiny, but there is a bit more glow, which prevents this from looking cakey.
I did find this to be long lasting, without turning oily or drying my skin, even after me being out in the heat and humidity for the most part of the day. If you want a high coverage cushion foundation with a brightening effect then this one would be one you might like.
Shade selection
Like most Korean-based brands, the shade selection is fairly poor at this point in time. There are 3 shades available #17, 21 and 23 for very light, light and light medium skintones. To be honest, I feel that it barely works for anyone with a medium skintone if #21 is anything to go by. It might look too light.
Scent
Yes, there is a floral scent that is quite strong and I don't like the scent because it smells a little musty to me. It doesn't linger on skin, but opening the compact wafts a strong sweet scent right in your face. If you're sensitive to fragrance in skin products then be wary.
Do I like this?
I'm on the fence with this one as well. I appreciate why many people love this. The coverage is nothing short of amazing for the convenience, and it lasts well on the skin. However, I don't like the way the cushion is constructed, nor the fact it does not come with a refill, which makes this pricier than usual. Also, it enjoys a cult status, that might explain the popularity.
In terms of product performance however, I prefer Hera because it makes me look like my skin but better. This makes me look like I have foundation on, and doesn't allow my skin to show through, blemishes and all. It isn't as cakey as Mamonde but the shade selection is a little strange. So, I'd say it's a decent cushion foundation. But it's not my No. 1 pick – sorry peeps! I know some of you love this one!
IN A NUTSHELL

The April Skin Magic Snow Cushion Mamonde Cover Powder Cushion SPF50+ PA+++ is very popular, and offers high coverage and skin brightening effects. The compact is well constructed, but the product does not come with a refill and that makes it a little pricier than I'd expect for a product like this. The shade selection is very small, tending to the lighter end of the skintone spectrum, but the coverage is impressive. While I'm not crazy about it (as I do have my preferences in other brands) I can understand the raves. I do feel however, that there are better products out there so the craze isn't quite justified. Just me!

PROS: Lightweight texture but can feel heavy if you pile it on skin, Brightens the skintone due to the pink tones that can look ashy on warm skintones, High coverage, Easy to use, Has a semi-matte finish on skin, Not drying nor oily, High sunscreen protection, Portable packaging

CONS: Scented, Some people may not like the sponge for application or hygiene purposes, I don't mind, Sponge feels a little small, Can look heavy on skin, No refills, Sponge does not apply product evenly on skin, Beware fakes online

WHO WILL LIKE THIS: Anyone who wants a higher coverage cushion foundation, Anyone who wants a high coverage cushion that offers skin brightening effects without too much of a dewy glow

PRICE: US$16-24 for a box containing 1 case & 1 refill. Refills are sold separately. I bought it at about RM89 and prices will vary depending on where you buy from as it is available on many different websites

WHERE TO BUY: Various websites or Korean sites if you know where to look
If you're interested in what's in there, here's the ingredient list
Water, Phenoxyethanol, Cyclopentasiloxane, Titanium Dioxide, Aluminium Hydroxide (CI77002), Triexthoxycaprylylsilane, Ethylhexyl Methoxycinnamate, Ethylhexyl Salicylate, C12-14 Alkyl Bezoate, PEG-30 Dipolyhydroxystearate, Octocrylene, , Peg-10 Dimethicone, Zinc Oxide, Niacinamade, Trimethylsiloxysilicate, Vinyl Dimethicone/Methicone Silsesquioxane Crosspolymer, Quarternium-18 Bentonite, Sodium Chloride, Butylene Glycol, Iron Oxides (Ci 77492), Triethoxycaprylylsilane, Chlorphenesin, Iron Oxides (Ci 77491), Triethoxycaprylylsilane, Perfume, Iron Oxides (Ci 77499), Adenosine, Euterpe Oleracea Fruit Extract, Vaccinium Angustifolium (Blueberry) Fruit Extract, Phyllantus Amblica Fruit Extract, Aloe Barbadensis Leaf Extract
I will note that many people are taken by the fact this product contains Niacinamade, which is an anti-aging ingredient. While I think it's great, I'll be honest and say that I don't think it makes that much of a difference to your skin. Look for it in your skincare, in makeup, it's pretty much optional.
Are you a fan of the April Skin Magic Snow Cushion?
I know many of you are fans of this product so I'm sorry to be that spoilsport who doesn't like it as much as I should. The primary reason is because I tested other products that offered good coverage, but look better on skin, and that's why I don't feel as sold on this as I should be. It's a decent product, that I don't deny. I just am not a fan but if you are, do let me know! 😀
Paris B
More cushion foundations can be found in this category.