Hello friends, and welcome to Day 5 of Cushion Foundation Week 2 (The K-Beauty Edition)! We're in the home stretch!
Naturally, I will not have ALL the brands in the market for this head to head comparisons – Korean brands aren't all that generous at providing samples, unlike the Western brands I worked with before this – but I have enough to take you through 7 (yes, count that) SEVEN days of Cushion Foundations. This time, we will have a whole WEEK of cushions and then on Day 8 (if I have not yet collapsed from exhaustion), I'll give you a round up, and on Day 9 (Yes, I've thought this through) I'll do you a quick comparison of Korean vs Western brand cushions based on what I've tested so far. Whew! There's a lot to get through so, fasten your seatbelts, here we go!
When I showed you my favouritest cushion foundation, I received rumblings of "But it's so expensive!" Hey guys, this can't possibly be your first visit to MWS, can it? You come to MWS for the expensive stuff, don't you?! 😛 LOL! But happily for some of you, here's one that I quite like (it falls a few steps short of being No. 1 on my list) Day 5 of Cushion Foundation Week 2 (the K-Beauty edition) is a the more affordable Mamonde Cover Powder Cushion, a brand that's just entered our beauty scene just last month!
Cushion Foundation: Mamonde Cover Powder Cushion SPF50+ PA+++
Mamonde is a new and fairly affordable brand under the Amore Pacific umbrella, having flowers as the source of its brand story, and has just been made available in Malaysia in August 2016. Incidentally, this product is the very first product I've tried from the brand! Apparently, this brand and its Cover Powder Cushion has a lot of raves due to the popularity of the Mamonde ambassador, Korean actress Park Shin Hye. (Please don't ask me who she is. I have no freaking idea. I may use the occasional Korean skincare or makeup product, but the whole K-pop scene eludes me. If you are a fan of K-dramas you'd likely already know who she is)
Anyway, according to Mamonde, this Cover Powder Cushion is supposed to make skin look light and bright, like you're walking around with your own personal reflector board. Now, wouldn't that be nice? I'd like my own photographer by my side as well, please 😛 Mamonde also intentionally made their cushion foundation with higher coverage and concealer ingredients, so if sheer cushions aren't your thing (they aren't mine) then this is one you should be looking for!
Sunscreen protection : SPF50+ PA+++
I'm not sure why I kept this section in, because all Korean Cushion foundations come with high SPF rating. That said, if you're using a cushion foundation in place of sunscreen, come, let me smack you 😛
However, what is good about cushion foundations, is their portability and lightweight texture, like this one, so you can use it as a touch up for your sunscreen through the day, or to touch up your makeup in the afternoons after it's faded off a little. The lightweight texture feels comfortable, and the light-medium coverage means you can boost your base makeup, if you have to, for the evenings.
As I've noted, many Korean brand cushion foundations use zinc oxide and titanium dioxide in their ingredients which are physical UV blockers. These are my preferred choice of UV protection and I'm happy to see them in this one as well. However, due to the coverage of this particular cushion, I don't think you'd be touching up very much.
The Packaging & Refills
Unlike the other affordable brand I featured a few days ago, the Mamonde Cover Powder Cushion comes in a box with a sealed refill and sponge. This is normal for a mid-high end Korean brand cushion, but a nice surprise in something this affordable. The compact is a little thick with a nice heft, and feels just like a high-end cushion. The cover has the name in a peach-shaped insert on the cover. This is a nod to the peach blossom flowers they say are used in this product.
The case is like a donut with a cover, so you clip the refill into place and it fits nicely without any rattling. The covers clips and stays shut, and it just feels well constructed and not cheap at all. Incidentally, I could fit the refills from Hera, Sulwhasoo and Iope in the same case as well! Boo to you Laneige and Innisfree!
The Cushion
The cushion for the Mamonde Cover Powder Cushion is fairly traditional, being the flat porous sponge that we have seen from the start. I find that the cushion is a little soft, so you will find yourself depressing your sponge puff further into the product than you expect. Due to the texture of the product, this also means you pick up a lot more product than you really need. When new, touching the sponge to the surface of the cushion is quite enough. As you go along, you will have to adjust your pressure accordingly.
The Sponge Puff
Again, this was a category I kept in from the previous Cushion Foundation Week series, and I'm not sure why, because the Koreans know their sponge puff applicators! This Mamonde one is no exception. I will tell you right here right now, that for best effect, ALWAYS USE THE SPONGE PUFF!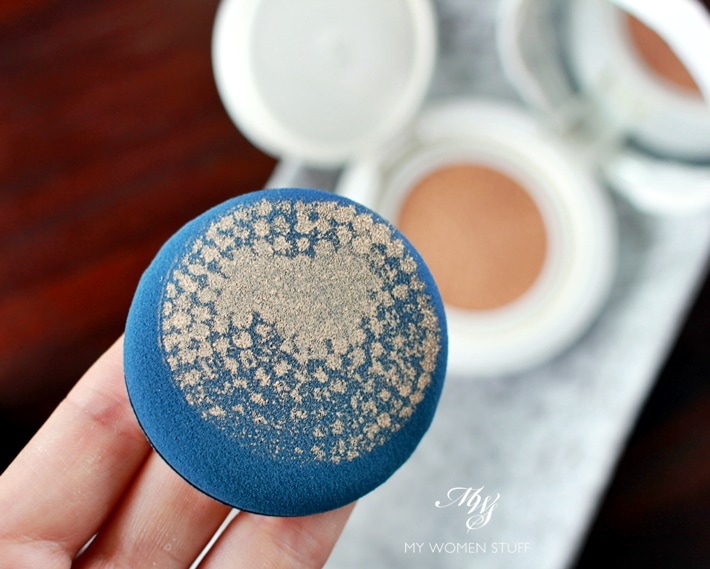 Incidentally, the Mamonde sponge puff looks almost exactly like the Laneige puffs, right down to the blue base. It's almost as if they took the Laneige puffs, changed the band and plonked them into the case! Since they're all under the same mother company, I can see it happening. Why change a formula that works?! So, like the Laneige sponge puff, the sponge is soft but dense, with a nice surface density that doesn't allow product to absorb product too much.
TO USE: Slip your fingers through the loop (it only accommodates 3 fingers for me so I find it a little small), dab the sponge on the surface of the cushion (you can see this is just 1 dab) and then dab it on your skin, in a press and roll motion. Press on skin, and roll it off. It helps the foundation adhere better to your skin.
As the texture of the Cover Powder Cushion is quite high coverage, I do find that used in conjunction with the puff, I only need 1-2 pats of product to cover my whole face. Not a lot of dabbing on the cushion required, and like Hera, I find that the less I need, the more even the application process is.
Texture, Coverage & Finish
Now, if you have a complaint about how sheer or how shiny cushion foundations look on your skin, and you feel that the Hera UV Mist Cushion is out of your budget, then this Mamonde Cover Powder Cushion will likely fit your bill.
While the texture of the Mamonde Cover Powder Cushion feels light on skin, the coverage is quite something! Never having heard of this brand or product before this, I had no expectations, so imagine my surprise when I noticed how easy it was to achieve a medium-full coverage look on skin with just a few dabs of this cushion foundation!
The name should give it away, really. Cover in Korean brands tend to mean higher coverage. I think the Powder in there means that it has a powdery finish, which it does, drying down to a semi-matte finish that is very longlasting on my skin. Mamonde says that there are ingredients in there that act as a concealer, and I'd say it is quite accurate. When I use this cushion foundation, I don't even use a concealer! I just dab on product where I need more concealing, and it does an amazing job.
In these before-after pictures, I'm wearing the Mamonde Cover Powder Cushion in Shade #21 – Peach Beige.
Uh, see the coverage?! It's crazy coming from a cushion foundation!
The shade #21 Peach Beige does, as the name imply, have a peach undertone and it is best suited for those with a light to light-medium skintone. It covers up redness, evens out skintone and draws a veil over my skin. Do I look like I have a personal reflector board with me?! LOL! Not really, but it sure makes my skin look pretty amazing, doesn't it?!
But… oh yes, there's a BUT! I find that this Mamonde Cover Powder Cushion can tend to look a little cakey. To counteract this cakiness, I sometimes spritz a fine mist of spray over my skin, but it's a temporary fix. If you layer on too much product, it does look like you are wearing foundation. It isn't as natural as Hera or Sulwhasoo, but I can see how it will appeal to those who want more coverage in a convenient cushion foundation compact.
You don't even need to use this trick that I teach you here (you can if you wan't to, but you won't need to), and applying powder over can enhance the cakiness of the product on your skin. What I like to do therefore, is to keep a lighter layer of product on skin, just a thin layer, patted all over, then use cream concealer where I need it and a light powder. This reduces the cakey and fake effect on skin. If you go high coverage, then be aware that it will look rather fake. For this reason, I feel that while this Mamonde cushion comes close to Hera in terms of coverage, the quality just isn't there. I don't get the transparency I get with Hera and Sulwhasoo (which I'll elaborate upon later) which means I don't get as natural a look. I look like I have makeup on, and that sometimes suits the occasion, but not always.
Shade selection
Shade selection is fairly poor at this point in time, since they are primarily based in Korea for now, with only a new foray out into the global market now. There are 3 shades available #17, 21 and 23 for very light, light and light medium skintones. Anything deeper, I'm afraid you'd have to go to Laneige for your cushions.
Scent
Yes, there is a floral scent that is quite strong. It doesn't linger on skin, but opening the compact wafts a strong sweet scent right in your face. If you're sensitive to fragrance in skin products then be wary.
Do I like this?
I'm on the fence. I like the price point, and the packaging and the fact that the coverage is nothing short of amazing. But I feel that it isn't as refined a product as I'd like it to be, being a medium-full coverage foundation in a cushion form. It doesn't offer me that transparency of skin that I associate with a cushion foundation, and the potential to look cakey on skin doesn't endear itself to me. I can counteract that by using only a thin layer, in which case it then works well. It's nice, but I won't trade it for it's higher end cousins 🙂
IN A NUTSHELL

The Mamonde Cover Powder Cushion SPF50+ PA+++ is good if you want a higher coverage cushion foundation in an affordable, well made compact. The shade selection is very small, tending to the lighter end of the skintone spectrum, but the coverage is nothing short of amazing. I do find it to look cakey if you pile it on, but if you wear a thin layer, it's not a bad product. The packaging is very nice for its price point. If you're on a budget but want a nice, medium coverage cushion foundation, this would be the one to go for.

PROS: Lightweight texture but can feel heavy if you pile it on skin, Evens out skintone very naturally, Mid to high coverage depending on how much you use, Easy to use, Has a semi-matte finish on skin, Not drying nor oily, High sunscreen protection, Portable packaging, Comes with a refill which makes it even better value for money

CONS: Scented, Some people may not like the sponge for application or hygiene purposes, I don't mind, Sponge feels a little small, Can look heavy and cakey on skin if you layer too much

WHO WILL LIKE THIS: Anyone who wants a higher coverage cushion foundation, Anyone who wants a well packaged cushion with good coverage at an affordable price

PRICE: RM129 for a box containing 1 case & 2 refills (That's very affordable!). Prices will vary depending on where you buy from as it is available on many different websites as well

WHERE TO BUY: Mamonde counters at 1 Utama and MidValley Megamall, various other websites or Korean sites if you know where to look
If you're interested in what's in there, here's the ingredient list
Water, Titanium Dioxide (Ci 77891), Cyclopentasiloxane, Zinc Oxide (Ci 77947), Ethylhexyl Methoxycinnamate, Cyclohexasiloxane, Peg-10 Dimethicone, Phenyl Trimethicone, Butylene Glycol Dicaprylate/Dicaprate, Lauryl Peg-9 Polydimethylsiloxyethyl Dimethicone, Arbutin, Hdi/Trimethylol Hexyllactone Crosspolymer, Trimethylsiloxysilicate, Glycerin, Dimethicone, Dimethicone/Vinyl Dimethicone Crosspolymer, Disodium Edta, Disteardimonium Hectorite, Lecithin, Methyl Methacrylate Crosspolymer, Prunus Persica (Peach) Flower Extract, Sodium Chloride, Sodium Hyaluronate, Stearic Acid, Silica, Adenosine, Acrylates/Ethylhexyl Acrylate/Dimethicone Methacrylate Copolymer, Aluminum Hydroxide, Ethylhexylglycerin, Ethylhexyl Palmitate, Alcohol, Isostearic Acid, Isopropyl Palmitate, Caprylyl Glycol, Triethoxycaprylylsilane, Phenoxyethanol, Polyglyceryl-3 Polyricinoleate, Polyhydroxystearic Acid, Iron Oxides (Ci 77492), Iron Oxides (Ci 77491), Iron Oxides (Ci 77499), Fragrance
Have you tried this Mamonde Cover Powder Cushion? What else from Mamonde should I be looking to try?
I was quite impressed at the fact that the products in Mamonde, which span makeup to skincare are very affordably priced, with their highest priced item being just RM169 at time of writing. That's very impressive indeed, and they have a nice department store presence, which makes the brand appear more expensive than it really is! Now, tell me what else I should be trying from Mamonde? 😀
Paris B
More cushion foundations can be found in this category.