Hello, hello and welcome to Day 3 of Cushion Foundation Week 2 (The K-Beauty Edition)! Have you managed to catch your breath?
Naturally, I will not have ALL the brands in the market for this head to head comparisons – Korean brands aren't all that generous at providing samples, unlike the Western brands I worked with before this – but I have enough to take you through 7 (yes, count that) SEVEN days of Cushion Foundations. This time, we will have a whole WEEK of cushions and then on Day 8 (if I have not yet collapsed from exhaustion), I'll give you a round up, and on Day 9 (Yes, I've thought this through) I'll do you a quick comparison of Korean vs Western brand cushions based on what I've tested so far. Whew! There's a lot to get through so, fasten your seatbelts, here we go!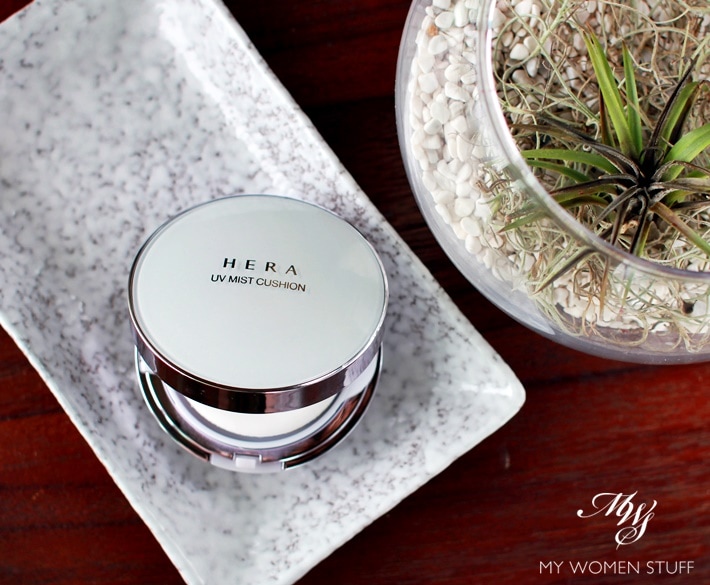 Day 3 of Cushion Foundation Week 2 the K-Beauty edition) features my favouritest (that IS a word 😛 ) ever cushion – Hera UV Mist Cushion. I guess I could have saved this for last, but heck, why should I when it stunned me from the get-go! I love this one, and I'm going to tell you why!
Cushion Foundation: Hera UV Mist Cushion SPF50+ PA+++
I bought this one on a whim online one day. I was aware of Hera, which is a higher end brand of Korean cosmetics that are sold in department stores. As we don't have much accessibility to the brand locally, and because I wasn't much into Korean cosmetics, it hovered on the edge of my consciousness, but never really registered.
So, I picked it up, literally on a whim because I was curious about trying a cushion foundation and for some reason, I liked the name. I would. I'm a huge fan of Greek mythology and anyone familiar with Greek myths know of Hera, Zeus' long suffering and jealous wife and Goddess of women. She was a crafty one, that Hera! I later found out that the Hera cushion foundations are very popular, because they are supposed to be very good. Talk about picking a winner blindfolded! The cushions come in 2 types – C for Cover (more coverage) and N for Natural (sheerer) I didn't know a thing about this. I picked mine in shade C21 because I wear C21 in Iope and I assumed therefore it must be the same! LOL! 😀
Sunscreen protection : SPF50+ PA+++
I'm not sure why I kept this section in, because all Korean Cushion foundations come with high SPF rating. That said, if you're using a cushion foundation in place of sunscreen, come, let me smack you 😛
However, what is good about cushion foundations, is their portability and lightweight texture, like this one, so you can use it as a touch up for your sunscreen through the day, or to touch up your makeup in the afternoons after it's faded off a little. The lightweight texture feels comfortable, and the light-medium coverage means you can boost your base makeup, if you have to, for the evenings.
As I've noted, many Korean brand cushion foundations use zinc oxide and titanium dioxide in their ingredients which are physical UV blockers. These are my preferred choice of UV protection and I'm happy to see them in this one as well.
The Packaging & Refills
The Hera UV Mist Cushion comes in a box with a sealed refill and sponge. Quite normal for a mid-high end Korean brand cushion. The compact is a little thick with a nice heft, and a pretty pearlescent sheen to the white parts, and a subtle lilac tone to the metallic parts.
The case is like a donut with a cover, so you clip the refill into place and it fits nicely without any rattling. I find that the cover clips and stays shut and it is otherwise just a well-constructed compact. I will note also that Hera is a brand under the large Amore Pacific brand umbrella, and their refills fit nicely into the cases for Sulwhasoo and Iope. In that sense, they are all interchangeable, and I notice this flexibility in the higher-end Korean cushions, not in the lower end ones, as we have seen with Innisfree and Laneige.
The Cushion
The cushion for the Hera UV Mist Cushion is fairly traditional, being the flat porous sponge that we have seen from the start. The cushion is dense and firm, and seems to hold the product well. I do find that I have to press the sponge into the cushion a little to pick up product, but due to the texture of the product, you don't need that much each time, so it isn't a problem for me. I've been using this one quite a while and quite often, and it hasn't shown signs of drying out yet.
The Sponge Puff
Again, this was a category I kept in from the previous Cushion Foundation Week series, and I'm not sure why, because the Koreans know their sponge puff applicators! This Hera one is no exception. I will tell you right here right now, that for best effect, ALWAYS USE THE SPONGE PUFF!
The Hera UV Mist Cushion puff has a purple base and mine is quite well used as you can see. It is a little soft, but with a surface density that has a nice bounce on the skin.
TO USE: Slip your fingers through the loop (it only accommodates 3 fingers for me so I find it a little small), dab the sponge on the surface of the cushion (you can see this is just 1 dab) and then dab it on your skin, in a press and roll motion. Press on skin, and roll it off. It helps the foundation adhere better to your skin.
Like the Laneige BB Cushion, I find that the density of the puff surface is such that it doesn't absorb the product too quickly, and the texture of the product is such that I can cover about 1/3 to 1/2 of my face with just 1 dab of cushion foundation. I then go over the areas where I want better coverage. This actually makes application faster and more even than with multiple dabs of product.
Texture, Coverage & Finish
This is where the Hera UV Mist Cushion really shines for me, and made me fall in love with this. Before trying this, I was quite enamoured with the Sulwhasoo cushion. I still like it, but I'd pick Hera in a heartbeat!
The texture of the Hera UV Mist Cushion is lightweight and feels like nothing on the skin. I do find that it offers medium coverage straight from the sponge, but it is also because I'm using the Cover version, in #C21. I am assuming the Natural (N) version would be a little sheerer, but without testing, I cannot say for sure. All I can say is that I LOVE the coverage, because that was always a bit of a bone of contention with me and BB Cushion Foundations.
The name UV Mist implies that this one is more moisturising, and it feels very comfortable on my skin. However, I do not find it particularly dewy or glowy, which is what I like. I am not a big fan of the shiny faced look, no matter how in-trend it may be. Shiny skin doesn't quite translate into healthy skin for me, especially with our heat and humidity here. I can understand how it is appealing in a cooler, colder, drier climate like in Korea.
This one sets very comfortably on skin to a semi matte texture, and importantly for me, stays put for most of the day without fading or slipping off. If anything, it looks better as the day wears on. WHAT IS THIS SORCERY?! 😀
In these before-after pictures, I'm wearing the Hera UV Mist Cushion in Shade #C21 .
This is just the Hera UV Mist Cushion – nothing else. I love the coverage, which is medium-full, yet transparent, if there's such a thing. It isn't thick or cakey on skin, and it covers up redness and evens out my skin tone, but also allows my natural skin to come through. Pigmentation or blemish marks aren't covered 100%, but enough that I'm comfortable with them.
If I layer on product, it just looks better. Not heavy, not unnatural, not fake. Seriously guys, this is one of the best bases I've come across today, whether cushion foundation or liquid foundation! I get crazy compliments every time I use it – smooth glowing skin being the most popular – and I usually get that when I wear my Cle de Peau foundation (another star product). The difference is that this is a fraction of the price of the CdP! 😛
If I want a more flawless visage, I use this trifecta that I swear, is a game-changer.
Use this trick that I teach you here, using these 3 products – Nars Creamy Concealer dabbed where you need it, Hera UV Mist Cushion all over, and then a light dusting of the Hourglass Ambient Lighting Powder in Diffused just to set. It is all very thin layers, but the effect is stunning, flawless, natural looking skin that looks better as the day wears on. Not cakey, and it doesn't even look like you're wearing makeup! Now you know my little secret! 😉
If I had to give up all my cushions, I'd fight you to keep this one. I never ever thought I'd ever say this of a BB Cushion foundation!
Shade selection
Shade selection is fairly poor, which I believe is because this is primarily a Korean based brand. So, there are only 2 shades available #21 and #23 for light and medium in 2 types of coverage – C for more coverage that I use, and N for a sheerer coverage. With this limited shade selection, I'd peg this as one for those with light to light-medium skintone only. Nothing much deeper or you risk looking ashy.
Scent
Yes, there is a slight floral scent that reminds me of the scent in Laneige, except it's lighter so it doesn't bug me. If you're sensitive to fragrance in skin products then be wary.
Do I like this?
Didn't I say I'd fight you to keep this one? So yes, I bloody love this cushion. It makes me look so good each time I use it, and I honestly cannot get over it. This isn't easy to find, so I will have a second best option for you in the coming days, that is easier to obtain locally and comes in slightly deeper shades too 🙂 I don't know if my opinion of using BB Cushion Foundations have changed due to the improved condition of my skin, but hey, I'm never too old to say I'm happy to change my mind! 😀
IN A NUTSHELL

The Hera UV Mist Cushion SPF50+ PA+++ is very good. If you can find a shade match, get it because you will love it too. The packaging is sturdy and elegant, the texture is lightweight on skin and does not slip off nor fade, the coverage is out of this world for a cushion foundation, and so natural besides. I don't think I've anything bad to say about this one!

PROS: Lightweight texture feels featherlight on skin, Evens out skintone very naturally, Low to high coverage depending on how much you use, Easy to use, Has a semi-matte finish on skin that is not too shiny, Not drying nor oily, High sunscreen protection, Portable packaging, Comes with a refill which makes it value for money

CONS: Scented, Some people may not like the sponge for application or hygiene purposes, I don't mind, Sponge feels a little small, Hard to get but nothing against the product!

WHO WILL LIKE THIS: Anyone who likes using cushion foundations, Anyone who is new to using cushion foundations, Anyone who wants a higher coverage cushion foundation that gives a beautiful smooth and flawless finish on skin

PRICE: US$40-50 for a box containing 1 case & 2 refills. Prices will vary depending on where you buy from as it is available on many different websites

WHERE TO BUY: I bought mine on Strawberrynet, but I've since seen it on iHerb for less (on offer! Code MPW213 gives you an additional 10% off) so I'll buy mine there next, Peach & Lily, Amazon and various other websites or Korean sites if you know where to look
If you're interested in what's in there, here's the ingredient list
Sea silt extract, titanium dioxide, zinc oxide, cyclopentasiloxane, ethylhexyl methoxycinnamate, PEG-10 dimethicone, butylene glycol dicaprylate/dicaprate, phenyl trimethicone, cyclohexasiloxane, butylene glycol, arbutin, lauryl PEG-9 polydimethylsiloxyethyl dimethicone, dimethicone, myrciaria dubia fruit extract, chenopodium quinoa seed extract, euterpe oleracea fruit extract, ilex paraguariensis leaf extract, prunus mume fruit extract, acrylates/ethylhexyl acrylate/dimethicone methacrylate copolymer, acrylates/stearyl acrylate/dimethicone methacrylate copolymer, dimethicone/vinyl dimethicone crosspolymer, polyhydroxystearic acid, aluminum hydroxide, trisiloxane, stearic acid, triethoxycaprylylsilane, silica HDI/trimethylol hexyllactone crosspolymer, ethylhexyl palmitate, lecithin, isostearic acid, isopropyl palmitate, polysorbate 80, polymethyl methacrylate, disteardimonium hectorite, polyglyceryl-3 polyricinoleate, hydrogenated lecithin, ethylhexylglycerin, trimethylsiloxysilicate, silica, sodium chloride, sorbic acid, phenoxyethanol, disodium EDTA, CI77492, CI77491, CI77499, fragrance
Have you tried this Hera UV Mist Cushion? Any other Hera products I should try?
It's hard for me to get Hera products outside of Korea, but I hear that Hera actually makes quite many varieties of their cushion foundation, and UV Mist is just one of them. Incidentally also, they have just revamped this one in 2016, and naturally I haven't tried it. But I hope they've kept the awesomeness, because I want to continue using this one, which I'll buy wherever I can get it from! 😀
Paris B
More cushion foundations can be found in this category.