If there's one thing I've learned since discovering beauty, it's that even though I've found my Holy Grail product, I am always looking out for something that might topple the HG product from it's pedestal. It's almost as if I challenge the product everyday. And you know, there are so many new things popping up every other day! One of the latest foundations I was quite interested in was this – the Shiseido Sheer and Perfect Foundation. I wanted to see how it measured up to my Holy Grail foundation and my Holy Grail No. 2 (because I rediscovered the latter and promoted it)
I happen to like sheer and light textured liquid foundations. It's what finally sold me onto wearing a liquid foundation, because the thick mask-like textures of liquid foundations of yore scared me away. This one ticks the light textured box.
What the Sheer and Perfect Foundation promises is to even out your skintone and give you a glowing visage. Shiseido says that this foundation has light correcting qualities to colour correct your skintone automatically so it looks more even toned. I was told by the makeup artist that this is semi-matte and not as full coverage as the Perfect Refining Foundation which happens to be my favourite Shiseido foundation. In this regard, I have to agree. The texture is lighter but the coverage isn't bad. I'll show you how it looks below, but I discovered a fly in the otherwise perfect ointment.
The packaging is small which belies its 30ml size. Don't be fooled by the diminutive size. It's in fact a little larger (taller) than the Perfect Refining Foundation and has sleek minimalist packaging.
Like most Japanese based foundations, you have to shake it up before squeezing out product. If you don't, you will find that the liquid that comes out is thin and runny. Shaking it up mixes up the product and gives you the texture you need for your foundation application.
My shade is I00 – Very Light Ivory which is the same shade I take in all Shiseido liquid foundations so far. It has a slightly pink base which suits my colouring better. Remember I said I ran into a snag? The snag is that this foundation oxidised on me.
It actually starts out very promising. The texture is sheer but easily buildable. If you use the Perfect Foundation Brush, dabbing on the product where you need more coverage gives you the coverage you need. You do still need concealer for best coverage though. If you prefer something lighter, just brush it out instead of dabbing. Or you can even use your fingers to spread it out for a thin, light coverage.
In this before-after picture you might be able to see that the skintone is indeed evened out, dark circles and redness are a little more concealed but it couldn't do much about the blemish marks on my cheeks. Lighting is a little off – it doesn't look as white in real life but just natural. The makeup artist doing the colour match for me had to agree because the next shade up was far too yellow and dark.
So, it starts out well, but I realised that as the day wore on, my skin started looking dull. This doesn't happen to me with Perfect Refining Foundation which stays the same shade all day. However, it did happen to me with the Radiant Lifting Foundation so I was watching out for it, and knew that this would go the same way.
The other thing is that oil control isn't impressive. Remember, it gives your skin a glow and products that give your skin a glow don't often have good longevity. So if you have oily skin I don't think you'll like this very much as it might slip off your skin in a few hours. If you have drier skin or live where the air is drier, then it will be a bit better, or if you don't wear foundation for long hours then you may like it if it suits you.
Here is the colour swatch and comparison with other sheer foundations I use (links go to my previous reviews, if there are any):-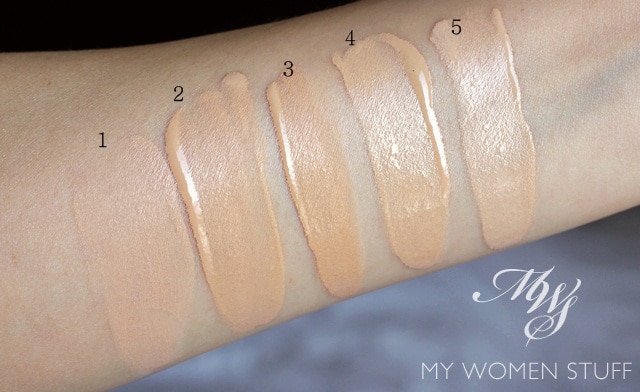 (1) RMK Liquid Foundation #201 (2) Shiseido Sheer and Perfect Foundation I00 Very Light Ivory (3) Shiseido Perfect Refining Foundation I00 Very Light Ivory (4) Lunasol Skin Modelling Foundation OC01 (5) Urban Decay Naked Skin Foundation 1.0
Texture-wise, the 2 Shiseido foundations and Lunasol have a similar texture. Rather like a light lotion. You may notice that the Sheer and Perfect Foundation is a little lighter in texture than the Perfect Refining Foundation, but just a little. It has a texture very similar to that of the Lunasol but has a little more pink tones than Lunasol. The UD Naked Skin Foundation is also nice, but a little more sheer. The RMK foundation has the most pink tones and the lightest texture because it is water based. Next to the Lunasol, it also performs the best on skin.
So far, of the 5 featured here only the new Sheer and Perfect Foundation oxidises on my skin. The rest remain looking as fresh as the moment I put it on. I therefore can't say I'm a fan of this new foundation. If it did not oxidise or turn oily it would be something I'd use but it is by no means anywhere near as good as it's older sibling, the Perfect Refining Foundation nor either of my HG products.
In a nutshell

The Shiseido Sheer and Perfect Foundation is a new, light textured, sheer liquid foundation by Shiseido. It is supposed to contain colour correcting properties so it automagically neutralizes redness or darkness in skin to give you an even toned, glowing visage. In terms of colour matching, the shade is the same as other ranges of Shiseido liquid foundations so you can take the same shade. Texture wise it is light and has sheer but buildable coverage. It looks natural on skin. On my skin however, it oxidised (even over a base) so I find that the colour deepens through the day and dulls my skin. It starts out promising but doesn't impress me as the day wears on. Also, the oil control isn't very good so those with oily skin may want to avoid, or you have to apply mattifying powder over. I tried, but it still didn't do a good enough job. So I'd put this as being for someone of normal to dry skin. Oily skins beware.

Pros: Light comfortable texture on skin, Sheer coverage is easily buildable without looking cakey, A little product goes a long way, Compact packaging

Cons: Oxidised on my skin, Turns oily through the day

Who will like this: Anyone who likes a light-textured, sheer liquid foundation that has buildable coverage
Here is the ingredient list for the Sheer and Perfect Foundation for those interested.
Have you tried this one or does it interest you? Do you have a foundation you like but experience oxidising?
I wonder if I'm alone in experiencing oxidization because no review I've read so far mentions it. I love the Perfect Refining Foundation so in a manner of speaking, all other Shiseido foundations have had a lot to live up to, and thus far, they've just been missing the mark. Pity, the textures have been very good!
Paris B
Shiseido Sheer and Perfect Foundation Price: RM135/30ml Availability: Shiseido counters