I've learnt a few things since I started this blog.
I can now use liquid foundation when I would previously shy away, preferring to use powder foundation
I am quite happy to give up most of the liquid foundations I have tried from time to time. Most, I can live without.
Some liquid foundations, I'd hold on to for dear life and I'll fight you for them! So gloves off!
The last category doesn't come around often. In fact, its a new category I just created, after playing for a couple of months with the Shiseido Perfect Refining Foundation. I'll fight you to keep it! Yes I will! 😈
Know why I call it a Small Wonder? See, it fits right into my hand. Its small. In fact, its one of those things you hold up thinking "How can anything this small cost so much and yet do so much magic for the face?" I like the small compact packaging and that black bottle is certainly different from the norm. However, as you can also tell, it can get quite marked if you use your hands to apply foundation all the time. I did my best to clean it up before photos – scouts honour! But 2 months is a long time for it to set in 😛
So yes, I do like this foundation quite a lot. I find that very little goes a very long way. The nozzle dispenser is excellent for dispensing just a right sized dollop which I can use all over my face.
It is a liquid foundation with "stretch" in it. I'm not certain if I'll describe it correctly but if you put a drop on your skin and then spread it out, you'll find that a drop of foundation can cover quite a wide area quite effectively. Its like it "stretches" to cover your skin and cover flaws which is of course great, because you use very little. And that's great because its pricey! *ouch*
Here is a rough approximation of a before and after. Left is bare skin and right is with the Shiseido Perfect Refining Foundation. You can probably see that most redness in skin is covered and most imperfections too. Not 100% of course. This isn't a full coverage foundation although you can try layering it, but I'd put it at sheer-medium depending on how you use it. Lighting is a bit suspect so no, it does not lighten your skin per se.
I don't do the palm method of application with this foundation. I squeeze a dollop on the back of my hand and apply it with the flats of my fingers. I usually use about half the dollop all over my skin and then use the remainder as concealer by patting on an additional layer of this foundation on the areas that need some help. I don't use another concealer thereafter.
My shade is I00 Very Light Ivory which isn't white as the name might imply. Its actually a pretty good match for my skintone, despite looking a little dark when swatched on the back of my hand.
And here is a swatch comparison with some other foundations that fit my skintone. You will find that they are all quite different put side by side, although they all work very well for me.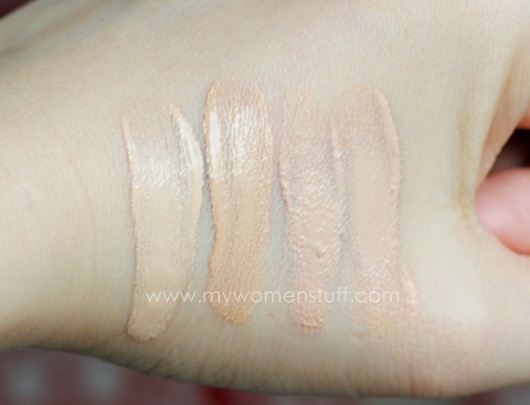 Swatch comparison: L-R: Bourjois Healthy Mix Serum foundation #51, Shiseido Perfect Refining foundation I00 Very Light Ivory, Diorskin Nude foundation 010, Guerlain Lingerie de Peau 01 Beige Pale
You will also note that the Shiseido I00 is a touch yellow compared to the Dior and Guerlain which are pink based. Bourjois' is a more neutral based shade. The Shiseido actually looks a lot darker on my hand as opposed to my face. No idea why but its a good fit for my skintone.
There is a small fly in the ointment. I find this foundation a little dry so you do need a moist base and your skin must be properly moisturized. If I use a sunscreen that leaves a dry matte finish on my skin, it can go on a little patchy. If I use a sunscreen that is more moisturizing, it goes on much smoother and looks better. So, with trial and error, I've learnt that I can't wear this foundation very well with the Clarins HP Plus sunscreen but it plays well with the Hada Labo UV Emulsion or Cream. I don't know about primers because I don't use primers.
In a nutshell
A medium lightweight liquid foundation that spreads very easily on the skin so very little is needed with each use. The texture allows you to also use this as a concealer. The colour tones tend to the yellow and would likely fit Asian skintones well. The packaging is compact and small and it lasts on my (not oily) skin all day without turning oily at all. The texture can be a little dry so well moisturized skin or a moist base is recommended. This will most certainly be a repurchase for me!
Pros: Very little goes a very long way, Good colour match for my skin, Small compact packaging, Nice sheer-medium coverage allows me to use this as concealer as well
Cons: Pricey, Can apply a little patchy on dry skin
One more note. I don't have oily skin so I cannot tell you how this performs if you do have oily skin. What I like however is that it does not make my skin any oilier throughout the day, as liquid foundations sometimes do. I rarely set it with loose powder at all because it sets on its own to s semi-matte sort of finish and stays that way all day. I'm comfortable with that, so that's saying something.
And here's the ingredient list for those interested:-
Have you tried this one? I'm not sure how the other shades are, but there are, I believe, 14 to choose from and my suggestion is to go down to a counter and get yourself properly colour matched 🙂 Ok maybe I exaggerate a little. There may be one or two other liquid foundations I might be willing to fight for too. Some day I'll run up a list 🙂
Paris B
Shiseido Perfect Refining Foundation retails at RM130/30ml and comes in 14 shades at all Shiseido counters.