I've had this bottle of scent for months. It could even be for about half a year while I try to get my head around it. You see, online reviews are almost overwhelmingly in love with See by Chloé EdP, which was launched some time last year (2012) and which was made available here in Malaysia earlier this year. There were some contests and campaigns surrounding this fragrance which might explain the overwhelming love.
You see, I don't deny that there is a lot to love about See by Chloé, which is also the name of the clothing line that is the trendy younger sister to Chloé. The bottle is adorable. Styled like a vintage bird cage, it is different. There is a ring at the top that invites you to hang this on a branch. Don't, I implore you. That ring is attached to the cap so hang it up and watch it smash to the floor. So no, don't. A small attention to detail that I really liked discovering, were 3 tiny "feet" at the base of the glass flacon. They didn't need to be there, but they were and that is what attention to detail is all about.
However, perfumes are all about scent and scent are very personal things. So if you love See by Chloé, please don't come and sling mud at me for disliking it. I've had months to figure it out 😛
At first sniff, upon spritzing from the bottle, I am reminded of thick sweet honey blended with a sweet but slightly tart apple note. No one mentions this thick syrupy smell but I noticed it almost immediately. This is a very sweet. VERY SWEET scent and I just don't play well with sweet scents. My dabbling into fragrances has taught me as much.
For me, this is a scent that smells good on paper. In fact, it does smell good on a blotter. It is supposed to have notes of bergamot and apple blossom to open, jasmine and ylang ylang when it mellows and vanilla to anchor its base. Think therefore sweet and floral. A light, fun, young scent that doesn't quite suit my more tetchy character.
If I give it a while, the heady syrupy note drifts away to be replaced with a floral note that smells quite comforting on my skin. It isn't something I like, but it doesn't make me smell like cat pee either, for which I'm thankful.
I therefore run into my next big problem – longevity.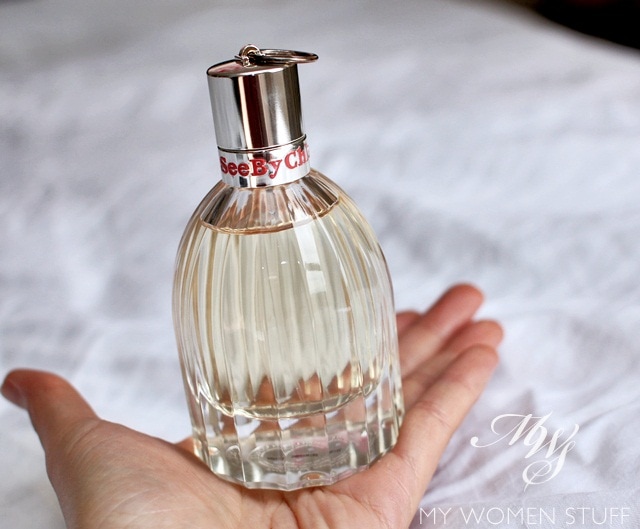 See by Chloé on my skin is like the most fleeting of breezes. I feel like I have just walked through a flower garden and out again because in half an hour or less, this EdP disappears on me. I've taken to sniffing my wrists every now and again, hoping to catch a whiff of the more interesting note at the base of the scent but come up with nothing.
So if you were to ask me, I'd tell you that See by Chloé is not for me and it won't be for you too if you don't go for sweet, floral scents. When I first spray it, I feel like I've fallen into a vat of cotton candy. When I allow it to settle, it reminds me of a flower garden, but like a flower garden, the scent lingers just for an instant in the air before dissipating into the ether, leaving me feeling a little lost. It's almost playing a game of "now you see it, now you don't" with me and I don't like that.
It is a lovely and young scent that I think will appeal to many, but I'd suggest that you wear it and see how it wears on you. I believe that a perfume should be worn on the skin because it is the unique chemistry of our bodies that turns a scent into one that is ours. Spraying it on clothes doesn't cut it as far as I'm concerned.
I think like the clothing side of things, See by Chloé will appeal more to the young and young at heart who favour sweet, slightly gourmand and floral scents. If the description of honey gets your skin going all tingly at the thought then this one is for you. If it makes you shudder, like I did then I'd just skip this.
Have you taken a sniff at See by Chloé and is it a scent you love? Do you like sweet, floral perfumes?
I am the anti-thesis of sweet, floral perfumes except for a handful. I wear J'Adore with its strong floral scent very well which surprises me as much as it does you, and I also wear Petite Cherie for a burst of ephemeral fruitiness. But for the most part, I go for lasting spicy, woody, musky scents. It makes me feel comforted 🙂
Paris B
See by Chloé Eau de Parfum Price: RM187/30ml, RM277/50ml, RM340/75ml Availability: Sephora stores and major perfume counters