I'm quite a fan of blue eyeshadow. But I will also be the first to agree that blue isn't an easy colour to wear. If you're not careful, it can look a bit dated, or too bright. But if the colour and tone suits you, it has a very fresh vibe, while being eye catching.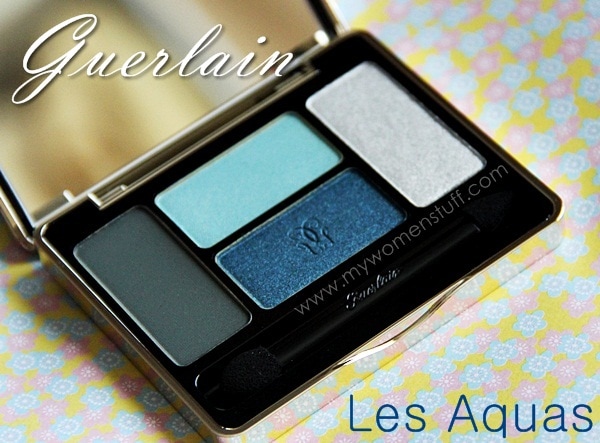 When my eye fell on the Guerlain Les Aquas eyeshadow palette, my eyes lit up. Guerlain reformulated their eyeshadow palettes recently, and did away with the chocolate tray style palettes (see Perle d'Argents and Brun Mordore). The first change came with the Ecrin 6 colours Eyeshadow palettes. After that, Guerlain came up with the Ecrin 4 colours eyeshadow palette. I have one in Les Noirs that I should tell you about also. But today, its about Les Aquas, released with the Guerlain Spring 2012 collection.
Rejoice! Because this one is permanent! 😀 True to its name, it has 2 beautiful aqua toned colours that anchor the palette, a matte black and a shimmer silver for interest. And boy, is this one interesting! I would even say perfect for Summer!
Just swatching it blew me away. The quality is amazing but I expect nothing less from Guerlain. Their eyeshadow palettes have consistently been of impressive quality. More pigmented than Dior palettes and less shimmery. It is also quite rare to have a high end brand showcase such a bold eyeshadow palette – they usually stick to the safe neutrals.
Guerlain Les Aquas L-R: Matte black, Shimmer Seafoam blue, Shimmer bold blue, Shimmer silver
Les Aquas is impressive. I swatched these with my fingers and 3 out of 4 colours swatched very smoothly on the first swipe. The matte black takes a bit of layering to get it to show up. However, if you use a brush, there is absolutely no issue. It applies very easily and this is true of all the 4 colours.
My eye was drawn immediately to that bright bold blue – it isn't often you see such a bright colour in any brand. It is shimmery but not glittery and it shows up very nicely on the skin. The thing is, this is probably the one colour most people would be scared off by. They would swatch it, admire it, but never wear it. Pity, because its pretty!
The palette comes in a gold metal compact that feels surprisingly light. A dual ended sponge tip applicator is included as well as a very large mirror in the cover. The compact is a bit of a fingerprint magnet, but very elegant and unobtrusive. It is just a simple gold case with the Guerlain name etched on the side – quiet understated elegance.
I will tell you that Les Aquas is a fun palette and not quite for the faint hearted. Some of you may consider it too pricey to be treated as a fun palette and I will agree. But the texture in this one is sublime, the colour is true to pan and best of all, that beautiful bright blue remains a beautiful bright blue on my skin – quite a feat you know, most turn a little green thanks to my Oriental yellow tones 🙂
In a nutshell

A newly formulated 4 pan eyeshadow palette from Guerlain with an assortment of eyeshadow textures. The quality of the shadows are very good, with shimmer colours swatching strong and pigmented. With a brush, the matte colour too translates well on the skin and is a good foil for adding depth to the bright blues. However, I can see that many may opt to pass because they are afraid they can't pull off these colours. A pity, because the texture, pigment and packaging is sublime.

Pros: Bright pigmented colours, The deep blue and seafoam aqua blue is true to pan, The packaging is sleek and minimalist and compact

Cons: Some may consider the colours too bright, Pricey
Guerlain falls under the category of luxury cosmetics and those never come with a small pricetag. However, I am also impressed by the quality of these eyeshadows as based on personal experience, few luxury brands will produce eyeshadows of this sort of colour and vibrancy. This is what makes Les Aquas special, and what makes it stand out in the sea of luxury brand shadows.
Here's an example of how I'd wear this palette:-
Seafoam blue all over the lid, deep royal blue near the lash line and to line the lower lash line, Silver to highlight and black to line. This is a very eye-catching look and perhaps, not one to wear to work unless you have a very relaxed dress code 🙂 However, you may be able to pull off just using that royal blue on your lash line for a bit of colour.
And here's how it looks overall 😀
Featuring also: Guerlain Blush G Serie Noir on cheeks, A-England Tristam polish on nails
Are you bold enough to pull off a palette like the Les Aquas eyeshadow palette? Or do you prefer just sticking to something safer? Its not quite as bold once you apply it and blend it out on the skin – all comes down to technique and I think I've sort of gotten the knack of pulling off bright colours daily. Yes even to work. Well, sometimes 🙂
Paris B
Guerlain Les Aquas Eyeshadow Palette Price: RM190 Availability: Guerlain counters Limited Edition: No