For their Fall 2009 collection, Guerlain has added a brown eyeshadow quad to their collection. When I first saw it, I was a little taken aback. Brun Mordore looks like a little box of chocolates!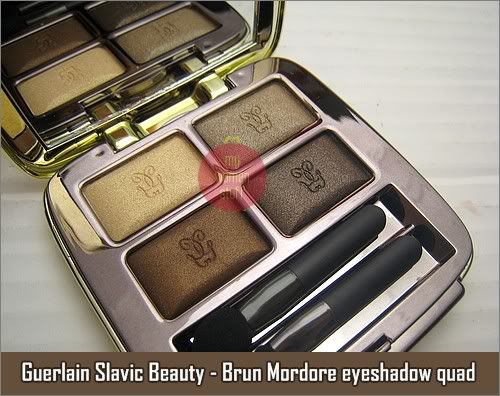 There are 4 brown toned eyeshadows in this quad, which is similar in style to the Perles d'Argents quad. Unlike the Perles d'Argent quad, there is no strange matte shade – all 4 colours have shimmer and are very pretty.
However, I find myself using only 3 shades mostly. The brown in the lower left is a little warm while the other 3 colours tend to be on the cool side. So, I end up using the other 3 colours more often.
The colours feel a little hard to the touch which is quite typical of Guerlain eyeshadows and they swatch a little sheer.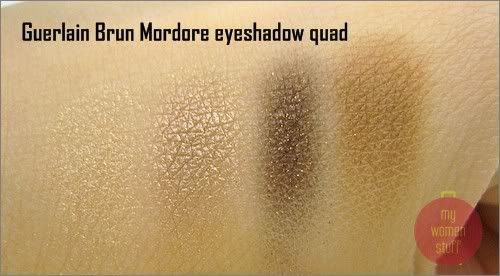 I might be mistaken but doesn't Guerlain already have a similar coloured eyeshadow quad? Its a very basic neutral-brown eyeshadow quad that I'd expect any brand to come up with at some point in their lifetime. So quite aptly, Brun Mordore is a permanent item in the Guerlain stable.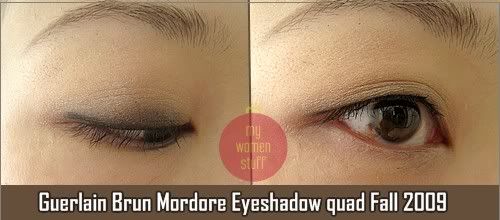 Initially, I was quite stumped by this quad. I don't work well with brown eyeshadows. However, because 3 of the colours are cool toned, I found I could pull them off for very neutral eyes. The shimmer isn't all that dramatic and all it does is add a pearlescent sheen to the eyelid. Its all very natural although you could up the ante for nights by packing on the dark shade.
The darkest shade is a very pretty colour although it might have been prettier had the texture been softer and less sheer. You could pull off some serious smoky eye looks with this one.
Brun Mordore will launch as part of Guerlain's Fall 2009 Slavic Beauty collection in August 2009 and will retail for RM186. If you don't have any neutral toned or brown shadows, this one might be worth a look at. It doesn't give me that tired eyes look that browns with red tones give. However, if you already own a ton of brown shadows then perhaps you won't be interested in yet another 🙂
Pros: Light neutral shades, Not overly shimmery

Cons: Pricey, Normal looking
What does "Mordore" mean?
When I saw the name "Brun Mordore" the only thing I thought of was the Lord of the Rings. To recollect, Frodo had to go to Mordor to destroy the One Ring. Searching on Google produced some vague meaning of Mordore as "red-brown with gold" and pages of references to the Lord of the Rings, but I could not find any firm references on colour.
Does any French speaker know what Mordore means as in "Brun Mordore"? All I know its a reference to brown and if this persists, I'll have to call this my Evil Brown palette LOL… my prreciousss…
Stay beautiful,
Paris B