Last week, I showed you a picture of the new L'Oreal Made for Me Intenses lipstick in Red Passion. I also promised you a review in 2 shakes of a lamb's tail … and then real life took over. Call it a slow motion shake of a tail k? 😛
So, now that I've gotten my urgent work stuff out of the work (temporarily) I needed something to brighten my mood and voila! Out came Red Passion!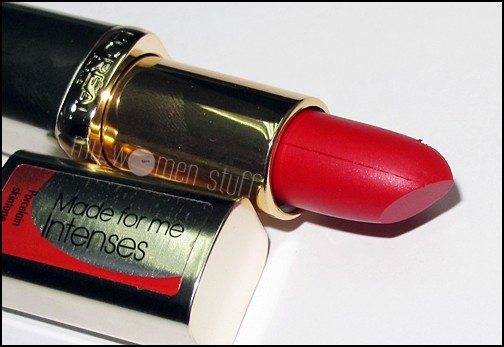 Red Passion #643 is part of a new line of L'Oreal Color Riche lipsticks. The colours are strong and intense and bold! I mean look at Red Passion – its not a colour for the faint hearted is it?
Red Passion is stated to be for "Porcelain skintones" i.e. fair skin. To be perfectly honest, I'm not sure how accurate these descriptions are, because I know many fair skinned girls who are just too afraid of slicking on a bright red. Also, someone with darker skin might want to try it but upon viewing the description, might veer away from it. Personally, I don't hold with labels – if it works for you, it does!
So anyway, wanna see how it looks on lips? 🙂