I scoffed at the Maybelline Eyestudio quads when they were first launched. I still scoff at them – sorry Maybelline! The colours were just too sheer and matte for me. So I wasn't expecting much of the new Maybelline Diamond Glow Eyestudio palettes.
I never thought I'd own any Maybelline eyeshadows but then you know what they say about using the word "never" – Never say Never because the new Maybelline Diamond Glow palettes are worth a look!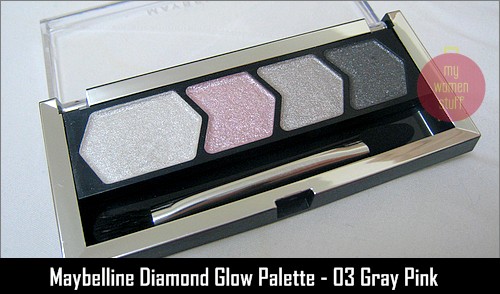 The quad I have is 03-Gray Pink. Its a set of 4 gradational colours being a white highlighter, pink colour, silver and dark grey accent colour. All colours are shimmery – yay! If you aren't into shimmer don't be disheartened – the shimmer isn't disco-ball and is in fact more of an iridescent glow 🙂 It reminds me of the Japanese style of eyeshadows and imparts a nice 3D effect when applied.
The colours do swatch and apply light and unless you have a very dense brush, it might be best to use a sponge tip applicator or your fingers to apply these shadows. For once, I'm not going to diss the sponge applicator that comes with the palette LOL…

Here's a look I did using the Maybelline Diamond Glow Gray Pink palette and the Maybelline Lasting Drama Gel Eyeliner. I never knew pink and gray made such a lovely soft combination! I like! 😛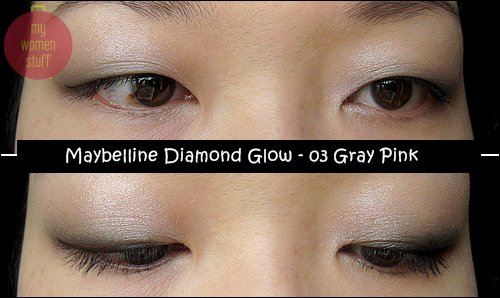 The colours aren't all that fine milled to be honest but I didn't expect too much of this RM33.90 palette. What I do like about it is that it imparts a soft glowy colour to the eyelids that is at once sophisticated and not over-done. As I said above, its reminiscent of Japanese brands of eyeshadows like Kate or Majolica Majorca and I'm pleasantly surprised! 🙂
The Maybelline Diamond Glow palette come in 6 colours – 01 Copper Brown, 02 Wine Pink, 03 Gray Pink, 04 Ocean Blue, 05 Fresh Green and 06 Lilac Mauve.
See some awesome swatches here on Lipglosseater. Haha! Bet everyone thought I was going for the green eh? But nope! I'm still in my gray eyeshadow phase because of the work friendly colour and versatility 🙂
Each palette retails at RM33.90 at all Maybelline counters. As always watch out for discounts and promotional prices to snag an even better bargain.
Pros: Inexpensive, Soft sheer glowy colour

Cons: Not very fine-milled, Sheer
Dior Designer Artistry Palette duped by Maybelline Diamond Glow?!
You know what? I thought these Maybelline Eyestudio quads reminded me of something I owned, so I dug around. Then, I realized that these are like a cheaper version of the Dior designer eyeshadow palette – gradational colours, iridescent texture, lovely glow… and so much cheaper too! 😀
I'm not saying they're the same of course – just similar 🙂 Sooo… Have you seen the Maybelline Diamond Glow palettes? Which colour catches your fancy? Maybe I should look at Fresh Green next… or do I have too many greens already? 😉
Stay beautiful,
Paris B