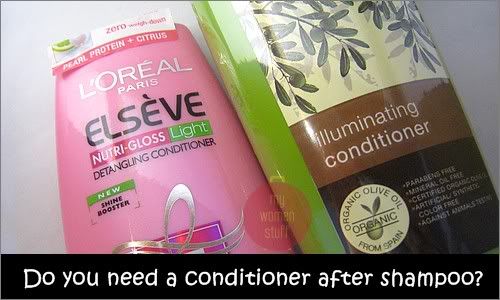 A while ago, I was using a salon shampoo and my hairdresser told me that I did not have to use a conditioner every day as the shampoo was enough. For reference, I have thick hair that borders on being rather dry. I wash my hair everyday because it just feels better for me.
However, I noticed that because I blow dry my hair after my shower and before bed, my hair was feeling dried out and looking rather like straw. Using the L'oreal Elseve hair mask weekly helped but not by very much. My hair still felt knotty and coarse and had a tendency to look a little wild in the mornings or if I allow it to air-dry.
So, I went back to using a conditioner everyday and I realized that my hair was feeling more managable. It wouldn't pass the comb free-falling through the hair test but it was significantly easier to comb and blow and when I air dry it it doesn't take on a life of its own.
So, far from being a commercial myth that you need a conditioner after using shampoo, my personal experience teaches me that I do need conditioner because my hair feels drier and more damaged otherwise.
When I had long hair, I found a conditioner indispensible or I'd get a lot of split ends. Now I have short hair, split ends are quite unheard of and with regular conditioning, I find my hair looking shinier and healthier and less like straw 😛
Here are my tips for getting the most out of conditioner on your hair:-
Squeeze conditioner into your palm and spread it by running your palms together before applying to your hair. This way it is better distributed through your hair.
Only condition the two thirds of your hair shaft from your scalp. Getting conditioner too close to your scalp may cause your hair to feel heavy especially if you have oily hair.
Leave the conditioner on your hair for at least 3-5 minutes before rinsing for maximum effect. I get round this by leaving the conditioner on while I complete the rest of my shower routine and then rinsing off the conditioner at the end.
Ensure you rinse off the conditioner properly. If you don't, your hair can feel heavy. Because conditioners have a lot of silicones and moisturizing ingredients, its got a lot of slip so I find running water liberally through the hair helps.
What's your take on this? Do you feel the need to use conditioner after shampoo all the time or only some of the time?
Stay beautiful,
Paris B