Its not only the Da Vinci Code or Angels and Demons by Dan Brown that hides secrets in art. There too lies the secret of flawless makeup – step by step makeup built from a good foundation that gives a flawless finish.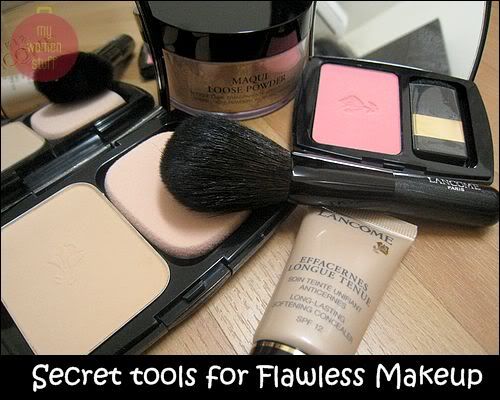 So what's the secret to flawless makeup? Lancome's recent "Secret to Flawless Beauty Workshop" introduced to me the Power of 4 (sounds rather like a superhero series eh? 🙂 )
Foundation
Concealer
Powder
Blush
With just these 4 products on your face you can go out looking flawless and natural – the keywords for today. Zamri Zainol, Lancome's top makeup artist shows us how.
Foundation – match it to your skintone
Do not use foundation as a corrector. If you have yellow or pink tones, do not try to "correct" your tones using foundation. There are products that can help correct or reflect a different tone but foundation is not it. If you over correct or under correct, the results may not be what you expect and can make you look weird – think grey or orange.
You should also know what you want your foundation to do. For me, I like a sheer light natural coverage for everyday so I don't look masky. I don't need something heavy and all I'm looking for is evening out of skin tone. So, the Lancome Maquiliquide UV Infinite is going to be something I'll be checking out. I'm told I can up the coverage by using the Maquicake UV Perfect 2 way foundation powder on top of it. Believe me, the coverage does increase and you will look pretty flawless but its strictly for night/evening looks. So, I'd keep that trick for night looks. This way, I can keep to a light liquid foundation for all times.
Concealer – only where its needed
The job of concealer is to conceal scars or marks so use it only where its needed and blend blend blend! I use concealer for my under eye area to lighten dark circles, and a heavier concealer to cover up pigmentation. Never underestimate the magic of concealer – you'd be surprised at how flawless your skin can look without the need of photoshop!

I've discovered a new love for undereye concealer in Lancome's Effacernes Softening Longlasting Concealer. I picked it up at the recent warehouse sale for RM60 (usual RM115) and its so good, I've elevated it to a must have status!
Powder – Dust it lightly to set foundation
Loose powder is a must for me. I dust it over all foundation to set it and I can feel the difference when I do and when I don't. It helps my foundation last longer too. Its not all about the luxury of having the fluffy brush brush over your skin – it does serve a purpose.
Blush – Smile and blush!
The recent warehouse sale is also where I picked up Lancome Blush Subtil blushes. (Did I mention how much I love sales? 😛 ) For someone who really likes her blushes, I'd never given much thought to Lancome's Blush Subtil. Well, no longer! I'm now the proud owner of 2 Blush Subtil in Rose Nuage and Peche Intense teehee…:)
Blush for me, is a must have if I do a full face of foundation etc. This is because I find that after all that layering, you need some inner glow to come through and using a blush enhances this and prevents you from looking flat and washed out. I prefer a light sheer peachy or rosy barely there tint if going for the natural look. Its quite impressive how much just a touch of colour can do to brighten up your face.
This Power of 4 is what forms the secret to flawless makeup. Get your foundation and face right and everything else will fall into place. The secret therefore is layering – not too much or you'd look like you put it on with a trowel, but enough to give you that air-brushed photoshopped look in real life… or as close an approximation as we can get 😉
Paint your canvas as you would your face
Recently, while attending the Lancome Secret to Flawless Makeup workshop, the lines between art and makeup were blurred as participants were encouraged… nay compelled to use the makeup on offer as the paints with which to paint the blank canvases. What's a girl to do when defacing all that gorgeous new makeup but grit ones teeth and bear with it, dying a little every time the pristine smooth surface of a blush or eyeshadow was scraped to create pigment that we could use for our masterpieces.
I'm no artist and when faced with a blank piece of canvas, my mind was exactly that – blank. Only slowly, with the urging of the make up artists (and caving into pressure) did I finally pick up an art brush and scoop up some cream foundation to start my piece of art. We were also asked to signed our works of art – which was fun.
I call my masterpiece – Autumn in Paris.
It was a reflection of a subliminal wish to revisit Paris the lovely City of Romance in Autumn (my fave season) by the river Seine (hence the blue bits 😛 ), my moniker (Paris B! 😀 ) and Lancome's French Parisian origins.
Ok I'm no artist and that block on the right was supposed to represent the Arc de Triomphe… not an elephant 😛 I think the only thing I really got right were the birds LOL… These were the only things that came to mind at the time so I thought "Heck! We're going to wing it!" 😛
Products used were: Liquid foundation including Maquiliquide UV Infinite foundation, Blush Subtil, L'Absolu Rouge lipstick, blue and green ombre absolu eyeshadow and Virtuose mascara. Believe me, I cried a little every time I had to pick up the colours and put them on the canvas instead of on my face.
I reckon I didn't do too badly in the end … what do you think? 🙂
Stay beautiful,
Paris B