A while ago, I went through a loose powder eyeshadow phase. I actually still enjoy using loose powder eyeshadow although its not something many like due to the fussiness. I've found that for high shimmer, nothing beats loose powder eyeshadow. It was during this phase that I discovered Barry M Cosmetics and the wonderful dazzling Barry M Dazzle Dusts.
Barry M is a brand from the UK and found in Boots and Superdrug pharmacies (at hefty discounts sometimes). I was previously told it was also available in Topshop but I'm not sure if it still is anymore. When I was getting people to get it for me, it was quite hard to find to my surprise. It might now be easier.
Anyway, Dazzle Dusts are super shimmery loose powder eyeshadows that pack a punch if shimmer's your thing. They come in tiny little glass pots (I'm serious – its tiny!) and I always use my finger to apply because it picks up the product better. I saw that the swatches on the Barry M website look quite different from the actual product, so here's a picture of how my Dazzle Dusts look. A lovely friend got most of them for me from London and dropped them off here in KL on her way home to Australia – I tell you, this is truly what globalization is all about! 😀 Read on for colours and swatches.
The colors are (from left to right)
Row 1:
1 – Ice Pink (A very light pink); 3 – Pink/Gold (Pink with gold shimmer – warm tones); 14 – Website calls it Khaki but mine is a deep green shade; 15 – Aqua (A blue-green shade with gold shimmer); 20 – Baby Blue (A light baby blue)
Row 2:
24 – Old Gold (Antique Gold); 29 – Yellow Gold (Bright yellow); 51 – Mushroom (muted cool purple tones); 59 – Lilac (cool toned lilac)
Row 3:
72 – Emerald (Deep emerald green); 78 – Kingfisher (bright blue); 79 – Gold Green (lime green with gold shimmer); 68 – Turquoise (teal with gold shimmer)
I have some swatches further down of each color but be warned that the picture is large.
The texture is not all that smooth but the shimmer is second to none. You can use it on its own or over existing eyeshadow to amp up the glam factor. I use it both ways. The dusts do not adhere all that well to skin so I always use a cream eyeshadow as base first or eyelid primer before applying these shadows. Also always pat it on not swipe it on to get maximum shimmer.
If used over eyeshadow, it adds shine and you can even use the lighter shades as body glitter or shimmer or highlighter. I suppose you could even mix these with a clear lip gloss to create a shimmery lip or mix with nail polish to create shimmer polish. Possibilities are endless.
I'm boring so I only use these as eyeshadows. They go on slightly sheer which suits me fine. Use it over a similar colored cream eyeshadow or primer to really bring out the colour. Here are the swatches as promised.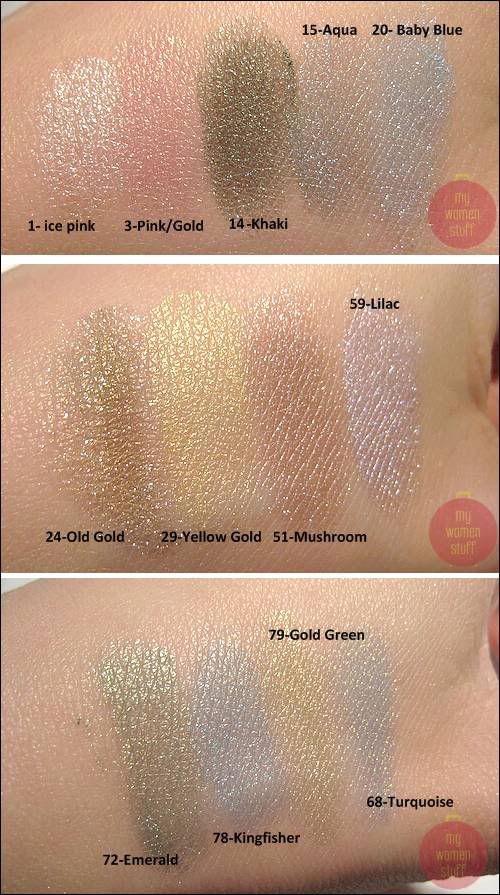 Each little glass pot retails for GBP4.50 but they go on sale often at GBP10 for 3 or the likes. It's a terribly inexpensive product that works dazzlingly well so there's nothing to hate about this except the fact we don't get it here in Malaysia. I don't even know if its available outside of the UK! The Barry M website does ship internationally so if you really want to know what the fuss is all about, get a bunch of friends together and share in an order to save shipping. If you like shimmer or loose powder eyeshadows, you could do worse than indulge in the Barry M Dazzle Dusts 🙂
I did a look with some Barry M shadows previously in my review on Dior Rose Brazilia bronzer blush and thanks to Connie who reminded me that I do own these gems in my existing collection, you can expect them to feature from time to time from now on. 🙂
Pros: High shimmer, Inexpensive product, Lovely colours

Cons: Not available in Malaysia