So, you buy and you buy but do you ever finish anything? I know some people are wondering about that but are (maybe) too polite to ask 😛
My answer is yes, I do.
My latest product to hit pan and to find its way out of my stash and into my trash is my Kanebo Revue 2way powder foundation and Revlon Age-defying foundation. I love them both and they work a treat for me with medium coverage and perfect color match to my skin. They are both my to-go foundation that I reach for without thinking. In fact, this is my 2nd or is it 3rd similar Revue foundation! I'm so sad that Kanebo discontinued Revue 🙁 I could still buy it from existing stock I know, but I'm moving on to try other stuff for a while.
I also finish lipstick and mascara in the color cosmetics department. The latest to get binned was the Guerlain le 2 brush mascara – it was time *sob sob* My skincare gets replenished regularly as well as bath and body products.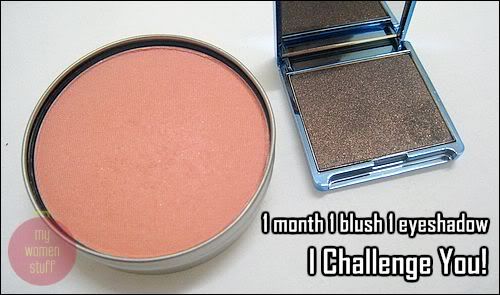 Color products are harder to finish up though – you'd have to use one colour every single day to be able to make a decent dent in them. Hence my experiment/ challenge… if you'd like to join me 😉

Here's a barely used Definite Cosmetics Party Eyeshadow in Twist n Shout and Cargo blush in The Big Easy.
My mission is to use these and ONLY these 2 products every single day that I have makeup on for 1 month. That's at least 20 days worth of usage. I'll revisit again after 1 month to show how much a dent I have made into both products. I will of course mix the eyeshadow with other colors but I will use this particular color every single day.
Fun eh? 🙂 If you'd like to participate in this challenge or experiment, feel free to leave me a comment telling me what item you plan to stick to for a month – you don't have to be as strict as I am – and when I post my update in a month's time, you can come by and tell me how your own personal challenge went. You can also post on your blog if you like.
[note]
Update: Despite the confusion and scepticism, the idea behind this challenge is NOT to finish up your color makeup in a month – its impossible unless its already on its last legs. The idea is to see how much a dent one can make in a product with a months constant use.
[/note]
Come on, it'll be fun to see how innovative one can be with one eyeshadow and one blush for a whole month! LOL…
Stay beautiful… and creative!
Paris B