Spring is barely begun and already we are getting news of summer collections. We kicked off with Estee Lauder's Vivid Garden collection and today, I bring you Dior's Summer Collection which is making my heart go pit-a-pat.
The star item for me in the Dior Summer collection 2009 is the new Blush Harmony blush/bronzer.
*whimper*
It looks so pretty!! Temptalia has more info on the Dior Bronze Collection for Summer 2009. The blush will come in 2 shades – Rose Brazilia and Coral Riviera. The one in the picture is Rose Brazilia. Temptalia has Coral Riviera reviewed too. Can't wait to see these in real life!
The other part of the Dior Summer collection is the Dior Cristal collection. I'm not quite sure if we are getting the same collection as overseas or if we are calling it by a different name. I'm told that the upcoming Dior collection is called the Pop Art Collection.

As befits the name Pop Art, there will be bright colours featured for eyes lips and nails – fuschia, pink, blues, oranges etc… I'm curious to see how it'll all turn out. 🙂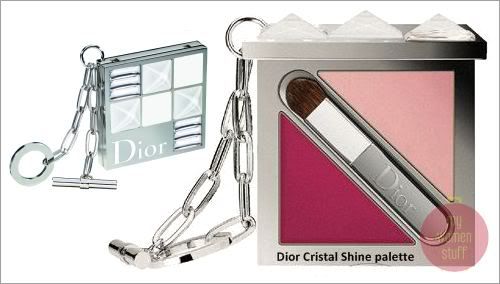 And as Dior does every collection, their star product is going to be a lip palette. Its called the Cristal Shine lip palette overseas but I'm unsure if it'll be called the same thing here. I reckon its going to be rather similar to Lady Dior and definitely one for the collectors.
I read that there will be 2 new Dior eyeshadow palettes as well as lip products galore and shimmer powders. If I get more news, I'll be sure to report in!
Does the Dior Summer Blush Harmony Blush make your heart go pit-a-pat too? Am I the only one who feels like the model above is channeling the 80's gelled up backcombed hair look?
Have a great weekend and Stay beautiful,
Paris B