No no, don't go dying just yet! At least see the compact first! 😀
When I first got wind of the Lady Dior compact from Christian Dior cosmetics for Spring 2009, I was immediately smitten. (I can't remember whose blog I saw it on – it might be A touch of blusher). But hello? I love bags and I love makeup so of course makeup in a "bag" called my name! In fact, it called it repeatedly 😛 I don't have a Lady Dior bag yet, but this might change my mind.
From all the online reviews of the Lady Dior compact, no one ever mentioned its size. All along, I thought it was about the size of a lipgloss palette i.e. tiny. In fact, its big! Here's a picture showing its rough dimensions.
I'm not kidding when I say big right? Its about 9cm x 7cm which is a little larger than what I was expecting.
The Lady Dior compact is a lip/cheek compact in the shape of the classic Lady Dior quilted bag. It comes with a soft quilted exterior over a sturdy heavy metal frame, a strap and clasp so you can hang it on your handbag or use it as a keychain (if you like), right down to the 4 letter charms that spell D-i-o-r. In other words, its a perfect replica charm of the Lady Dior bag. So, I can't afford the Lady Dior bag right now, but goshdarnit! I'll have the Lady Dior compact! hehe…

Open it and you get 2 cream makeup in a red-pink and a cream highlighter shade with a large mirror. The Lady Dior compact comes in 2 shades (Parisienne Chic – beige and French Chic – pink) and we are getting French Chic 003 (the more usable compact in my view). They can be used for lips and cheeks but how on earth am I ever going to use this and despoil its beauty?!
If you can bring yourself to use it (and I'm sure I will at some point – I'm not THAT sentimental) and once its finished up, the compact can double up as an accessory for your bag, like a bag charm or a keychain – 2 in 1 product.
The Lady Dior compact is available at all Christian Dior cosmetic counters from end January/early February 2009 and retails for RM250 (approx US$70.50) for each limited edition piece. The Lady Dior compact will retail for US$95 per piece in the USA so I'd say we are getting a pretty good deal!
For now, I'm still in the honeymoon phase – I stare at the compact and caress it lovingly, lost in wonder at how anything can look this gorgeous. Sigh…
And here are more pictures of the Dior Spring 2009 collection for the eyes. Dior has chosen to go nude beige and pink for Spring – quite unusual if you ask me, because Spring is usually about pastels and light colours.
Dior Parisienne Lights – 5 colour eyeshadow palette – RM187
This palette calls my name – the pink and orangy colour is going to be tricky I can tell, but the shimmer in the rest of the colours are just my style, especially that taupe shade in the bottom left. This looks like an interesting palette because there are warm shades and cool all in one – I'll experiment over the holidays and see what I come up with.
Dior Elegante – 5 colour eyeshadow palette – RM187
This palette strikes me as looking a little too beige. I'm not quite sure what Dior was thinking when they made this. It also looks very warm. It might perhaps suit those who can handle warm colours well. There is shimmer, but on first impression it looks matt. I'm not quite sure how that works…
Dior Nude Look – Matt and Shimmer eyeshadow duo- RM102

I liked Silver Look the eyeshadow duo from Fall 2007. It was beautiful! I'm curious about this one – will it live up to my high expectations that Silver Look gave me? We'll see!
Dior Nude Chic – nail polish – RM68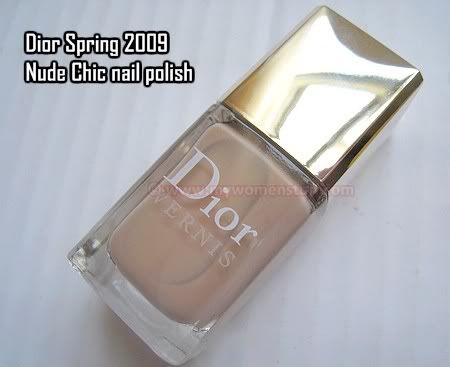 I'm not a nail polish girl, but if I wanted something nude for my nails with a pearly shimmer, this one might be it. It looks a little pinker in real life than in the picture.
Does any item from the Dior Spring 2009 collection catch your eye? Do share and have a great weekend!
Stay beautiful,
Paris B