When I last wrote about sunscreen, it was to extol the virtues of my holy grail sunscreen by the Australia Cancer Council. However, I ran into a spot of trouble before going away on holiday recently because I wanted to travel light without checking in my luggage, and the contents of my usual sunscreen far exceeded the 100ml allowance for carry on luggage! So, in a fit of urgency, I ran off to the nearest pharmacy and hunted down any sunscreen that had contents below 100ml. You'd be surprised to note that there aren't many at all!
I don't use Sunplay or any of those watery sorts – I absolutely detest the texture so I was only looking for the creamy sort. The only one I found to suit my needs was the Neutrogena Ultra Sheer Dry Touch Sunblock SPF50+ which came in a 88ml tube – hurrah!
I'd seen the Neutrogena Ultra Sheer sunblock around for a while but never had reason to get it so what better time to try it.

Neutrogena contains Helioplex – avobenzone + oxybenzone

Neutrogena's active ingredient for sun blocking is Helioplex. Curious as to what Helioplex is, I looked it up and found that it is a broad spectrum formulation for UVA and UVB protection using Avobenzone and Oxybenzone. You can read more about it here.
What this tells me is that Neutrogena Ultra Sheer sunblock is a chemical based sunscreen. Usually, products with avobenzone and oxybenzone are referred to as sunscreens while those with physical blockers like titanium dioxide and zinc oxide are known as sunblocks. I'm not sure therefore how Neutrogena got around it.
Avobenzone according to research can degrade quite quickly when exposed to the sun so it is usually stablized with oxybenzone to reduce this degradation. However, Avobenzone too has a bit of a bad rap in that reports have said that it contributes to a risk of skin cancer – as usual, its all a bit hazy depending on which report you read.
Neutrogena Ultra Sheer Sunblock is non greasy
I only used the Neutrogena Ultra Sheer sunblock on my arms and body. For my face I stuck to my Eucerin which works well for me and for which I see no reason to switch.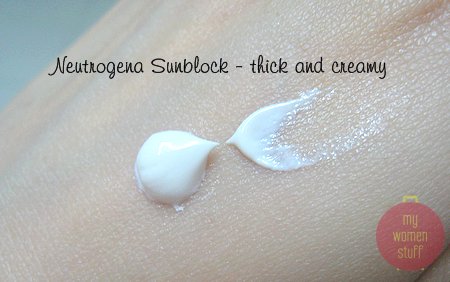 Whilst the Neutrogena sunblock has a light scent, it does not bother me. The nice thing about it is that its non-greasy once you work it into your skin. The cream is thick but it spreads easily and absorbs quickly. It does not leave your skin feeling dry and papery but neither does it add a layer of oil I sometimes experience with other sunscreens. Even when I was sweating under the hot noonday sun (Don't try this! Noonday sun is BAD!) I did not experience greasiness of the skin.
Neutrogena Ultra Sheer Sunblock is PABA free and non comodegenic
This sunblock can be used for both face and body. I did not try it on my face so I cannot vouch for any facial reactions to it. It is also stated to be waterproof which is useful if you are heading to the beach. In fact this sunblock is on its way to the beach even as you read this – not with me sadly, but with someone else so it gets to see the beach and I don't! Irony? 😛
SPF50+ PA+++ is sufficient
I applied the sunblock before I left on my daily walkabouts sometimes under the hot sun and I did not experience any burning or reddening of my skin. I was suitably impressed by this considering I did not top up my sunscreen during the day.
On an overall basis, I thought the Neutrogena Ultra Sheer sunblock is a pretty decent sunblock. It kept me from burning under the sun, my skin was soft and non greasy and I did not have any bad experiences with it. Do bear in mind I only used it on my body so I can't say if it will break you out on your face. For the body however, this is a pretty decent sunscreen and I might repurchase if I finish this up and if I'm going on another holiday simply because of its handy size!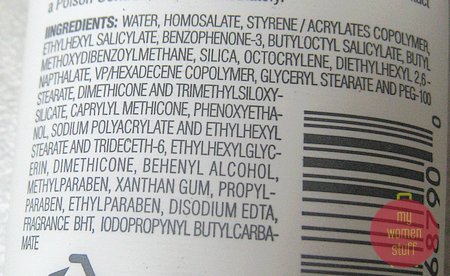 A 88ml tube costs about RM35 at any pharmacy and sometimes goes on sale. It also comes in a spray on mist formula which I did not try but which I do not prefer – I'm old school when it comes to sunscreens. When I slap it on my skin I KNOW that its going on in proper quantities. 🙂
Pros: Travel friendly, Non Greasy, Kept my skin from burning, Affordable

Cons: None unless you are averse to chemical sunscreens

Paris B's [rating:4/5]