I am truly sorry if you have been coming by and getting some server error. I assure you its getting looked into so there should be no future problems.
To compensate, here's some Guerlain Summer 2008 eye candy. Guerlain is giving skin a pearlescent sheen by having pearl illuminating products.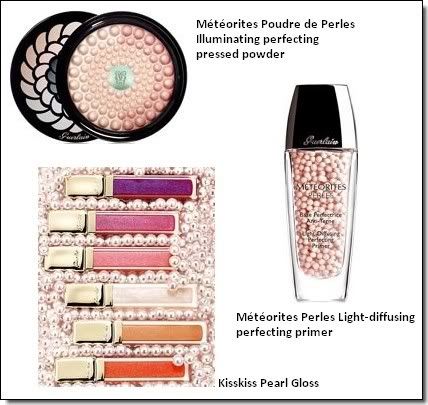 I like my Meteorites. They make a nice highlighter even if it doesn't look like much initially. So, I'm quite keen to check out the Meteorites Illuminating Perfecting pressed powder even if I've read some reviews that say the users did not quite like it.
I read that the Meteorite Perles light-diffusing perfecting primer is nice too, but I'm not too much of a primer person. That said, I'll check it out at the counter and report when I see it.
Lastly, KissKiss pearl glosses. I don't like lip glosses in general but I always make an exception for Guerlain's Kiss Kiss lipgloss. They are so lovely and not sticky at all! I wonder how these will fare.
I do have one comment though. Those bumps and balls everywhere give me the goosebumps! 😛 Reminds me of that Chanel palette with the sequinned surface from Spring 2007. That one gave me the goosebumps too!
Will be back with a report when I see and test them! Have a good weekend all!