A while ago, I wrote about 5 beauty must not haves that I could happily live without, following on a tag from Tine at Beautyholics Anonymous. I said I'd break it up into 2 posts so it wasn't so long. I didn't forget.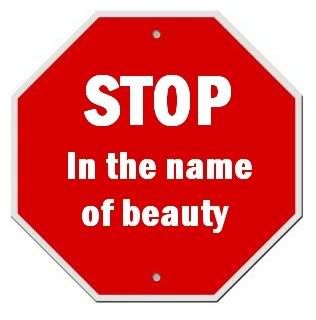 So, here are my 5 Skincare and Beauty Don'ts – Things you should never do skincare or beauty wise.
Never pick at a pimple. Everyone says this and its the easiest thing to ignore but it is most important. I speak from experience. Pick at a pimple and risk scarring which will take you years and vats of Vitamin E oil to fade. So, never pick at a pimple. If you have a pimple or spots, use something to curb the inflamation and it will heal on its own. I use the Kanebo Blanchir Smoothing Conditioner which is not formulated for this, but works for me. An Aspirin Mask works too.
Never forget your sunscreen. If you truly care about your skin, protect it with sunscreen. I cannot stress how important sunscreen is. Skip the sunscreen and risk premature aging. No point piling on the makeup or spending on anti-aging creams later in life if you skip the sunscreen now.
Never use a foundation color lighter than your skin tone. I know of some people who try to use foundation to look "fairer" so they go for a colour thats lighter than their natural skin tone. It looks awful and unnatural. On darker skin, it makes you look ashy and grey so don't do it. Foundation is not a colour corrector. Its a "foundation" – a base for the other colours to go on.
Don't forget your hands. Most of us have a skincare regime for the face. We cleanse, tone and moisturise our faces at least twice a day to keep it looking moist and firm and in some cases, young. But how many of us have a skincare regime for our hands? I for one tend to forget this important step. Hands a very telling of age. The face may look young but a quick glance at a person's hands will tell if they are truly as young as their face looks. This is because most people forget their hands. So, use a nice moisturising cream or lotions for the hands especially at night before you go to bed to keep them soft and the skin supple and maybe they will help lie about your age too!
Don't forget your neck. The other part of the body that will tell your age better than the face is the neck. Most people forget about their necks too, when they moisturise their faces. So, next time you moisturise your face, add a dab or two of cream on the neck area and massage it in. You don't want your neck aging before your face does!
And here we are. 5 skincare and beauty tips I suggest you do not forget.
Do you have other tips for skincare and beauty don'ts?
Stay beautiful,