It was hard not to go crazy buying up all the skincare in sight while I was in Japan earlier this year. Very hard. It helped that there was a language barrier – it prevented me from quite literally falling for every product out there! Yet, I managed to hoard a number of items, predominantly sunscreen, and one that caught your eye was the Kanebo Allie Extra Perfect UV Sunscreen SPF50+ PA++++ I showed in some of my pictures back then.
Quite a few of you asked me about it, but I wasn't comfortable sharing, as I'd quite literally opened it up to use while in Japan, and it was too new to actually form an opinion on. I wanted to come home where the heat and humidity is high, to see how I'd like it. Then, I wanted to really put it through its paces, so I took it to the beach, where I spent an ungodly amount of time in the sun and by the pool.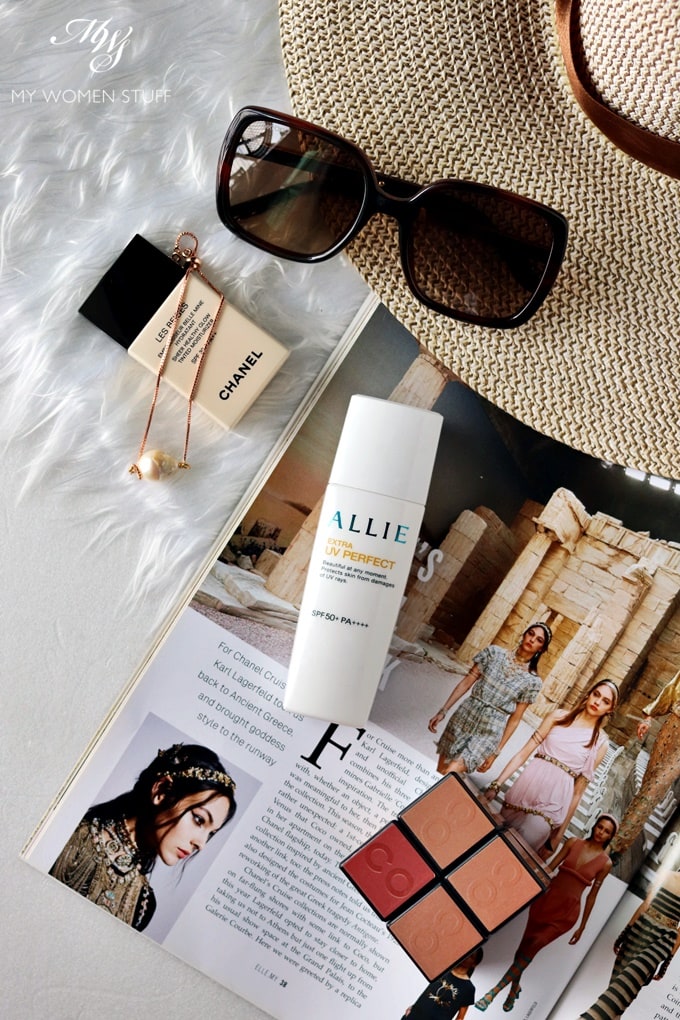 I wanted to be very sure about how I felt about this one. This was because I'd already fallen in love with it while in Japan, and I really really wanted to know if it was as good for me as its first impression was.
Happily, or unhappily, I think this is the perfect successor for me, to my long-time favourite, the Shiseido Perfect UV sunscreen. The latter has been reformulated this year where the name now states "Multi-Defense" and before you ask, no I have not yet tried it. I know I should, but I am working through other sunscreens I own (I need to before they go off – 2 years shelf life for best efficacy!) and to be honest, I've read too many unhappy comments about this new formula – enough to put me off trying.
Well, let's just say that I'm not actively looking to try the Shiseido one either, because this Kanebo Allie Extra UV Perfect sunscreen has me very happy with it. And yet sad.