From the day I first tried the Shiseido Perfect UV Protector sunscreen, I have been a loyal user and advocate. I know I've convinced many of you to use it, and despite the cost, it is one I truly swear by for efficacy and UV protection. Today, my attention has wandered to a more affordable option that unfortunately isn't available in Malaysia. So for all those in Malaysia who ask, my recommendation still lies with the Shiseido Perfect UV Protector.
It has undergone a few revisions since the first time I tried it, and in the middle of last year, I was alerted that the new version was now called the Shiseido Perfect UV Protector Wetforce Multi-Defense SPF50+ PA++++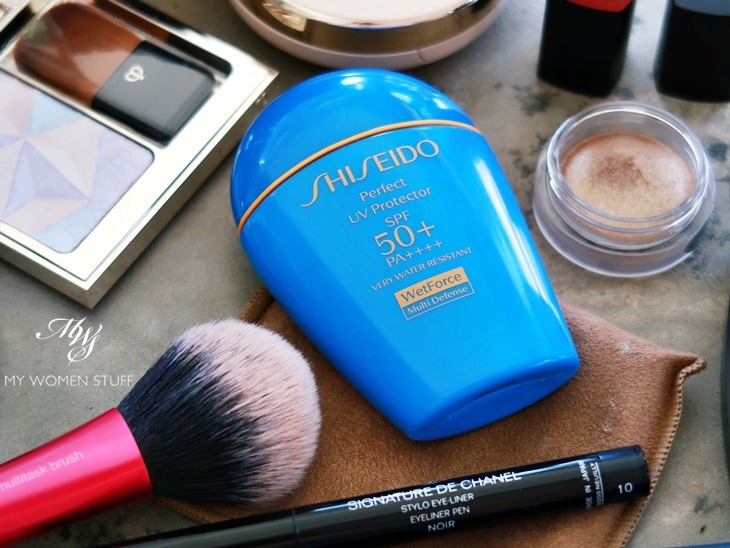 If you look at the picture you may be wondering what's so different about it? After all, the last iteration was the Shiseido Perfect UV Protector Wetforce and the packaging is exactly the same. But look closer. This time, there's an additional tag – Multi Defense.
But what grabbed my attention wasn't the fact that it had changed, but that I had more than a handful of people tell me that they had a negative experience with the new version, and they now hated it. That got me curious.
OK it didn't get me curious enough to buy a new bottle of sunscreen 😛 I have sunscreen of various brands coming out of my ears, and I had stocked up on my current fave while last in Japan so I was good for a while.
But I noticed that my sister had the new Shiseido Perfect UV Protector Wetforce Multi Defense version, so I spent a week using it. (For the record, my sis thinks the Anessa sunscreen is the pits and will never use it again so she's sticking by the Shiseido Perfect UV Protector instead 😛 )
I wore this over the Chinese New Year break, which was a scorcher this year! Goodness. We usually experience very hot weather at this time of year, but this year seems to be exceptionally hot and dry. I had to run a few errands and pop in and out of the house, and I could feel my skin burning. No better time to test a sunscreen in my experience 🙂
How is the Shiseido Perfect UV Protector Wetforce Multi Defense different?
This new version builds on the previous Perfect UV Protector Wetforce sunscreen, and uses the same technology. It is a lightweight fluid texture that applies easily and absorbs quickly without leaving a greasy feeling on skin.
The Wetforce technology allows the product to bind with water or perspiration to create a more effective veil of protection on skin. It is also highly water-resistant, which is good for use by active people, or if you're out in the sun a lot or by the water e.g. beach or swimming.
So what is different with the Perfect UV Protector Wetforce Multi Defense, based on the paperwork, is the new "Functional Fragrance". I do not remember much of a scent from the previous versions. But in this new version, a new scent has been added, which they say, synchronizes with the smell of sweat, so you don't smell unpleasant. Interesting 😛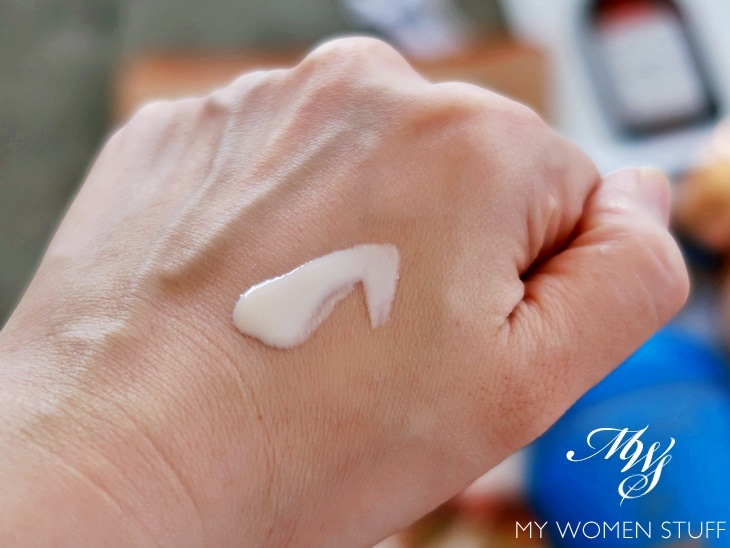 Has the texture of the Shiseido Perfect UV Protector sunscreen changed?
I received many reports from dismayed readers last year, that they were no longer happy with the new texture and formula of the Shiseido Perfect UV Protector. To be fair, not having tried it then, I did not quite understand why.
From what I understood from the literature, there was no change in formula. However, once I used the product, I understood the grouses.
In terms of texture, I can safely say that the new Shiseido Perfect UV Protector Wetforce Multi Defense sunscreen feels different on skin. I find that the texture is a little thicker, more like an emulsion than a lotion. Not so much that it is unpleasant, but if you have been using it, you will notice the difference.
It isn't as thick as the Perfect UV Protector Wetforce Hydrofresh version (which is still in existence), but is definitely thicker than its preceding iteration.
I also noticed that the product now feels more "siliconey" on skin. I'm not saying it's a bad thing. On the upside, this texture lends itself to a better function as a makeup primer, and also makes your skin feel velvety.
However, I do not like textures like this. Once upon a time, I did. Now, I don't. I'm not sensitive to silicone as an ingredient, but I do not like my skin having that fake velvety feel. This is a personal thing, and nothing to do with the efficacy of the product. If anything, I find it makes for an even better primer now than before!
Where has the tint gone?
The second thing I noticed after the texture, was the lack of pink tint in the lotion. Previous versions of the Shiseido Perfect UV Protector had a slight pink tint to it.
While almost imperceptible, this pink tint makes skin look a little brighter and perks up tired looking skin. It isn't that noticeable when you have it, but you notice it when it's not there.
And it isn't there in this version. The lotion is white, like the Hydrofresh version. I don't have the old version with me anymore, so I cannot show you the difference, but this is a picture of the old version next to the Hydrofresh version. The new Wetforce Multi Defense is white, no more tint.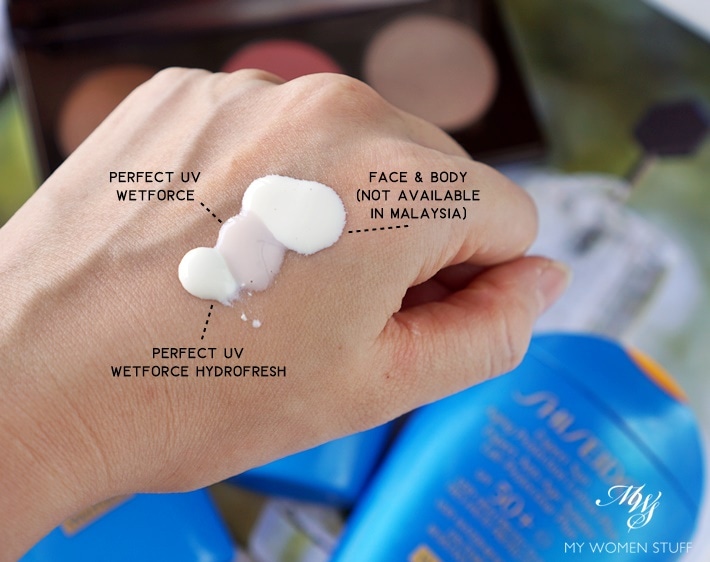 A note to say that because I am very fair-skinned, I did not notice a white cast. If you have a deeper skin tone, I'd be interested to know if this new version leaves a white cast on your skin.
Does the Shiseido Perfect UV Protector Wetforce Multi Defense sunscreen still protect my skin?
Ultimately, this is a sunscreen, not a makeup primer nor any makeup base. And as a sunscreen, I do still find that it protects my skin well.
When I wear it outside in the searing heat, the skin of my face, neck and chest where I apply this feels protected. We had a 2 hour drive under the blazing sun, and my face did not feel overly warm. My skin did not go red and I did not burn. My arms however, were burning up! 😛 Negligence right there!
This is the easiest and best test for me. If I wear a sunscreen out, especially when I drive, and my face feels overheated, I know it isn't protecting my skin well enough, and I ditch it, or I only wear it indoors. This passed my outdoors test.
Granted, I was not outside for very long – probably the same amount of time I'd spend outside on a day to day basis. I'm not an outdoors person, and I hide indoors from the sun where possible 😛 Puteri lilin 😛
More than a handful of readers also reported breaking out from this new formula, as compared to the previous formula. They also found it more drying. I used this for a week, and did not experience breakouts, nor did I find it any more drying than usual. For me, it felt the same as the last one.
Texture aside, I was happy with this, as a sunscreen.
What about that "Functional Fragrance" then?
To be honest, I don't know what to think of it. I do not personally think that fragrance has any function in skincare, although I am not personally averse to it (unless I don't like the scent).
I found the added fragrance to be a light floral that dissipated quickly, and I would not have noticed it, if I was not looking out for it.
I however, do not quite understand the function. Is this intended to combat body odour? I found it puzzling.
It is scientifically proven that perspiration by itself is odourless. It starts to smell when bacteria on our bodies multiply and break down sweat. This is largely linked to the apocrine glands found in the breasts, genital area, armpits, eyelids and ear (read more here if you're interested)
My point however, is that this particular sunscreen will be largely used by most of us, on our face. Maybe our arms. And no matter how much we sweat in these areas, we aren't going to stink from here, because these aren't usually the hotspots of bacteria.
So I don't know if the Japanese are exceptionally sensitive to smell of sweat, or if there is something else I'm missing, but to me, the "functional fragrance" intended to combat this smell of sweat, serves very very little function.
Chances are, you will still stink of sweat from other body parts, unless you slather this sunscreen on every inch of your skin. Ideal, but impractical. Not sure what's happening here, Shiseido 😛
IN A NUTSHELL

The Shiseido Perfect UV Protector Wetforce Multi Defense SPF50+ PA++++ sunscreen is a new version of a sunscreen stalwart. I did notice that the texture felt different (a little thicker) and it has lost its skin-brightening pink tint. I did however find that it still felt lightweight on skin, and did not feel greasy nor leave any residue. I did notice that the silicone feel was more pronounced, and that it is a better makeup primer now than before. There is also a light floral scent. Personally, I found it to be an effective broad-spectrum sunscreen although I recommend that you double-cleanse when using this, as the high water resistant formula does not break down easily with normal cleansers. I did not like the texture as much anymore so I am reluctant to commit to buying it again in future.

PROS:
Skin feels protected from heat and sun
Skin did not turn red nor feel heated
Highly water resistent

CONS:
Pricey
Velvety finish on skin isn't something I like
Light floral fragrance that claims to mask the smell of sweat that I personally don't see as being very functional

WHO WILL LIKE THIS: Anyone who likes a velvety finish on their skin, Anyone who wants an effective broad-spectrum sunscreen that can also function as a makeup base

PRICE: RM165 for 50ml

WHERE TO BUY: Shiseido counters or Sephora stores
This is the ingredient list for the new Wetforce Multi-Defense sunscreen.
Ingredients: Dimethicone, Water, Alcohol, Zinc Oxide, Isododecane, Ethylhexyl methoxycinnamate, Isopropyl Myristate, Methyl methacrylate crosspolymer, Talc, Polymethylsilsesquioxane, Octocrylene, Dextrin palmitate, Glycerin, Polybutylene Glycol/Ppg-9/1 Copolymer, Trimethylsiloxysilicate, PEG-9 Polydimethylsiloxyethyl Dimethicone, Diethylamino Hydroxybenzoyl Hexyl Benzoate, Titanium Dioxide, Cyclohexasiloxane, Diisopropyl sebacate, Silica, Xylitol, Disteardimonium Hectorite, Bis-ethylhexyloxyphenol methoxyphenyl triazine, Isostearic Acid, Aluminum hydroxide, Stearic Acid, Trisodium EDTA, Fragrance, Butylene Glycol, PEG/PPG-14/7 dimethyl ether, Saxifraga Sarmentosa Extract, BHT, Polyquaternium-51, Iron Oxides, Syzygium Jambos Leaf Extract, Camellia Sinensis Leaf Extract, Phenoxyethanol, Nylon-12, Sophora Angustifolia Root Extract, Hydrogen Dimethicone, CI 45410, Diisostearyl malate, Glyceryl diisostearate, Tocopherol
I compared it to the ingredient list of the old Wetforce version and noticed that it has primarily the same ingredients at the top. The ingredients at the bottom have changed slightly with some new additions and omissions.
However, I feel that ingredient lists merely serve as a guide. The product itself does feel and look different, and that is either a good or bad thing, depending on how your skin takes to it.
I know a week's use sounds ridiculously short, but that's all the time I had with it, and for me, it was enough to gauge the product, because it's one I'm very familiar with. But take it with a pinch of salt if you like 🙂
Are you still using the Shiseido Perfect UV Protector sunscreen? Is it this version?
As I said above, I'm not using this for now, because I still have sunscreens to go through. However, I'm not that keen on the texture on my skin, so I'm reluctant to commit to purchasing this in the future. That said, I do still find it an effective sunscreen, and I would still recommend people try this, because Allie isn't available here yet 😛
Paris B